NCAA Season 96 primer set for airing beginning May 23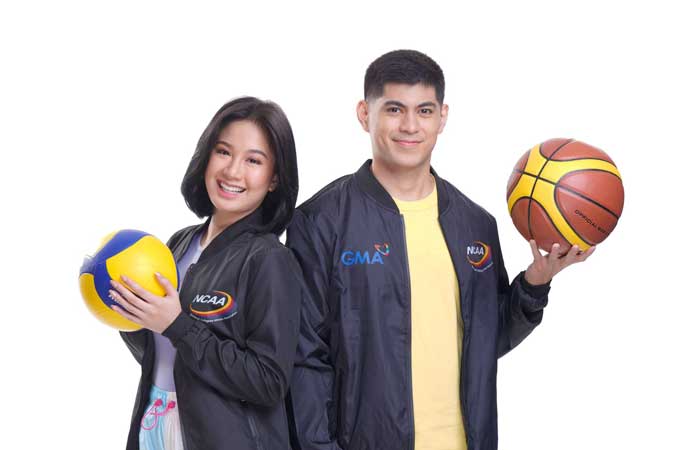 THE countdown for the much-awaited return of the National Collegiate Athletic Association (NCAA) picks up beginning May 23 as the primer Rise Up Stronger: The Road to NCAA Season 96 starts its daily airing over GTV.
One of the early offerings of GMA Network as the new broadcast partner of the country's oldest collegiate league, Rise Up Stronger serves to drum up interest for the return of the NCAA from the pandemic-forced break.
The show, which is done under the lead of GMA Synergy, a collaborative effort of different groups in the Kapuso Network, is designed to give viewers their daily dose of everything and anything NCAA.
Sportscaster Martin Javier and model/actress Sophia Senoron are the hosts of the show.
"We are excited for the airing of Rise Up Stronger: The Road to NCAA Season 96 because it is a product of great collaboration amid a very unique situation," said GMA Regional TV and Synergy First Vice-President and Head Oliver Victor Amoroso at the media conference for the show on Tuesday.
"The network really put in the effort and the resources needed to show to our viewers here and abroad the world-class talent of our Filipino student athletes. We hope NCAA fans will look forward to the episodes we prepared for them every day," he added.
For Mr. Javier, the show is commendable for its aim to spotlight the true heroes of the NCAA in the athletes and he is proud to be part of delivering such a message.
"The NCAA is a wonderful league. A lot of great athletes came from it. And I'm very happy and honored to be presenting their stories in the NCAA's new home," he said in the media conference.
He went on to say that they are hopeful as well that the show will set the pace for the eventual resumption of collegiate sports activities in the country.
Rise Up Stronger: The Road to NCAA Season 96 will be aired on GTV on Sundays at 5:05 p.m., Saturdays at 4:30 p.m., and Mondays to Fridays at 2:45 p.m.
For those abroad, it can be seen via GMA Pinoy TV and GMA News TV.
For its pilot week, joining Mr. Javier and Ms. Senoron as well are Kapuso stars and personalities Derek Ramsay, Kyline Alcantara, Boobay, Kim de Leon, Chef JR Royol, Yasser Marta, Faye Lorenzo, and Elle Villanueva, among others. — Michael Angelo S. Murillo