Westbrook leads Wizards past Lakers, 116-107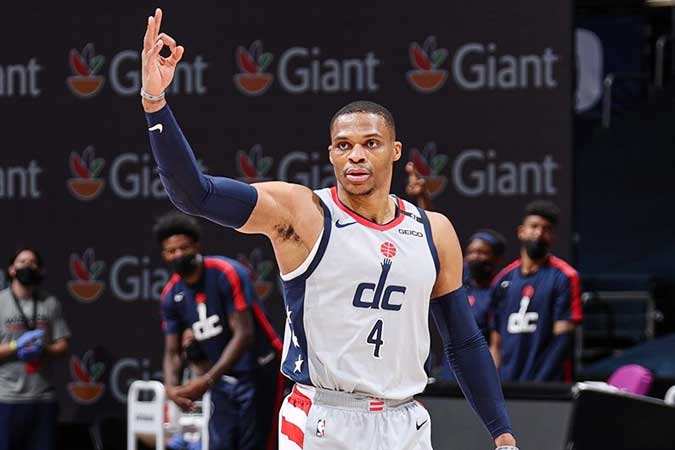 RUSSELL Westbrook had a triple-double, Bradley Beal scored 27 points and the Washington Wizards beat the visiting Los Angeles Lakers (116-107) on Wednesday.
Westbrook finished with 18 points, 18 rebounds and 14 assists for his 30th triple-double of the season. Alex Len had 18 points and nine rebounds for Washington (28-34), which has won 11-of-13 and currently holds the final play-in spot in the Eastern Conference.
Anthony Davis led the Lakers (36-26) with 26 points. Andre Drummond had 17 points and 11 rebounds for the Lakers, who have lost four of five.
The Lakers shot 43.8% (42-of-96) from the field and were outrebounded (61-49).
Los Angeles trailed by six at half time and Kentavious Caldwell-Pope's three-pointer pulled the Lakers within 69-67 with 7:52 left in the third quarter. But Raul Neto's three-pointer kicked off a 17-2 Wizards run, capped by Beal's three-pointer and Len's free throw, which made it 85-69. The Lakers went scoreless for just over four minutes.
Ish Smith's three-pointer pushed the lead to 90-74 and the margin was 13 after three quarters.
The Wizards increased the lead to 19 points early in the fourth quarter when Westbrook got a rebound and hit Smith ahead of the pack for a dunk with 9:11 remaining.
Davis hit a trey to get the Lakers within 102-89 midway through the fourth quarter and dunks by Ben McLemore and Davis made it 102-93 with 5:29 remaining.
Westbrook hit a driving layup to push the lead back to 11 and, after a Lakers miss, Beal hit a step-back three-pointer to make it 112-98 with 3:11 remaining.
Markieff Morris' jumper gave the Lakers a 45-41 lead midway through the second quarter, but Lopez scored eight straight points to put the Wizards up by four.
Beal's pull-up jumper gave the Wizards their biggest lead of the half (57-49).
Beal, who finished 11-of-18 from the field, had 15 points in the first half, and Montrezl Harrell led the Lakers with 12.
CELTICS END SKID
Meanwhile, Jaylen Brown's 38 points and Jayson Tatum's 35 propelled the Boston Celtics to a bounce-back 120-111 victory against the visiting Charlotte Hornets on Wednesday night.
The Celtics (33-30) snapped a three-game losing streak that included a home loss a night earlier to struggling Oklahoma City. They also avenged Sunday's lopsided 21-point setback at Charlotte.
Aaron Nesmith had 15 points off the Boston bench and teammate Tristan Thompson tallied 12 points and 13 rebounds. The Celtics played again without injured guard Kemba Walker (oblique).
The Hornets (30-32) lost their second game in as many nights despite 25 points from Devonte' Graham. P.J. Washington and Miles Bridges each added 19 points and Cody Zeller, who had been stuck on the bench in recent games, racked up 16 points. — Reuters