PANA, PANAF induct 2023 officers, board of directors, trustees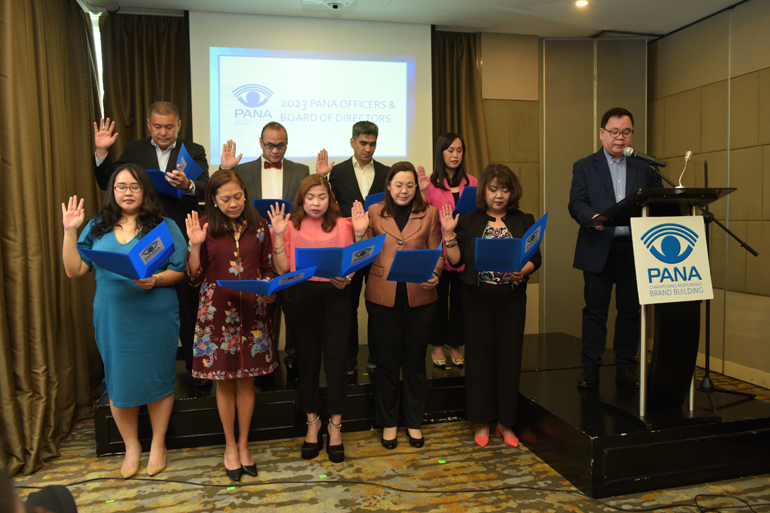 Incoming PANA President avows elevation of competence, cooperation among brand builders and industry partners
The 2023-2024 PANA and PANAF officers, board of directors and trustees of the Philippine Association of National Advertisers (PANA) and its Foundation (PANAF), who were just inducted at Ascott Hotel Makati to a full house of brand builders and industry partners, vowed to continue PANA's commitment of championing responsible brand building.
According to the incoming PANA President, Adi Timbol-Hernandez of McDonald's Philippines, the goal is to continue to elevate the standards of competence, ethical foundation and cooperation among brand builders.
She elaborated on the 3C's as her game plan for the year. This consists of connection, collaboration, and champion.
On the other hand, Blen Fernando, chairperson for PANAF, emphasized that the organization's thrust this year is to curb proliferation of fake news among the youth through its flagship programs whose emphasis will be on developing creativity through responsible content creation and consumption.
The induction coincided with the 2nd general membership meeting (GMM), whose theme was "Brand Recovery to Growth: Anchored on Values, Accelerated by Purpose." During the GMM, the brand builders were treated to lively discussions on elaborate, innovative and implementable sustainability programs from Neogin Evangelista, president and general manager of PHILUSA, who also served as the inducting officer; and Chito Maniago, head for Government Affairs, Communications and Sustainability of ZUELLIG Pharma. Angel Guerrero of adobo magazine served as the moderator of the discussions, keeping the conversation engaging and interesting.
Here is the official list of the PANA/PANA Foundation board and officers for the year 2023:
PANA President is Adi Timbol-Hernandez (McDonald's Philippines), Vice-President is Mick Atienza (SMART Communications, Inc.), Secretary is Maye Yao Co Say (Richwell Philippines, Inc.), Treasurer is Rey Marc San Juan (Julie's Franchise Corp.), Auditor is  Cathy Santamaria (Bank of the Philippine Islands), and Public Relations Officer is Monday Gonzalez (Globe Telecom, Inc.). Directors are Chrissy Roa (Ayala Land, Inc.), Bea Atienza (Colgate-Palmolive Phils., Inc.), Mary Julie Balarbar (De La Salle University), Ron Molins (Ginebra San Miguel, Inc.), and Jonion San Agustin (SM Supermalls).
PANAF Chairperson is Blen M. Fernando (Magna Anima Teachers College, Inc.), Vice-Chairperson is Alan Fontanilla (Packworks), Secretary is Eric Samuel P. Joven (Marie France Group of Companies), and Treasurer is Andrew Ahorro (Kolin Phils. Int'l, Inc.).
PANAF's trustees are Mark Louie Napoles (Asian Hospital and Medical Center), Wendell Labre (CIS Bayad Center, Inc.), Aji Santiago (Moldex Land), Mike Villa-real (Philippine Veterans Bank), Len Pozon (Pioneer Life, Inc.), Albette Buddahim (Primer Group of Companies) and Gigi Tibi (RadManila Communications, Inc.).