Rising hopes in the residential property market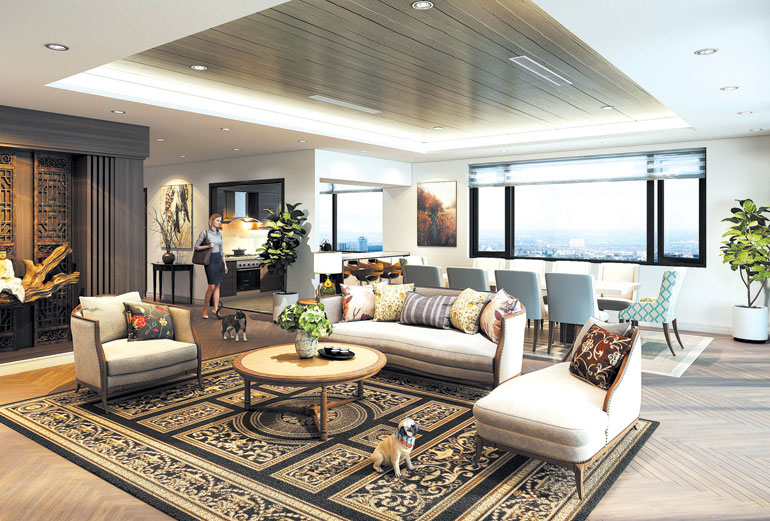 Opportunities abound in the property sector. As the world moves away from the pandemic, the industry has set its sights on recovery and it seems that surrounding factors are aligning to make it happen.
Property experts Colliers has identified "tremendous" opportunities for the property market for 2022, which is set to positively influence the residential segment. As the Philippine economy begins to regather the momentum it lost from the pandemic, Colliers expects business and consumer confidence in the country to rise along with it, especially with prospects of economic recovery, the continued inflow of remittances from overseas Filipino workers, and the accelerated easing of mobility restrictions.
"Optimism in the market abounds especially with more economic sectors opening up. We now see more businesses encouraging their employees to return on site. This, coupled with the return of more foreign employees should have a positive impact on residential leasing," Joey Roi Bondoc, associate director of research at Colliers, said in their Quarterly Residential Property Market.
"We are projecting a gradual recovery in rents and prices which should extend beyond 2022. Business and consumer confidence should spillover to the pre-selling market. Hence, we project a recovery which should start by the second half of 2022."
Colliers' report sees that the demand for units in the secondary market would likely to be driven by local and foreign professionals starting to work on site. Pre-selling take-up will slightly recover but still below pre-2020 demand. Delivery, meanwhile, is expected to reach 10,500 units by the end of 2022, up 20% YoY, with the Bay Area, Fort Bonifacio, with Ortigas Center projected to account for 85% of the new supply.
Looking back on the year's first quarter, Colliers recorded the completion of only 560 units in Q1 2022, down 86% year on year.
"We see the delivery of 10,500 units by the end of 2022, up 20%, with the Bay Area likely accounting for majority of the new supply. About 88% of new completion in the Bay Area will come from the four towers of SMDC's Shore 3 Residences," the report said.
In addition to the new supply, consumer confidence is seeing a boost as well. According to the report, overall vacancy in the Metro Manila secondary residential market reached 17.8% in Q1 2022 from 17.9% in the previous quarter, the first recorded drop in vacancy after eleven consecutive quarters of increase.
"We expect vacancy to further recede to 17.2% by the end of 2022, backed by recovery in office leasing activities and return of more employees on-site as mobility restrictions ease in Metro Manila," the report said.
Colliers further cited the Fiscal Incentives Review Board (FIRB) ordering a 100% on-site work arrangement for outsourcing firms driving this demand, which will positively influence the residential market as well.
"In our view, improvement in consumer and business confidence, and increase in Overseas Filipino Worker (OFW) remittances provide a sense of optimism in the residential market. Data from the Bangko Sentral ng Pilipinas (BSP) or the central bank's Q1 2022 Business Expectation Survey showed the business outlook in Metro Manila improved to 35.7% from 20.1% in Q1 2021," the report noted.
"Meanwhile, data from the central bank show that cash remittances reached P2.7 billion (USD52.3 million) in January 2021, a 2.5% increase YOY. BSP projects remittances to grow by 4% in 2022. Based on BSP's latest Consumer Expectations Survey, the number of OFW households that utilize their remittances to purchase a house increased to 5.2% in Q4 2021 from 4.8% in Q4 2020. Colliers recommends that developers be proactive in promoting their residential projects to families receiving remittances from their relatives working abroad."
Highlighting resilience in the luxury residential sector
The high-end residential property market has emerged from the pandemic relatively unscathed, with its resilience being propped up by optimistic real estate owners looking forward to the country's projected economic recovery.
Co-Founder and managing partner of property consultancy firm KMC Savills, Inc. Michael McCullough expects the luxury residential segment to continue its record of resilience, even as he expects a slow recovery for the rest of the property industry in 2022.
Mr. McCullough said demand for luxury condominium units will "remain stable" as the high net-worth individuals renovate units in the major central business districts on expectations of higher returns in the future.
"The mid (market) segment will start to return, but may lag behind the upper segments," Mr. McCullough said.
This reflects property trends abroad, which sees the luxury residential market benefitting from factors like the growing wealth of the elite, low interest rates, and inflation.
"It's impossible to underprice a property in this environment," Bradley Nelson, chief marketing officer of Sotheby's International Realty, told Bloomberg when they released their 2022 luxury outlook report. The circumscribing factors are such that demand and competition will drive prices up no matter what.
Sotheby International Realty expects trends like slowing demand in the suburb real estate, coupled with accelerating prices in the exurbs, and a resurgence of sales volume in urban centers to extend through the rest of 2022.
"What a wonderful time to be a property developer," Mr. Nelson said. "If you're building a luxury condo development that's going to deliver a substantial number of new listings and inventory in 2022, I think you'll look back at this moment in five years and think you were a genius."
The only real challenge is the lack of supply, as he sees the possibility of homeowners only listing up their inventory when prices become too high to ignore.
"The question is: When does the market unlock, and supply and demand equal out again?" — Bjorn Biel M. Beltran