The edge of upscale homes and living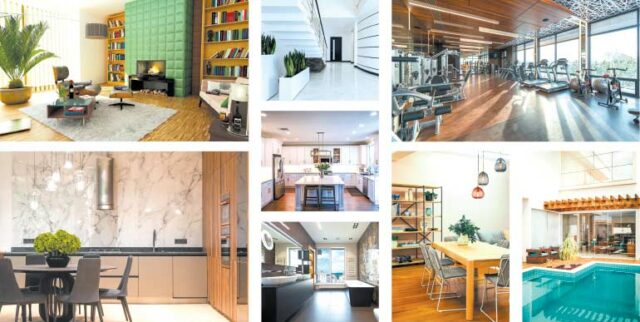 Real estate steadily gains demand in many developed and developing countries, making it a sought-after investment as well as a means to redefine one's status quo by adding luxury to home and lifestyle.
Property experts saw these and the notable resilience of high-end residential property market amid the pandemic as factors that will bring forth tremendous opportunities in the residential segment for the remainder of the year.
In the Philippines, the call to live in a safe, high-quality home has been amplified as people adapt to the new normal and yearn for bigger, private spaces with elegance, style and cutting-edge technology.
To cater to the varying demands and market buying capacity, leading real estate developers in the country have started designing upscale and luxury residential projects.
As defined by the current market, there are certain features that set apart a luxury home and life from the rest. Aside from being unique and exclusive, premium properties also exhibit the perfect blend of art, comfort and functionality in the exterior and interior designs.
Beauty in every architectural detail
Far from a cookie-cutter, a luxury property is often built to suit the taste and lifestyle of the original owner. Home developers and design firms collaborate to compose a luxury property with the same kind of distinction and aesthetic value as the works of art.
The uniqueness of every architectural detail in a luxury home such as having a circular driveway, elevated garage, custom-built parking space, manicured garden, hotel lobby-like foyer, balcony with a surreal view of the whole property, large rooms, art nooks, rounded corners, crown moldings, archways, and stylish hardwood floors, all add up to the value of the home and construction costs. Nevertheless, reputable builders of high-end residential projects try to uphold their reputation through producing high construction quality and after-sales services.
Comfort and functionality rolled into one
A luxury property offers much more than just a place to live. It is a place to relax, be entertained, and escape not far from home. Thus, real estate developers for upscale residential projects continue to innovate and build exceptional amenities such as clubhouses with paradise-like landscaping, and regularly maintained recreational facilities like people's parks, swimming pools, sports fields, and fitness centers.
In addition, home builders believe that living a luxurious life means having a sense of freedom which translates to breathing in a spacious environment, adequate to carry out indoor and outdoor activities for every resident.
Looking closer, the lavish interior of a luxury home displays a spacious kitchen, tasteful design of bathroom with own spa, hotel-quality bedrooms, walk-in pantry and closets, and a well-furnished home office and library. It also has smart home features for entertainment in a cozy home theater, convenience found with programmable cooking appliances that make food preparations easier, and safety by monitoring the energy consumption of the household and identifying security lapses.
Advantages of luxury living
Surrounded by people who share a common love of living luxuriously, real estate developers see residents of premium properties sharing the same interest and fostering a culture of growth in the neighborhood.
Luxury housing estates also come with lush green gardens to provide the residents with a refreshing environment away from the bustle of the city. Hence, most of the optimistic home builders today construct projects in strategic locations which allow the home owners to have direct access at nearby shopping districts, museums, fine dining, centers for art, and even panoramic views of beautiful landscapes, such as lakes, oceans, rivers, mountainsides, or countryside views.
Aside from location and proximity, ultra-exclusive enclaves showcase top-notch security and privacy via surveillance cameras around the property and 24/7 concierge service.
Some luxury real estate also provides maintenance for electronic devices, but since premium homes use quality materials and more up-to-date appliances, the need for maintenance is seldom.
Lucrative investment
More than just a grand place to live in, luxury properties offer more control over long-term plans as well as investment routes.
Financial gurus noted that as physical space become scarcer, property investments will build up over time, will not drop value anytime and will not carry as much risk as paper investments such as stocks and bonds, where the market forces are always beyond an investor's control and have limited trading options.
Furthermore, high-value features of a property, such as an excellent location, exclusivity, proximity to important places, or an interesting history, also dictate the overall resale price.
After noticing the drastic change in the way people live today, investment advisors predict that the need for premium homes will continue unfazed by the pandemic, eventually driving their future prices up.
Locally, real estate developers invite every Filipinos to look at luxury living from a new perspective: a home that is no longer just a place for downtime, but a place to express culture, elegance, style, art and technology that transcends time. — Allyana A. Almonte