A strong push to improving the Philippine public transport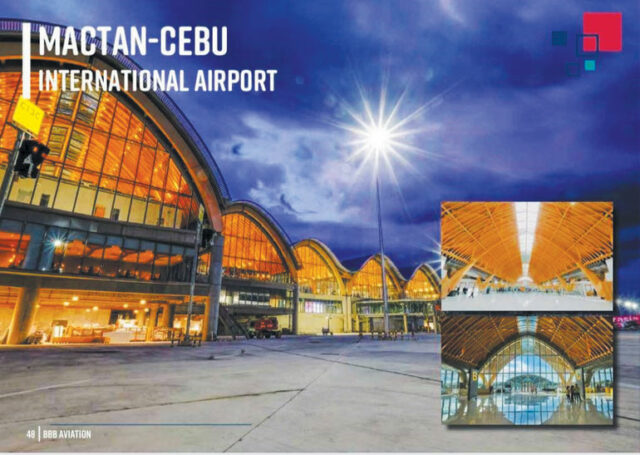 As it celebrates its 123rd anniversary on Jan. 23, the Department of Transportation (DoTr) has shown in the past few years its steadfast commitment to its mission of providing the Philippines with "efficient, effective, and secure transportation system." Driven by the "Build, Build, Build" program of the current administration, the DoTr has been seen enhancing airports, railways, road terminals, and ports across the country so that each can serve Filipinos better.
Airports
Within aviation, the DoTr has pushed for several improvements of the country's airports — from installing new Passenger Terminal Buildings (PTB), rehabilitating certain areas, to night ratings of domestic airports.
Clark International Airport's new PTB, with the capacity of eight million passengers per year, was completed in September 2020. An inspection was observed last July, and its first departure trial flight was successfully held the following December.
With a new terminal that expands its capacity to 13 million passengers per year, the Mactan-Cebu International Airport has a second runway in progress, which is expected to be operational by end of April this year.
At the Ninoy Aquino International Airport (NAIA), the country's main international gateway, the rehabilitation and expansion of NAIA Terminal 2 was completed last year. This expanded terminal and an upgraded runway were inaugurated in February 2021.
Further south, the Bicol International Airport, with a PTB that can accommodate two million passengers annually, was officially opened last October. An upgraded Calbayog Airport in Samar, with a new PTB and an expanded runway and apron, was inaugurated last May.
Cebu's Bantayan Airport, meanwhile, is being rehabilitated with the renovation of its existing terminal building, lengthening of its runway, and constructing a perimeter fence around the complex. Operations are targeted to start before the end of April 2022. At the Tacloban Airport, its new PTB is ongoing and is being fast-tracked for completion by this year.
Still in the pipeline is the Bulacan International Airport, which is expected to help decongest NAIA and serve the rapidly growing demand in aviation traffic.
Railways
The department has also been at the forefront of improving networks of railways. This is very much highlighted by the Metro Manila Subway (MMS) Project, the country's first underground railway system, with constructions heralded by the unveiling of the first of six Tunnel Boring Machines to be used for the construction on September 2020. The 34-kilometer subway project, set to run from Quezon City to NAIA Terminal 3 in Pasay and FTI in Taguig once fully operational by 2025, has reached 25.09% as of November 2021.
As a result of the rehabilitation of the Metro Rail Transit-3 (MRT-3), as DoTr shared in its 2020 report, the average time between trains reduced to only 3.5-4 minutes from the previous 8-9.5 minutes, thus shortening the travel in the entire line from 75 minutes to 50 minutes. Also, 22 train sets have been fielded on MRT-3's mainline.
At the east of Manila, Light Rail Transit-2 (LRT-2) now has two new additional stations in Marikina and Antipolo, aiding commuters from Recto, Manila going to Masinag, Antipolo and back with a reduced travel time of 40 minutes. LRT-2 is also planned to be extended on the other side, from Recto to Pier 4.
Progress is seen as well at the constructions of MRT-7, connecting Quezon City and Bulacan (62.1% complete as of this month); LRT-1 Cavite Extension, connecting Baclaran, Pasay and Bacoor, Cavite (60% complete as of August 2021); and the Unified Grand Central Station, designed to interconnect LRT-1, MRT-3, MRT-7, and the MMS.
The massive North-South Commuter Railway Project pushes through with the first leg, the PNR Clark Phase 1 (Tutuban, Manila-Malolos, Bulacan), under a 24/7 construction work schedule. Other legs of the project include PNR Clark Phase 2 (Malolos, Bulacan-Clark, Pampanga), and PNR Calamba (Solis, Manila-Calamba, Laguna).
In addition, design and procurement are ongoing for PNR Bicol, a 639-kilometer railway line that will connect Manila to Legazpi, Albay and Matnog, Sorsogon, with a spur line to Batangas City.
The 71.13-kilometer cargo-oriented Subic-Clark Railway, connecting Subic Bay Freeport Zone and Clark Freeport and Special Economic Zone, is targeted to operate by this year.
In Mindanao, pre-construction activities are currently ongoing for the island's first railway system, the Mindanao Railway Project, which targets to reduce travel time between Tagum City to Digos City from 3.5 hours to 1.3 hours.
Road transport
In road transport, DoTr has started meeting "a pivotal need" for a more appropriate and resilient road transport system.
This is much evidenced by the construction of integrated terminal exchanges. While the Parañaque Integrated Terminal Exchange (PITX) has started serving commuters going to and from various provinces and cities, more land ports are planned to be built. These are the Taguig City Integrated Terminal Exchange, which aims to provide an intermodal terminal in the southern area of Metro Manila, and the North Integrated Terminal Exchange (NITX) in Bocaue, Bulacan, which aims to serve commuters coming from provinces in the north of Manila.
Other systems are also being put in place, such as the Quezon Avenue Bus Rapid Transit line (Manila City Hall-PhilCOA in Quezon City), planned to be operational in 2023; the Davao High Priority Bus System; and the Cebu Integrated and Intermodal Transport System, both targeted to be completed next year.
Elevated walkways are also in DoTr's lineup of projects, which include the EDSA Greenways Project, with greenway nodes strategically located along with certain stations in LRT-1, LRT-2, and MRT-3; and Makati-BGC Greenways Project, which will connect MRT-3 Buendia Station (Northbound) to BGC Bus Depot.
Another highlight in DoTr's projects for road transport is its Public Utility Vehicle Modernization Program (PUVMP), which envisions a transport sector "wherein drivers and operators have stable, sufficient, and dignified livelihood while commuters get to their destinations quickly, safely, and comfortably." As of 2020, DoTr tallied 446 operational new/developmental routes with 2,756 operational PUVs as a result of the initial implementation of PUVMP. 1,222 of such PUVs are considered already compliant with the Philippine National Standards for PUVs.
Maritime
DoTr, together with the Philippine Ports Authority, has witnessed as well developments in maritime transport, with 379 seaport projects completed and 124 in progress as of 2020.
A highlight of such achievements is the inauguration of the new PTB of the Port of Cagayan de Oro. Noteworthy as well as the ongoing construction of a PTB at the Port of Zamboanga, which is set to be the largest PTB in the country with a capacity of 4,500.
Amid the pandemic, DoTr reported, 14 port projects were completed and virtually inaugurated in 2020. These include, among others, the Port of Borac in Coron, Palawan; Port of Ozamiz in Misamis Occidental; Port of Mansalay in Oriental Mindoro; and the Iloilo Commercial Port Complex. — Adrian Paul B. Conoza