Safe and creative ways to celebrate Christmas
This Christmas season is a time to gather and celebrate with loved ones after going through another difficult year into the pandemic. And with the gradual relaxation of quarantine restrictions and continued inoculation against the coronavirus, some people may envision a better Christmas celebration this year.
Still, even when shopping malls, tourist destinations, or other public spaces are open to spending the holiday with families or friends, protective measures should be maintained. It is critical to keep in mind that the world still battles with COVID-19 and the emerging variants. Hence, ensuring to protect oneself and the surrounded people is the most essential tip for a safer yet merrier Christmas.
People have a choice to celebrate Christmas physically or digitally. Either way, they can make the festivity more joyful this year.
With the aforesaid loosening of travel restrictions, people may want to physically see loved ones for the holiday. To make the environment safe as possible this holiday season, the World Health Organization (WHO) said to increase ventilation or meet with the people outside especially when the indoor spaces are small and lack good ventilation.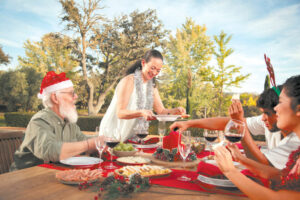 "COVID-19 is more easily transmitted in crowded and poorly ventilated spaces and where people spend long periods of time together. Settings with increased risk of outbreaks include restaurants, choir practices, fitness classes, karaoke bars and nightclubs, offices and places of worship," WHO explained in a story published on its website.
The agency also reminded to avoid the "3Cs", which meant spaces that are "closed, crowded, or involve close contact."
If one cannot avoid crowded or indoor venues, WHO suggested to open the windows to increase the amount of natural ventilation, properly wear a mask, maintain a physical distance, and limit the time spent in indoor settings.
Keeping good respiratory and hand hygiene as well as getting vaccinated as soon as it is one's turn are also among the protective measures to practice this holiday season — and perhaps even beyond.
But to make the Christmas celebration with loved ones safer, going digital is a space to gather again. With technologies getting more advanced and accessible, there are more ways to celebrate the holiday from a distance.
For one, maximizing the online stores developing on the digital space will enable one to shop for gifts for loved ones without having to wrestle with crowds flocking the malls. And with a range of delivery services also available, sending these presents is possible even not meeting in person.
Also, while one may want to indulge their families and friends by splurging them with extravagant gifts, one may consider giving practical gifts instead. The pandemic year has already caused financial troubles and uncertainties for some. So, better to ask them about products or services that they truly want or need to make sure that they would actually use them.
Aside from giving gifts, one can also use delivery services by sending food to loved ones. Whether homemade treats or favorite foods from nearby restaurants, sharing food this holiday with someone from afar can work with such a digital service.
And for a more creative way to send these gifts or foods, including a Christmas card along can be more meaningful. But instead of buying cards, try to craft on one's own. Putting an effort to design and write a Christmas card can add a smile to the faces of loved ones.
Munching these delights for the Noche Buena, opening up the gifts, or sharing special messages for one another on Christmas can also be done with families or friends at the same time via a virtual celebration. To gather loved ones around the Christmas tree, one can set up a video chat through Facebook Messenger or Zoom.
The virtual celebration can also include playing games, having a movie marathon of holiday classics, and digitalizing or creating a new family tradition during the holiday.
As more people get used to connecting in a video call platform nowadays, families and friends can gather more and create indelible memories of celebrating Christmas in the digital world.
While celebrating the holiday with loved ones is special, one can make it better by sharing the spirit of Christmas beyond the people close to them. Whether on one's own or with family and friends, celebrating the holiday season can also involve giving back to the community by donating or volunteering, which can perhaps become an annual tradition with loved ones.
For a meaningful holiday, one can start taking part in donations through foundations helping Filipinos in need and making the holiday season more joyful for them.
Such activity will not only make a better gathering with families and friends for the holiday but also help in making Christmas celebration and even the following days better for more people as well. — Chelsey Keith P. Ignacio