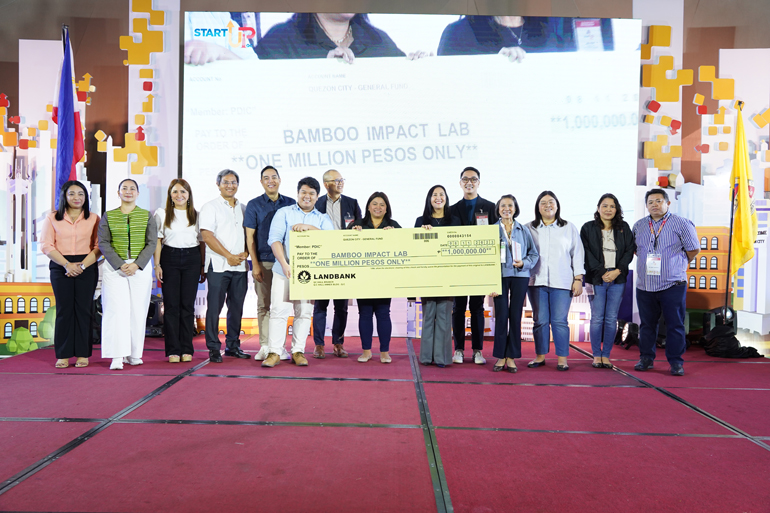 The Quezon City government awarded financial grants amounting to P1 million to each of the five startup finalists under the first cohort of StartUp QC, the city's very own startup program.
The finalists include Bamboo Impact Lab, a company that produces high-quality bamboo-derived products; EdukSine Production Corp., an online platform that provides socially relevant, Filipino independent films; and ITOOH Homestyle, the first tech-enabled marketplace for quality-vetted home and office furniture largely crafted by local craftsmen.
Also receiving grants are Indigo Artificial Intelligence Research, Inc., a venture between engineers and professors that provide general-purpose AI capabilities such as multilingual AI engines that can understand local languages, dialects, and its colloquial variants; and Wika which is an accessibility service provider that offers an array of tech-enabled solutions, such as provision of sign language, captions, and audio descriptions for the deaf and visually impaired.
The grants were awarded during StartUp QC's Demo Day held last Aug. 11, which gave the finalists a stage to pitch their startups.
"Our five pioneering startups have been immersed in various coaching and mentoring sessions meticulously tailored to address their unique requirements. In their journey, we've had the privilege of observing firsthand their unwavering determination, commitment, and eagerness to acquire knowledge and evolve," Juan Manuel J. Gatmaitan, head of the Quezon City Local Economic and Investment Promotions Office, said during the Demo Day.
Launched last October 2022, StartUp QC is an initiative led by the Quezon City government to support existing early-stage startups through various training and mentoring sessions, industry exposure and networking events.
The companies under the cohort have received various business and technical trainings in partnership with the Department of Information and Communications Technology, the Department of Trade and Industry, Quezon City University, Ateneo De Manila University, Miriam College, Thames International, Technological Institute of the Philippines, University of the Philippines, Diliman, and tech innovation hub Launchgarage.
"The city's support does not end here. In addition to the learning, engagement, and development sessions, we have numerous exciting opportunities planned for our cohort," Mr. Gatmaitan said. "Each participant will embark on the product development phase of our program. This phase takes their journey to the next level by offering venture acceleration assistance where we will continue to offer the necessary support to each startup and clients eagerly awaiting your presentations."
Quezon City Mayor Maria Josefina "Joy" G. Belmonte stressed the significance of a city being both innovative and supportive of businesses, stating that local governments should create an inclusive environment that promotes growth and progress for all types of businesses.
"It's in the interest of all sectors to have a city where anyone would be confident to launch their businesses however novel their idea is. Such endeavors would eventually generate jobs, push the economy to its maximum potential, and help every citizen live the life they aspire to have," Ms. Belmonte said in a statement.
"The city, together with its partners, are ready to collaborate with these startups and introduce their ideas to the market. Their success will redound to the growth of the community and the city," she added.
Also present during the Demo Day, Ed Rollan, chief executive officer of Growsari, imparted words of encouragement to the finalists.
"Don't stop yourselves from thinking big. In every pain point, there's always a big idea waiting to be unlocked, but always go for the biggest idea that you can think about," Mr. Rollan shared.
"I've also learned in my seven years of doing startups that 90% of the success is actually reliant on our ability to execute, not on our ability to write slides and strategies. So, I encourage all of you to test new things. Learn and just do it; and [when] the learning comes, adjust [and be] agile enough to evolve," he added.
Ongoing competitions
The Quezon City government is currently accepting applications for the second round of the Startup QC Program until Aug. 30 at 5 p.m. Interested applicants may sign up at https://qceservices.quezoncity.gov.ph/.
Moreover, students in the city are also invited to take part in the Startup QC Student Business Plan Competition.
Launched earlier in July, the program is open to all students of legal age residing in Quezon City, who are enrolled at any school, college, or university in the Philippines.
Applicants are encouraged to submit imaginative business ideas that are focused on high development impact sectors such as agriculture technology (agritech), education technology (edtech), environment technology (greentech or cleantech), health technology (healthtech) and government technology (govtech).
Student applicants who will qualify for this competition will undergo cadetship training sessions on topics such as design thinking, cultivating an entrepreneurial mindset, and creating a pitch deck.
After the cadetship, student finalists will have to pitch their business idea to a panel of judges for a chance to win up to P100,000.
Deadline of applications for this competition is on Sept. 14 at 5 p.m. Interested applicants may sign up also at https://qceservices.quezoncity.gov.ph/.