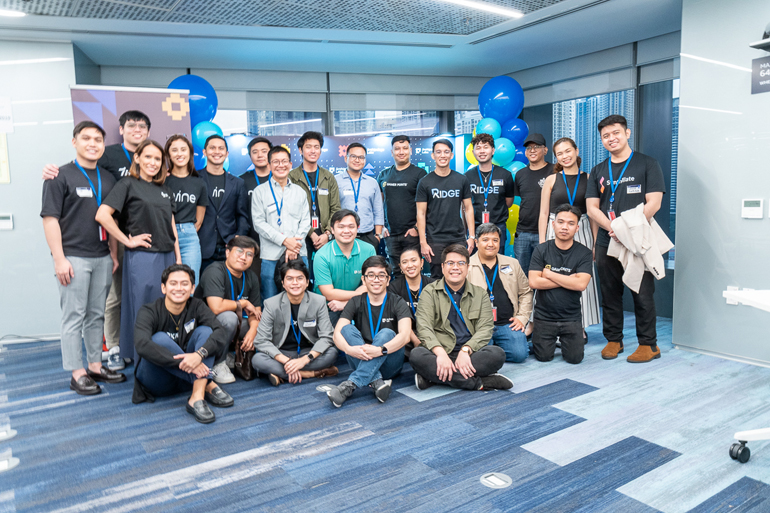 By Chelsey Keith P. Ignacio, Special Features and Content Senior Writer
The first five startups incubated by Archipelago Labs (A-Labs) showcased their technology solutions during the first demo day of its accelerator program.
Among the first cohort of early-stage tech startups under the ALAB Incubation Program are Twine, Ridge, Synthillate, Gamer Points, and Nexhire. The startups were chosen from more than a hundred applicants to undergo the 12-week program, where they got support in improving their business models.
The program with the first cohort culminated with the demo day, which was held at the AWS Office in Bonifacio Global City, Taguig on Aug. 12. The demo day served as an avenue for the startups to show their solutions as well as their planned developments and objectives to investors and key ecosystem players present during the event.
Social app Twine kicked off the ALAB Cohort 1 demo day with its solution of a decentralized social layer powered by artificial intelligence (AI). The startup lets users create their unique digital personality, which will come in the form of a non-fungible token (NFT) to be owned solely by the user.
The app is now live and will validate its ad model this year. The startup has several plans for 2024, among which is partnering with more social networks, including the large ones in the space.
Another startup in the ALAB incubation program was Ridge, which also offers an AI-powered solution for the food and beverage (F&B) industry. The startup provides these businesses with a plug-and-play platform to help them improve their sales by attracting more customers. It also aids them in reducing their inventory losses, such as by preventing spoilages, with the help of machine learning.
Ridge is validating its products this year and plans to go live next year. But the "grander vision" for the startup is to go beyond the F&B industry and expand to other markets such as retail, e-commerce, fintech (financial technology), pharmaceuticals, and hospitality.
In the fintech space, Synthillate is focused on converting intellectual properties (IPs) into financial assets. This is done through its IP valuation algorithm, which determines the value; its IP banking system to accrue value; its IP assetization mechanism to come up with financial contracts and instruments; and its IP asset management.
Aside from the Philippines, the startup is also operating in South Korea, thus commencing its disruptive innovation in developed markets. It has also done exploratory meetings in Thailand and Vietnam, with an aim to become the IP valuation standard in emerging markets.
Meanwhile, gamers are enabled to earn while playing with the solution offered by ad-tech startup Gamer Points, which connects brands with gamers through game ads. Some of the popular games where they could earn from are League of Legends, Valorant, Dota 2, and Fortnite, among others.
Gamer Points is looking to raise funds to reach 500,000 monthly active users; integrate larger brands and advertisers; and extend its reach to India, Southeast Asia, and Latin America.
Helping fellow startups find talents are, meanwhile, the objective of Nexhire, a community-driven talent marketplace that makes use of a bounty and referral system as well as multi-channel distribution.
Nexhire's go-to-market strategy involves being hyperfocus on the Web3 industry first and then scale moving forward. It also looks to work with specialized or niched communities as well as startup incubators and accelerators to offer its recruitment services. The startup is raising funds to grow its team and launch its beta platform by next year, among other plans.
These five early-stage startups under the ALAB incubation program have a chance to get up to P1 million in startup funding from A-Labs and its investor network as well as an exclusive membership to A-Labs Collective, its network of tech startup entrepreneurs, operators, and investors.
As an accelerator, A-Labs supports early-stage startups centered on the intersection of Web2 and Web3. It is on a mission to work together with these startups through its incubation program, giving them mentorship and expert advisory, open office sessions, and networking opportunities.
Web3 is considered the next, decentralized form of the World Wide Web powered by blockchains, cryptocurrencies, and non-fungible tokens (NFTs); whereas Web2 is the web in its current form, defined by its user-generated content and interactivity.
A-Labs believes there will not be a clear delineation between these two in the future.
"Personally and on behalf of everyone at A-Labs, we think that the Philippines is at an inflection point. Everywhere around the world, VCs (venture capitalists) are talking about how the Philippines is the next big thing in the region… All of these things were being said a few years ago. And what struck me is that perhaps the reason why we're having a hard time getting to that next stage is that we don't have a vibrant enough ecosystem," Philippine Digital Assets Exchange (PDAX) CEO and Founder Nichel Gaba said.
"We don't have enough opportunities for entrepreneurs to share lessons with one another, key lessons that may spell the difference between success and failure. And I think this is a great opportunity for us to build just that," he added.
A-Labs is the brainchild of PDAX as well as its early investors and board members Magellan Digital Investment Group and Oak Drive Ventures, Inc.
The ALAB incubation program is now open for applications for the second cohort of startups.