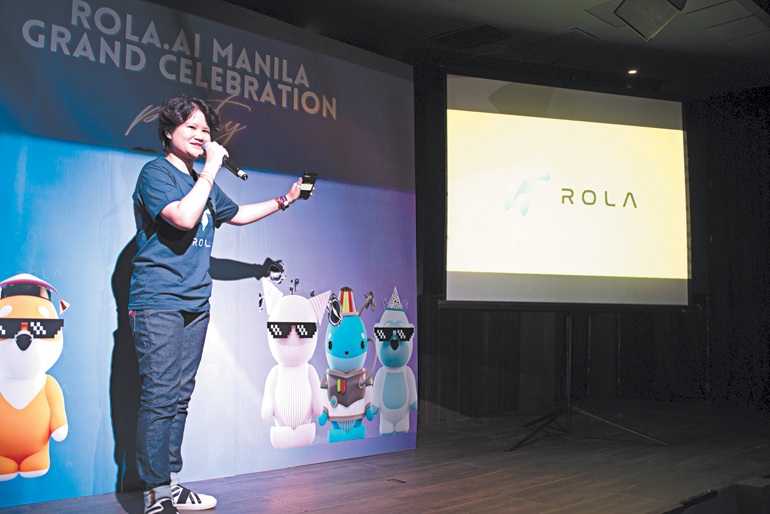 ROLA.ai, the first-of-its-kind crypto community platform, unveiled groundbreaking Web3 features, marking its physical debut in the Philippines. Crypto enthusiasts, beginners, and experts gathered to experience the future of crypto engagement at an interactive event at Revel at The Palace in Bonifacio Global City in Taguig.
Developed by a team of visionary pioneers, ROLA.ai harmonizes with the rapidly evolving Web 3.0 landscape by bringing together a social media platform, gaming interface, metaverse features, non-fungible tokens (NFTs), and an advanced AI algorithm — providing an all-encompassing experience for users with varying levels of crypto knowledge.
"ROLA is not just a platform; it's a community-centric movement," said Rosalind Lee, chief product officer of ROLA. "Our goal is to create an environment where everyone has a chance to contribute, learn, and reap the benefits of the crypto world."
Emphasizing its dedication to inclusivity, ROLA.ai aims to break down the barriers often associated with the crypto space. Its signature feature, Predict2Earn, rewards users with $ROLA tokens for accurately predicting crypto market trends, fostering a collaborative learning space, and democratizing access to crypto.
"We wanted to add an element of gamification to our platform, making it more interactive and exciting. The Predict2Earn feature allows our users to earn rewards while enhancing their market forecasting skills," Ms. Lee further emphasized.
ROLAverse, another innovative feature, integrates metaverse attributes, such as gaming and NFTs, facilitating social interaction and collaboration.
Beyond simple profit metrics, ROLA.ai offers a unique, decentralized, and engaging experience for its users.
ROLA.ai revealed upcoming features, including "Answer & Earn" with Language Setting, allowing users to translate content into English for global accessibility. Currently, Answer & Earn boasts over 2.8 million monthly interactions and continues to thrive.
In celebration of reaching 100,000 active users, ROLA.ai has also introduced Mocha, an NFT that facilitates blockchain messaging, wherein messages are broadcasted securely through the blockchain network.