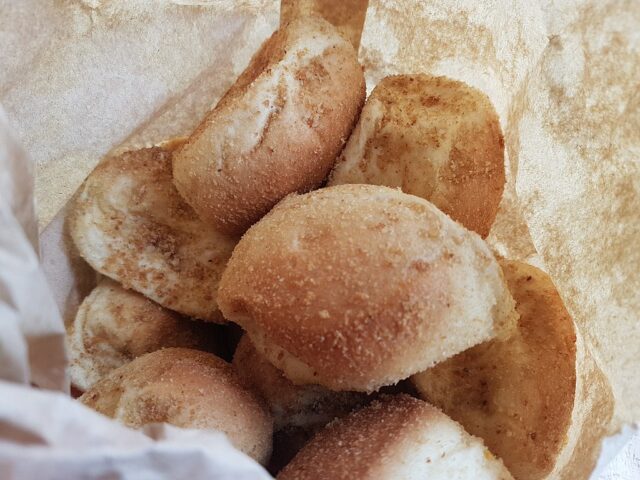 By Patricia B. Mirasol, Reporter
A bakery in Quezon City is feeling the pinch of disrupted raw material flows as a result of the Russia-Ukraine crisis.
Since the price of wheat rose, Kamuning Bakery Café has been studying alternatives to imported wheat, flour, and sugar, the prices of which are "too high," said owner Wilson Lee Flores in an SMS message to BusinessWorld. 
Among the alternative ingredients considered by its cooks and bakers arekamote (sweet potato), cassava, monggo (mung bean), rice, and corn. 
Based on Mr. Flores's research, early Filipinos baked using rice before the Chinese brought wheat to the Philippines. He noted that Filipinos could, perhaps, go back to rice cakes like biko, suman, palitaw, kutsinta, and maja blanca. 
The price of Kamuning Bakery Café's pan de sal has not gone up, and is still at P3 per piece.
"It's still the same quality and taste," Mr. Flores told BusinessWorld. "We do not want to adjust. We will just absorb the higher costs and try to find ways to cope."
The price of wheat rose 48.03% between Feb. 7 and March 7. Russia, which supplied 77,000,000 metric tons of wheat in 2020, is the third top producer of wheat worldwide, per geography resource World Atlas. Ukraine, known as Europe's bread basket, is sixth. 
The country can minimize the effects of any possible economic fallout from the Russia-Ukraine crisis by maintaining its Alert Level 1 status, continuing to vaccinate its population, and keeping businesses open, according to José Maria A. Concepcion III, presidential adviser for entrepreneurship. 
"Keeping businesses open will help contribute to revenue generation for the government and help pay back its debt," he said in a press statement. 
The country's debt, which stands at P11.73 trillion as of end-December, increased by almost P4 trillion since the start of the pandemic. 
"We were able to hit 7.7 GDP [Gross Domestic Product] growth in the fourth quarter, better than most had expected, when we reopened the economy," Mr. Concepcion added. "We have addressed the public health situation, and now we have to keep on track with the economy." 
MSMEs (micro, small, and medium enterprises) generated 63.2% of the country's total employment in 2020. They make up 99.51% of all business enterprises operating in the Philippines.