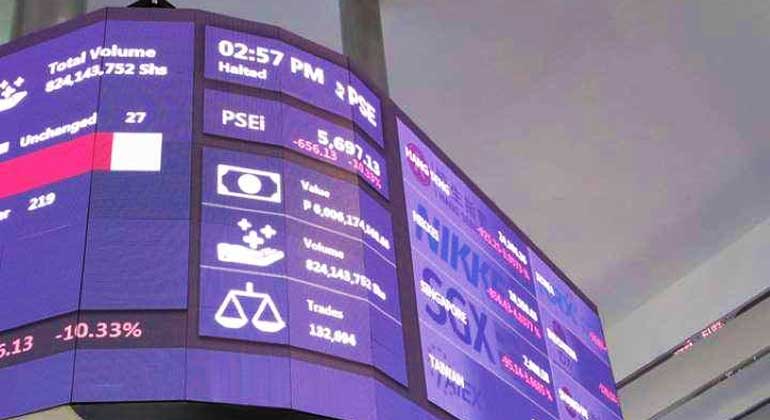 SHARES ended the week in the red as the government said it could close the country's borders again to prevent a fresh surge in coronavirus disease 2019 (COVID-19) infections due to the Delta variant. 
The 30-member Philippine Stock Exchange index (PSEi) lost 55.88 points or 0.85% to close at 6,520.74 on Friday, while the all shares index declined by 36.43 points or 0.89% to finish at 4,038.51. 
"Philippine shares were sold once more as investors stayed on the sidelines to see how the Delta variant would spread and what would be the government's response to this," Regina Capital Development Corp. Head of Sales Luis A. Limlingan said in a Viber message.   
"The market is pricing in the Delta variant's spread and a lockdown's impact on the economy. Nevertheless, [the PSEi's] recovery from early morning loss shows some buying appetite," First Metro Investment Corp. (FMIC) Head of Research Cristina S. Ulang said in a separate Viber message.  
The Health department on Thursday confirmed the local transmission of the Delta variant in the country. The Philippines has 47 reported cases of the Delta variant of COVID-19. 
President Rodrigo R. Duterte told CNN Philippines that the government is planning to close the country's borders if another infection surge happens. He said he is set to meet with the national task force against the pandemic is scheduled on Saturday. 
Metro Manila, Ilocos Norte, Ilocos Sur, Davao de Oro, and Davao del Norte were placed under general community quarantine "with heightened restrictions" starting Friday until the end of the month. 
Most sectoral indices closed in the red on Friday except for services, which inched up by 1.27 points or 0.08% to 1,552.37. 
Meanwhile, property shed 64.46 points or 2.07% to 3,042.54; financials went down by 17.76 points or 1.23% to 1,415.62; mining and oil dropped by 112.54 points or 1.17% to 9,486.53; industrials lost 93.78 points or 1.01% to close at 9,159.48; and holding firms declined by 33.42 points or 0.5% to end at 6,550.32.   
Value turnover surged to P8.9 billion with 2.22 billion shares switching hands on Friday, from the P3.69 billion with 1.4 billion issues seen on Thursday.   
Decliners outnumbered advancers, 172 against 41, while 24 names closed unchanged.   
Foreigners turned buyers with P4.37 billion in net purchases on Friday from the P338.64 million in net outflows seen the previous day.   
FMIC's Ms. Ulang expects the market to remain weak and the PSEi to trade between 6,300 to 6,600 as investors await the government's decision on travel restrictions and possible economic stimulus measures should a lockdown be implemented. — Keren Concepcion G. Valmonte