Shares advance on positive Q2 earnings results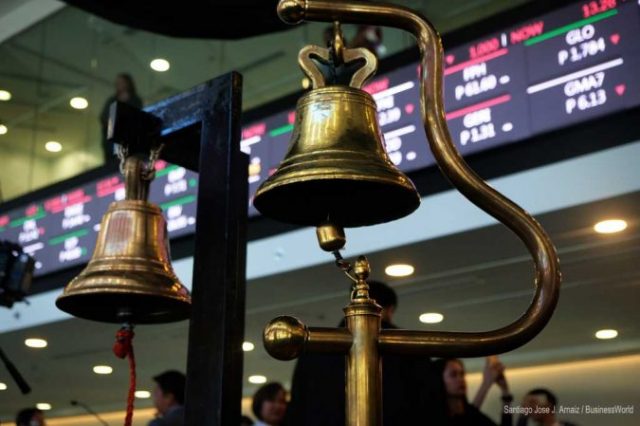 By Keren Concepcion G. Valmonte
PHILIPPINE stocks gained on Tuesday as investor sentiment improved, with more listed companies releasing better-than-expected profit results for the second quarter.
The 30-member Philippine Stock Exchange index (PSEi) climbed by 113.75 points or 1.76% to close at 6,560.06. The broader all-share index added 55.55 points or 1.39% to finish at 4,040.82.
"The market rallied by more than 100 points for the second straight session in anticipation of strong second-quarter earnings results," Lance U. Soledad, an equity analyst at AB Capital Securities, Inc. said in a Viber message.
Solaire Resort & Casino Operator Bloomberry Resorts Corp. produced "respectable results" during the quarter, Chief Executive Officer Enrique K. Razon, Jr. said in a statement. The company trimmed its net loss to P1.2 billion from P4.7 billion a year earlier.
Ayala Land, Inc. made P3.3 billion in net income last quarter from P426 million a year earlier. Earnings of unit AyalaLand Logistics Holdings, Corp. rose by 59% to P247 million from a year earlier.
Semirara Mining and Power Corp.'s consolidated net income improved by nearly four times to P3.98 billion as its coal sales improved.
"Trading volumes were also higher, which tells us that investors are willing to come in at current prices, although volumes are still below the daily average of around P6 billion," Christopher John Mangun, research head at AAA Southeast Equities, Inc. said in an e-mail.
Value turnover increased to P4.89 billion, with 799.68 million shares switching hands. This was higher than 1.55 billion shares worth P3.54 billion traded on Monday.
"Fears of an uncontrollable coronavirus disease 2019 (COVID-19) outbreak were calmed by the increasingly tighter restrictions that the government is slowly implementing," Mr. Mangun said.
"This is in line with the notion that the temporary imposition of tighter restrictions is positive on investor sentiment, as the long-term benefits will outweigh the short-term economic weakness," he added.
All sectoral indices closed higher on Tuesday. Mining and oil improved by 229.21 points or 2.4% to 9,756.41, financials went up by 31.48 points or 2.25% to 1,428.01, property increased by 61.93 points or 2.05% to 3,081.41, holding companies gained 100.05 points or 1.55% to 6,551.62, industrials rose by 136.60 points or 1.5% to close at 9,228.50, and services climbed by 18.38 points or 1.18% to 1,566.19.
Advancers outnumbered decliners 126 to 57, while 54 stocks were unchanged.
Net foreign buying decreased to P108.49 million from P135.03 million in net purchases on Monday.
Analysts expect the index to trade up to 6,600 for the rest of the week.
"As the market is currently in the 6,500 levels, we›ll have to see this week if the 6,270 support area holds," Darren Blaine T. Pangan, an analyst at Timson Securities, Inc. said in a Viber message.