Setting financial goals in time of crisis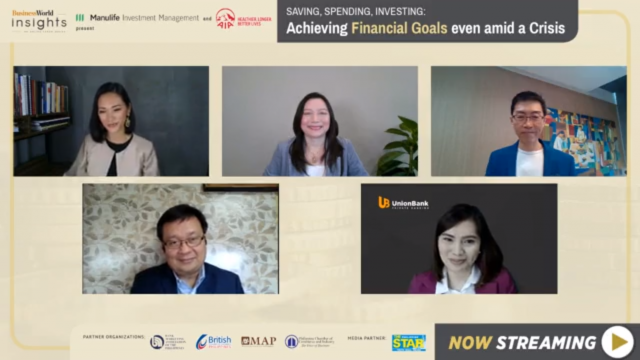 By Chelsey Keith P. Ignacio, Special Features Writer
The coronavirus disease 2019 (COVID-19) pandemic have taken unexpected costs from one's pocket, making numerous people uncertain for the present and the future. Such experience has prompted them to be extra mindful of their finances.
This is the common observation shared by industry leaders in a recent BusinessWorld Insights held on August 31, with the theme "Saving, Spending, Investing: Achieving Financial Goals even amid Crisis."
Aira Gaspar, president and CEO of Manulife Investment Management (Philippines), said that Filipino Millennials and Generation Z experienced a financial transition during the COVID-19 crisis. Their survey showed that 81% of the younger generation began to take necessary steps financially to secure their future.
"The pandemic has accelerated the financial adulting of the younger generation in our survey. It caused a shift in their behavior, which puts investing, saving, and necessities in their financial priorities," Ms. Gaspar summarized.
AIA Philippines' CEO Kelvin Ang, meanwhile, said that there is a higher value for protection products like medical needs as well as for savings.
Sharing a survey, Mr. Ang noted that 77% want to save more for peace of mind, and about the same number want to save for emergency spending.
"The pandemic is more than a disease; it is a disruption that impacts on the financial and the health of people. So, psychologically, people are saying that they want to save more because of the uncertainty. And they are considering various savings and investment options," he added.
Edser Trinidad, first vice-president and head of investment & research at First Metro Asset Management, Inc. (FAMI), observed that the pandemic changed the financial goals of the people.
Among the goals of the people before was to set aside finances to, for instance, travel or purchase certain material things, he explained. But because of the uncertainty nowadays, the goal has changed in terms of setting a target, as shown in increasing attention on putting financial buffer in one's family and setting aside more budget for health and well-being.
Mr. Trinidad also shared that lots of their investors have moved towards a more conservative approach last year due to the uncertainties, with an emphasis on savings or time deposits and money market funds. This year, with other countries improving their vaccination rates and reopening their economy, several investors have started to look out abroad to diversify their investments.
Atty. Loraine Saguinsin, relationship manager at UnionBank Private Banking, also presented a survey they conducted with Lombard Odier, noting four broad categories that gained the most importance for the ultra high net-worth clients when the COVID-19 crisis began. These include technology, investment, sustainability, and family services.
Urgency of goal-setting
Given that several people began to change their priorities towards money or assets, how should they set financial goals and start accomplishing them?
Ms. Gaspar of Manulife advised to set realistic financial goals and expectations and proactively pursue ways to achieve them.
In starting to save and invest, it is okay to start even with small amounts. They could also begin doing so regardless of the times. "People can often fall into the black hole of waiting for a certain perfection to happen before they start. But sometimes, the ideas of perfection tend to change throughout time and experience. So no matter where you are at, start now and take the first step," Ms. Gaspar said.
A basic requirement to create saving is to suspend less than what an individual makes. This process also comes with assessing one's income and expenses. "For example, in terms of expenses, are there expenses that you can do without in the current pandemic?" Ms. Gaspar explained. "There is also an option of looking for locations that can give you the best value for your money for the necessities that you need to spend on."
Investing is also never too early to start on, but Ms. Gaspar reminded the importance of setting up emergency funds if something untoward happens. It could be a source to fund the particular requirement and perhaps turn a person away from instances like taking debt, which could have high-interest rates.
FAMi's Mr. Trinidad also recognized that setting up financial goals or targets is an important thing to do right now as it would guide a person on how to set aside funds for investing and for saving.
"Setting up goals is quite important to at least allow oneself to better prepare for this kind of uncertainties," he said.
Likewise believing that financial planning is good amid bad times or not, Mr. Ang advised people to be clear of their financial goals and to stick with them as well as not be distracted from them. He also recommended speaking with financial advisors.
Additionally, for the CEO of AIA Philippines, getting help from someone would be good in maneuvering the financial pyramid. This is to make sure that the pyramid is properly addressed, from the protection needs at the bottom, before going to savings, investments, and others. "Having a qualified person will help you understand yourself — what is the risk profile, the investment horizon, and the purpose," Mr. Ang said.
Balance and continuity
The focus on financial goals, whether the short-term or long-term ones, should also be balanced. According to Atty. Saguinsin of UnionBank, long-term goals like future education and short-term goals like bills are all relevant. An individual cannot just choose one or the other.
"It is more of balancing, which you would allocate more for this goal," she explained. "At least for the means that you have right now, you can allocate portions of your savings and investments on short-term goals and then apart on long-term goals. And as you have more sources of income, now you can allocate more on your long-term goals like retirement or what you want your children to inherit."
Also, for Atty. Saguinsin, now is the best time to start planning wealth transition. In planning the transfer of assets, families should also ensure a smooth transition and that the successors would manage well in terms of skills and knowledge. A key in doing such planning is communication, which is pivotal in family businesses.
"The pandemic has allowed us to rethink, re-examine, and re-plan on how we will achieve our financial goals," Atty. Saguinsin also noted. "The challenge is: Can we sustain this post-pandemic? Hopefully, we can bring this discipline in the new normal so that we will be consistently investing and saving for our future."
This session of BusinessWorld Insights is made possible by Manulife Investment Management Philippines and AIA Philippines; with the support of Management Association of the Philippines, Philippine Chamber of Commerce and Industry, Bank Marketing Association of the Philippines, British Chamber of Commerce of the Philippines and The Philippine STAR.