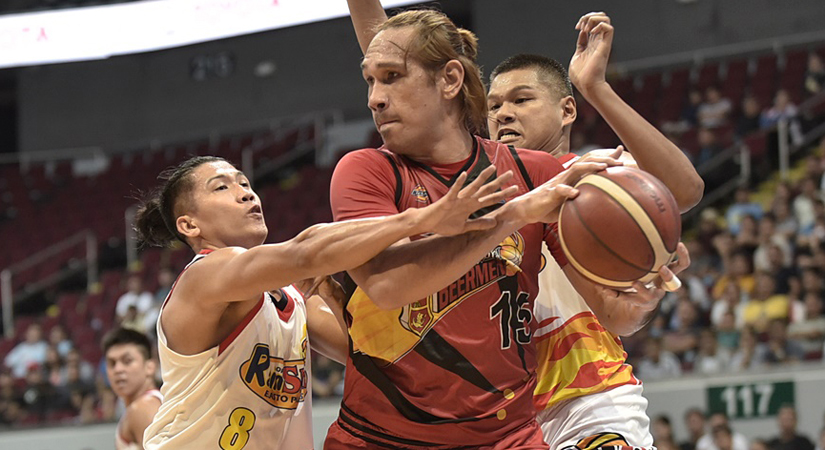 By Michael Angelo S. Murillo
Senior Reporter
FOR the sixth straight year the Philippine Basketball Association most valuable player award ended up in the hands of San Miguel big man June Mar Fajardo.
In the Annual Leo Awards on Sunday at the Smart Araneta Coliseum, which recognized top-performing individuals last season, Mr. Fajardo wound up with the biggest prize anew, something he has gotten hold of since 2014.
In winning his sixth MVP plum, Mr. Fajardo, 30, beat out Jayson Castro of the TNT KaTropa, Christian Standhardinger of the Northport Batang Pier and CJ Perez of the Columbian Dyip.
The "Kraken," as Mr. Fajardo is monikered, put himself in solid position for the award after helping the Beermen to the titles in the Philippine Cup and the Commissioner's Cup, and winning the best player of the conference award in the former.
San Miguel, however, missed out on the opportunity to win a rare PBA grand slam after being eliminated in the quarterfinals of the season-ending Governors' Cup.
Unfortunately, the "Kraken" is set to miss considerable time in Season 45, which kicked off also yesterday, after injuring his leg in practice and undergoing surgery.
"I would like to thank my team and Boss RSA (San Miguel boss Ramon S. Ang) for their support. I really don't know what to say but this is another blessing. Unfortunately I'm going to miss some time this season but I'm trying to stay positive. And I know God has a plan for me," said Mr. Fajardo in the vernacular as he received the MVP award.
Mr. Fajardo made his way to center court to receive his award on a three-wheeled scooter.
The San Miguel big man led the first mythical selection as well, joined by Messrs. Castro, Standhardinger and Perez and Sean Anthony of Northport.
Second mythical selection was Roger Pogoy and Troy Rosario of TNT, Ian Sangalang (Magnolia), Japeth Aguilar and Stanley Pringle (Barangay Ginebra).
Rookie of the Year was Mr. Perez, who led the league in scoring throughout with an average of 20.8 points.
All-Defensive Team was made up of Messrs. Fajardo, Aguilar, Anthony and Perez and Chris Ross (San Miguel).
Most Improved Player was Mo Tautuaa (SMB) while the Sportsmanship Award went to Gabe Norwood (Rain or Shine).