Responding to the pandemic through CSR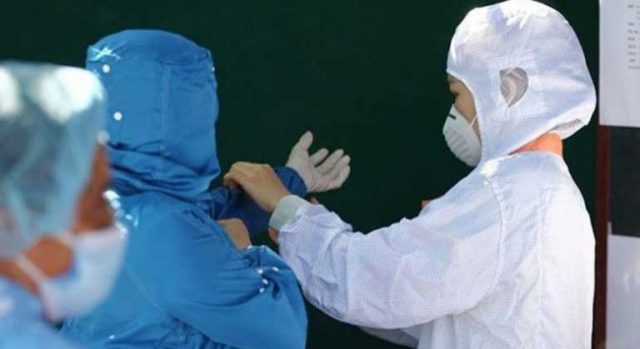 Since the coronavirus disease 2019 (COVID-19) pandemic, health workers continue to face risks due to their constant exposure to the SARS-CoV-2 virus. They work long shifts, care for several patients, and endure the psychological impact of seeing a number of people succumb to the virus or its serious complications. The pandemic surge in March and April only added to their burden, having to care for thousands who tested positive per day. Since the start of the pandemic, our frontliners have not rested and have certainly gone beyond their duty.
A study on the mathematical model of COVID-19 transmission between frontliners and the general public showed that both frontliners and the general public should be protected against COVID-19. Prioritizing only the protection of frontliners, the study showed, cannot flatten the epidemic curve. It added that if only the general public were to be protected, there would be a significant flattening of the epidemic curve but the infection risk faced by frontliners will remain high. This high infection risk would affect their ability to care for patients.
The World Health Organization (WHO) said that protecting health workers is key to ensuring a functioning health system and society. "Health workers play a vital role in keeping others safe, relieving suffering  and saving lives. No country, hospital or clinic can keep patients safe unless its health workers are safe," the WHO said. 
It is for this reason that the Pharmaceutical and Healthcare Association of the Philippines (PHAP) and our corporate social responsibility (CSR) arm, the PHAPCares Foundation, launched the "We will not rest" campaign to help protect frontliners and communities affected by COVID-19. PHAP members collectively donated P120 million to the country's COVID-19 response, benefiting more than 1.5 million families and 155 health facilities last year. Beneficiaries included government and private hospitals, charitable institutions, government agencies, and nongovernmental organizations (NGOs), among others.
This year, the PHAPCares Foundation continues to help support frontline healthcare workers. When the fire broke out at the Philippine General Hospital last week, the Foundation dispatched 100 cases of bottled water provided by its partner Save More Markets.   
PHAP member Sanofi also recently donated 1,000 personal protective equipment (PPE), which PHAPCares initially turned over to the Perpetual Help Medical Center DALTA Foundation in Las Piñas City, and Our Lady of Peace Hospital through its Foundation of Our Lady of Peace Mission, Inc., in Parañaque City.
Orient Europharma (OEP) likewise donated 6,530 boxes of anti-hypertension medicines worth P5.6 million, which PHAPCares distributed to eight health facilities. These are Dr. Jose N. Rodriguez Memorial Hospital; Our Lady of Peace Hospital and San Lazaro Hospital in Metro Manila; Ospital Ng Tagaytay in Cavite; Perpetual Help Medical Center DALTA Foundation, Las Piñas; La Union Provincial Health Office in La Union; Mariano Marcos Memorial Medical Center in Ilocos Norte; and Tolosa Rural Health Unit in Leyte.
Savemore Market, a longstanding PHAPCares partner, also donated 50 sacks of detergents needed in hospital facilities. PHAPCares distributed the donated detergents to Our Lady of Peace Hospital, University of Perpetual Help JONELTA Foundation, Biñan, San Lazaro Hospital, and Dr. Jose N. Rodriguez Memorial Hospital.
Since its founding, PHAPCares has donated P1B in medicine and financial assistance to Filipinos disadvantaged by sickness, poverty, conflicts and disasters. Under the leadership of its new officers and trustees, PHAPCares intends to form more partnerships to support the nation's efforts to contain the spread of COVID-19, and to establish pharmaceutical security resilience in preparation for future pandemics.
The World Health Assembly, which runs till June 1 in Geneva, focuses on the urgency of ending the current pandemic and preventing the next one. Protecting frontliners must be on top of the agenda if this ambitious goal is to be achieved.
Teodoro B. Padilla is the executive director of the Pharmaceutical and Healthcare Association of the Philippines (PHAP). PHAP represents the biopharmaceutical medicines and vaccines industry in the country. Its Members are in the forefront of research and development efforts for COVID-19 and other diseases that affect Filipinos.