PSEi to move sideways ahead of firms' Q3 results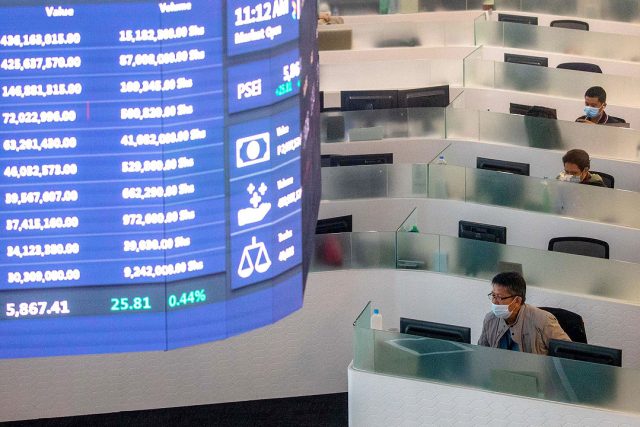 PHILIPPINE shares are expected to move sideways this week as investors monitor the country's coronavirus disease 2019 (COVID-19) situation and in anticipation of third quarter (Q3) corporate earnings reports.
The 30-member Philippine Stock Exchange index (PSEi) rose by 30.35 points or 0.42% to close at 7,213.46 on Friday, while the broader all shares index went up by 4.86 points or 0.10% to 4,448.81.
Week on week, the benchmark index climbed 306.60 points from its 6,906.86 finish on Oct. 8.
Rizal Commercial Banking Corp. (RCBC) Chief Economist Michael L. Ricafort said the market's gains were driven by improved sentiment on the back of lower COVID-19 infections and progress in the country's vaccination program.
According to the national COVID-19 vaccination dashboard of the Health department, the country has administered nearly 51.99 million vaccine jabs with almost 21.17 million or 22% of the population already fully vaccinated against the disease.
Analysts said the market may move sideways this week as investors continue to monitor the country's COVID-19 situation and anticipate the release of companies' third quarter earnings.
"Market sentiment could also be shaped by some leads related to the May 9, 2022 presidential elections," Mr. Ricafort said in an e-mail, adding that preparations for the national elections would spur "increased government spending, especially infrastructure, as a major pillar to the economic recovery program."
The "expected increase in COVID-19 vaccine arrivals in the coming weeks or months" as the country aims to inoculate more of the population may also boost market sentiment, he added.
"The brightening economic prospects brought by the alert level downgrade in the National Capital Region (NCR) is seen to keep the positive sentiment in the market," Japhet Louis O. Tantiangco, senior research and engagement supervisor at Philstocks Financial, Inc., said in a Viber message on Saturday.
Metro Manila will be under Alert Level 3 until end-October amid the decline in COVID-19 cases. The new classification allows for the reopening of movie theaters and amusement parks, as well as eased restrictions for vaccinated individuals.
"If the cases further decline [this] week, then it may strengthen investors' confidence since it raises the possibility of more easing of restrictions in the country," Mr. Tantiangco said.
"The elevated global oil prices serve as downside risk, however," he added. "The benchmark Brent crude is already nearing $85 per barrel. If oil prices remain high, worse, if they rally further, then it is seen to raise inflation worries which could weigh on the local bourse."
Mr. Tantiangco placed the PSEi's support at 7,000 to 7,100 and its resistance at 7,300.
Meanwhile, RCBC's Mr. Ricafort said the immediate support level is at 6,800 to 7,000, while the resistance level is at the 7,400 to 7,500 range. — Keren Concepcion G. Valmonte