Home
Editors' Picks
No Christmas crush? Mall crowds unlikely to hit pre-pandemic level in Q4
No Christmas crush? Mall crowds unlikely to hit pre-pandemic level in Q4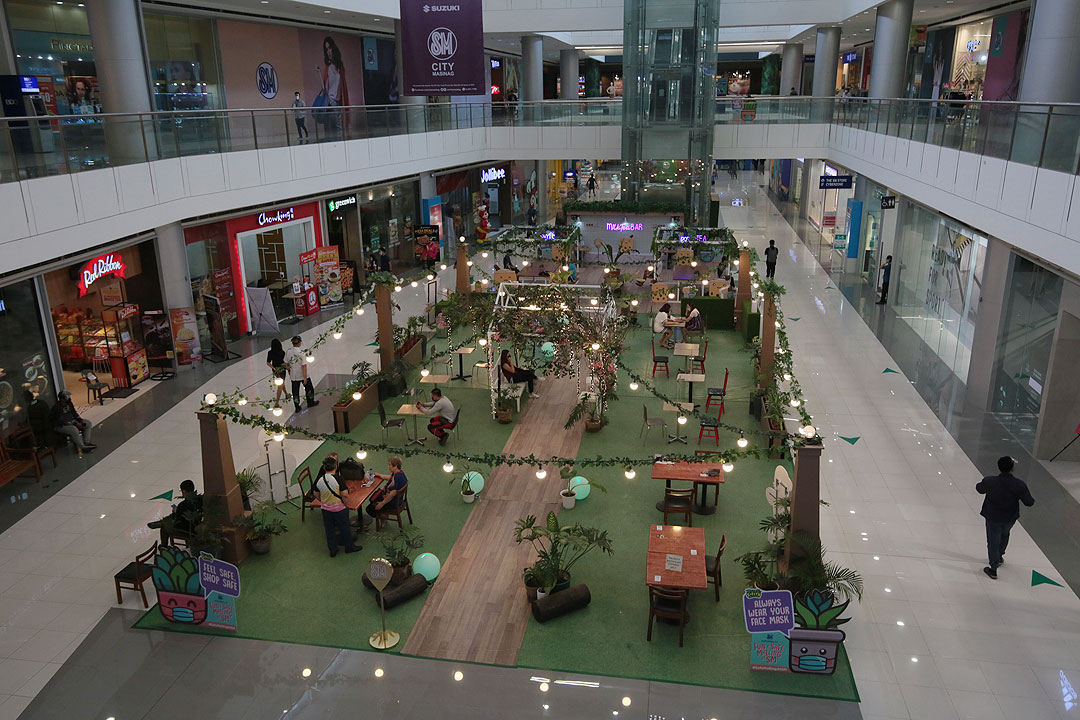 SHOPPING MALLS in the Philippines are unlikely to see foot traffic return to pre-pandemic levels this year, even with the holiday rush and the easing of lockdown restrictions.
"The fourth quarter is perennially a strong period for retail as spending is usually fueled by employees' holiday bonuses and increased remittances from Filipinos working abroad. We do not see consumer traffic reverting to pre-pandemic level in the next six to 12 months as Filipinos' propensity to spend is still lukewarm and the quarantine situation in Metro Manila remains volatile," Colliers Philippines said in a third quarter retail report.
Mobility restrictions have eased in Metro Manila although it remains under Alert Level 3 until Nov. 14, which means malls and restaurants have to operate at limited capacities.
Colliers Philippines Associate Director Joey Roi H. Bondoc expressed optimism the relaxation of lockdowns will spur more Filipinos to go to the malls and spend.
"Revenge shopping and dining should anchor mall operations' rebound," he added.
Revenge shopping refers to a trend first seen in countries that have emerged from lockdowns, wherein consumers make up for lost time by spending and going out more.
"The improving inoculation program should improve business and consumer confidence and this should play a crucial role in raising consumer confidence, mall traffic, and retail rents," Mr. Bondoc said.
According to the Johns Hopkins University Coronavirus Resource Center, the Philippines has fully vaccinated 26.8 million out of its 110 million population as vaccine supply constraints eased.
The number of coronavirus disease 2019 (COVID-19) cases have also continued to decline.
NEW SPACES, HIGH VACANCY
Developers appear to be anticipating a rebound in retail demand starting next year.
Colliers said around 137,000 square meters (sq.m.) of new leasable space is expected to be delivered within the fourth quarter, with the opening of the SM City Grand Central in Caloocan and Ayala Triangle Retail in Makati.
Another 300,900 sq.m. will be completed through 2024, including the Opus Mall, Mitsukoshi Mall, One Ayala Retail, SM Mall of Asia Expansion, Greenhills Center Expansion and the 50,000 sq.m.- expansion of Trinoma Mall.
However, retail vacancy currently remains in double-digits. As of the third quarter, retail vacancy stood at 14.8% in the third quarter, and is expected to continue to rise to 17% next year.
If realized, Colliers said the 17% vacancy projection would be the highest since the 17.3% seen in the fourth quarter of 2002.
"Among the factors that will likely to influence physical mall space absorption beyond 2021 are the growing propensity of Filipinos to shop online as well as rising inflation concerns. The volatile lockdown situation in Metro Manila is also likely to impact retailers' decision to reopen as well as consumers' willingness to go out and spend," Colliers said.
Retail rents have fallen at a slower pace to 5% this year, from 10% in 2020. Colliers said it expects rents to begin to recover next year.
The rising vacancies and drop in rents in malls "should provide an opportunity for retailers to lock in space and haggle for lower lease rates in prime locations," it added.
At the same time, mall operators should be more cautious of new supply over the next two years, Colliers said.
"Developers should factor in the projected recovery in consumer spending and easing of quarantine restrictions, as well as economic factors such as inflation and OFW remittances… Developers should also assess the viable sizes of new malls," it said.
Developers also should reconsider their plans and look into building neighborhood malls with less than 50,000 sq.m., Colliers said. — Cathy Rose A. Garcia