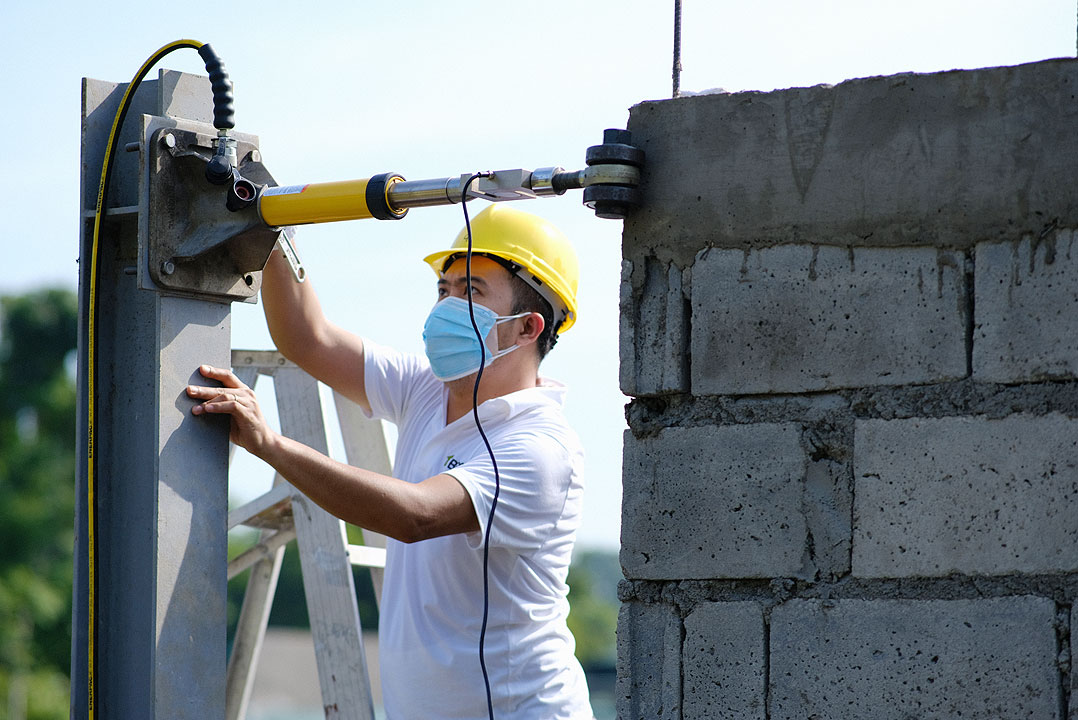 By Patricia Mirasol 
A team from the University of the Philippines-Diliman's Institute of Civil Engineering (UP Diliman ICE) has won Habitat for Humanity's crowdsourced competition for retrofitting houses with unsafe foundations. Besting more than 81 submissions from 24 countries, the group's solution uses a load-bearing support mechanism and a reinforced concrete beam that increase a home's resilience to earthquakes and typhoons. 
The Column Footing Grade Beam Monolith is the brainchild of Dean Ashton Plamenco, Diocel Harold Aquino, Fernando Germar, and Ammiel Barros. Their winning entry has isolated reinforced concrete footings placed on four corners of a structure, with each side connected by a reinforced concrete beam called a plinth. Said to withstand the required gravity and special loads from earthquakes and strong winds, the method can also be applied for future incremental builds — like a second story — in the existing structure.  
"(I am firmly convinced that) the solutions presented at today's event will excite and inspire actors in the Philippine housing sector. We have the collective responsibility to reduce disaster risks and protect vulnerable communities in the Philippines and all over the world," said Luis Noda, Habitat for Humanity International's Asia Pacific vice-president, in the Sept. 29 awarding ceremony.  
A panel from SeaFreight Labs, BASE Bahay Foundation, Habitat for Humanity International, and Habitat for Humanity Philippines selected four finalists, further whittled down to three in the field test phase, after the solution presented by one was found to be difficult and expensive to install. 
The field test done in Bignay, Valenzuela City employed a lateral load test, which simulates the lateral forces of earthquakes and typhoon winds, on each of the three remaining solutions. Judging was based on four criteria: resilience against typhoons and earthquakes; availability of materials needed; ease of installation among masons and homeowners; and affordability among low-income households. 
"Equally important is if the homeowners like the solution," said Jessan Catre, Philippine country lead at Habitat for Humanity's Terwilliger Center for Innovation in Shelter, at the virtual event. "Would they actually use it?"  
The Column Footing Grade Beam Monolith, which won over Charles Bunch's Foundation-Fit System and Leonard Duffy's Perimeter Concrete Reinforcement Retrofit for Concrete Hollow Block Structures, exceeded the structural code requirements in terms of resiliency, and also got top scores in a community acceptability survey.  
The winning UP team will receive $25,000. The two other finalists, South Korea-based Mr. Bunch and US-based Mr. Duffy, will receive certificates of participation. 
The Habitat for Humanity Challenge was launched in the Philippines in October 2020 to source cost-effective ways to retrofit houses to withstand a 6.5 Richter scale earthquake and a typhoon with 200-kph winds. Apart from the Philippines, three other challenges were launched in Kenya, Mexico, and India through InnoCentive, an open innovation and crowdsourcing company.  
According to Mr. Catre, Habitat for Humanity will work with UP Diliman ICE to pilot the Column Footing Grade Beam Monolith for scale. It will also work with partners like Holcim Philippines to develop business solutions, as well as the Department of Human Settlements and Urban Development to create programs that support innovation.