PHL shares may pull back after last week's rally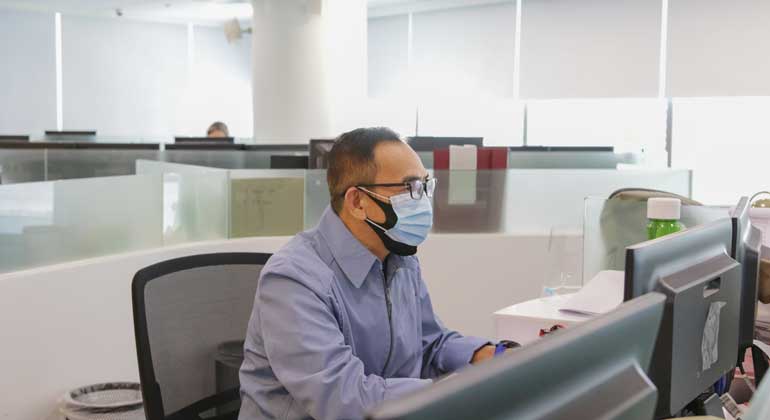 PHILIPPINE shares are expected to move sideways this week as they are already "overbought" following the market's rally in the past few days.
The benchmark Philippine Stock Exchange index (PSEi) gained 9.37 points or 0.14% to close at 6,674.51 on Friday, while the broader all shares index went up by 12.56 points or 0.31% to 4,047.48.
Week on week, the main index climbed by 475.26 points from its 6,199.25 finish on May 21.
"Sentiment was positive [last] week, as investors hunted for bargains amid the growing optimism over the economic recovery of the country, as the vaccine rollout continues to take place," Darren Blaine T. Pangan, trader at Timson Securities, Inc., said in a Viber message on Friday.
"Moreover, the MSCI rebalancing results and the month-end window dressing activities may have affected the market's movement this week," he added.
AAA Southeast Equities, Inc. Research Head Christopher John Mangun said in an e-mail on Sunday that the PSEi "came back to life" after several weeks of losses and overly cautious market sentiment, finishing its best week in the past seven months.
"Several internal issues like the passing of a resolution by Congress which would allow them to pass laws to ease foreign investment restrictions, the beginning of the plenary debate on fiscal stimulus package Bayanihan III, the continuous progress of the vaccine rollout and the MSCI rebalancing may have all contributed to the improved sentiment," he said.
"Speculation on lighter restrictions for the coming weeks may also be in play," Mr. Mangun added. "The rally in other markets also gave investors more confidence."
"With containment of the virus still nowhere in [sight] on slow vaccine rollout, we may continue to see downward pressures as we await the approval by the Senate of Bayanihan III which may somehow counter the negative sentiment among investors in the near term," Diversified Securities, Inc. Equity Trader Aniceto K. Pangan said in a text message on Saturday.
"I am expecting a pullback after last week's colossal move higher," AAA Southeast Equities' Mr. Mangun said. "Although, this should be treated as a buying opportunity by investors as the economy continues to recovery despite the tightening of restrictions."
Economic reports such as local inflation data for May will also affect sentiment this week.
"The uncertainty of the results will encourage some profit taking. If inflation, as well as the unemployment rate, continues to accelerate, we will see the sentiment turn cautious," Mr. Mangun added.
He placed the PSEi's support at the 6,450 to 6,500 levels and resistance at 6,950 to 7,000. Meanwhile, Timson Securities' Mr. Pangan expects the index to trade between 6,200 to 6,940.
"We'll see how traders will move [this] week as we keep tabs on what quarantine measures the government will be implementing in the capital region," Mr. Pangan said. — Keren Concepcion G. Valmonte