Philippines reports 97 more Delta infections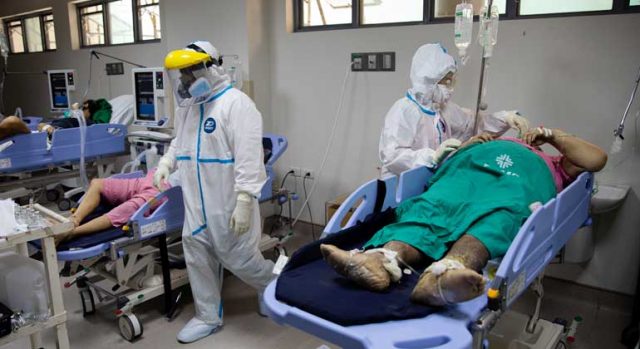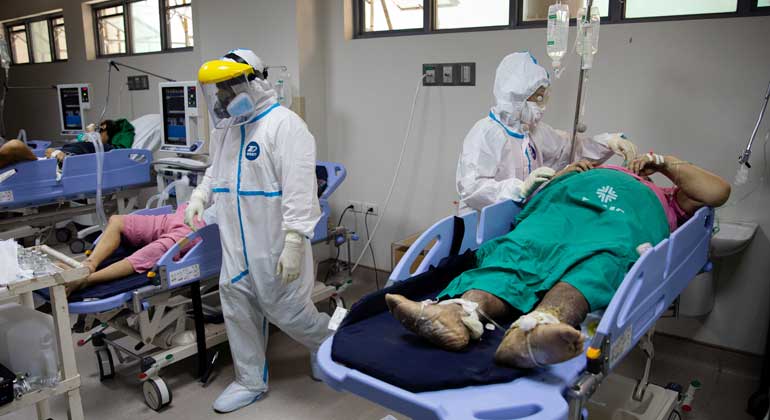 By Kyle Aristophere T. Atienza and Jenina P. Ibañez, Reporters
PHILIPPINE health authorities on Thursday said 97 more people had been infected with the more contagious Delta coronavirus variant, pushing the total to 216.
Of the 97, 88 got the virus locally, six were returning migrant Filipinos, while officials were still verifying how the three got the virus that was first detected in India, the Department of Health (DoH) said in a statement.
Of the six migrant workers, two were seafarers of MT Clyde and Barge Claudia, now anchored in Albay, while four were crew members of MV Vega that arrived from Indonesia, the agency said.
Ninety-four people have recovered, while three died, DoH said.
Meanwhile, 83 more people have been infected with the Alpha variant from the United Kingdom. It added that 127 more people have gotten the Beta variant from South Africa and 22 more got the Philippine coronavirus variant.
"It is imperative for local government units to immediately crush clusters of infection and observed increases in cases in their respective jurisdictions to reduce transmission," the Health department said.
"Regardless of the presence of a variant of concern, the management and interventions for these positive COVID-19 cases remain the same," it added.
The agency urged people to get vaccinated to prevent severe infection.
DoH reported 5,735 coronavirus cases on Thursday, bringing the total to 1.57 million.
The death toll rose to 27,577 after 176 more patients died, while recoveries increased by 4,069 to 1.48 million, it said in a bulletin.
There were 56,273 active cases, 93.5% of which were mild, 1.2% did not have symptoms, 2.3% were severe, 1.61% were moderate and 1.4% were critical.
The agency said 114 duplicates had been removed from the tally, 32 of which were tagged as recoveries. It added that 132 recoveries had been reclassified as deaths.
LOCKDOWN
Meanwhile, Manila, the capital and nearby cities would remain under a general lockdown with heightened restrictions until mid-August, the presidential palace said on Wednesday night.
This was despite the recommendation by health experts to put the capital region under a hard lockdown to contain a fresh spike in coronavirus infections. Metro Manila mayors have also been calling for the imposition of tighter quarantines in Metro Manila, which is home to more than 13 million Filipinos.
Nearby provinces such as Rizal, Bulacan, Cavite and Laguna would also be placed under a general quarantine with heightened restrictions, presidential spokesman Herminio L. Roque, Jr. said in a statement.
Also on Thursday, the Philippine Chamber of Commerce and Industry (PCCI) said it had not endorsed a strict lockdown in Metro Manila.
PCCI President Emeritus George T. Barcelon in a statement said he had only sought preparation time in case an enhanced community quarantine was imposed again.
"The economic downside to establishments and employees is not something we can afford," he said in a separate Viber message. "My position was to wait and see if the healthcare sectors can cope with a surge, then decide the lockdown if necessary."
The chamber recommends incentivizing people who have been fully vaccinated by allowing them to travel across provinces and enter malls and restaurants freely.
"The idea is to open the economy and allow greater mobility of people while taking stock of the basic health protocols to observe," PCCI Acting President Edgardo G. Lacson said in the statement.
"The virus will be with us for months, maybe years, and we have no choice but to live with it. This is how other countries have fought the virus. Lockdowns will cause even greater hardships for our people," he added.
Daily coronavirus infections could go up to 5,000 by late August if a two-week hard lockdown was not enforced in the capital region, according the OCTA Research Group.
The French government adopted a vaccine passport program banning the unvaccinated from restaurants and movie theaters. In the Philippines, Trade Secretary Ramon M. Lopez had opposed a proposal to restrict the movement of unvaccinated people while vaccine access was limited. 
Although the chamber released a statement against a hard lockdown, PCCI President Benedicto V. Yujuico said in an e-mail on Thursday the country has few choices because it needs to stop the spread of the Delta variant.
"Ideally, the most effective way is to accelerate vaccination," he said. "If this is not possible, then I suppose the circuit breaker approach could be an alternative, but the government must help the poor for their basic livelihood."
Meanwhile, the Health department said the Philippines was at "moderate risk" for the coronavirus amid an uptick in infections.
Health Undersecretary Maria Rosario S. Vergeire said an increase in coronavirus cases in Metro Manila was observed in mid-July. The region reported 1,151 cases on July 28, she told an online news briefing.
Central Luzon, Southern Tagalog and Central Visayas showed signs of increase," she said.
OCTA Research earlier flagged a fresh surge in coronavirus infections in Metro Manila, saying about 1,000 cases were being reported daily.
Health authorities have debunked the claim, saying there was no evidence of a surge. "We don't just consider the numbers, we also consider the healthcare capacity," Ms. Vergeire said.
"Surge is not recognized in epidemiology so as much as possible, we do not want to use that. We don't like to be an alarmist."
"OCTA reaffirms its position that a surge has already started in the NCR and that tightening COVID-19 measures early as a precaution is the right thing to do at this time," OCTA fellow Ranjit S. Rye told reporters in a Facebook Messenger chat.