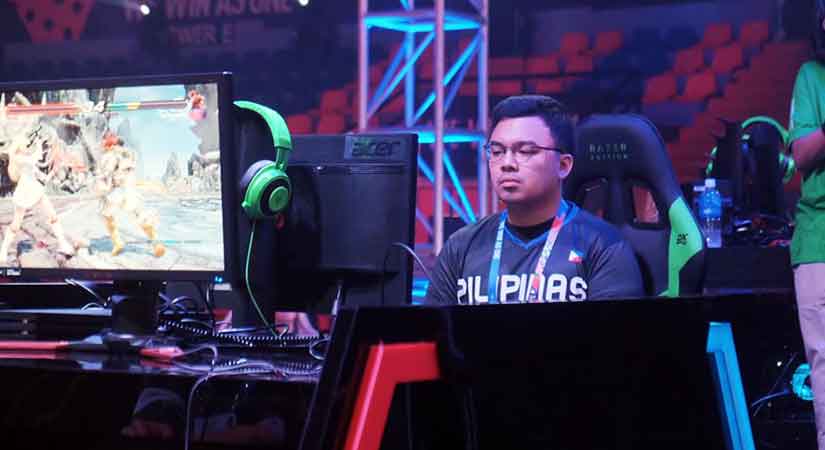 By Michael Angelo S. Murillo
Senior Reporter
AS THE coronavirus disease 2019 (COVID-19) pandemic continues to be a growing concern it has affected various affairs, including those in the sporting world, which has been effectively put to a standstill.
With social distancing urged and mass gathering prohibited as means to mitigate the spread of the highly contagious respiratory disease, sports fans have to bear not having their usual sporting fix for two months now, with return to normalcy anything but a certainty at this point.
Proving resilient though is esports, which continues to be a presence despite COVID-19 albeit sans the usual live audiences that watch it.
And the thing about it is that it is not only the "usual" stakeholders that are making it happen as football leagues in Europe, motorsports and the National Basketball Association, among others, have seen it fit to tap on the sport to continue to engage their fans during this unusual time.
In the Philippines, local esports stakeholders acknowledge the strong potential of the sport to be resilient in crisis times like the one at hand but they are quick to say that the current episode of COVID-19, too, provides a learning experience for them.
"We believe esports and online games become even more relevant and compelling in these times. While on-ground activities have been hampered, we can still hold online tournaments and reach out socially through these," said Ronald Robins, CEO and founder of esports and gaming company Mineski Global, in an online interview.
"It's all about making use of the available technology we have at our disposal to help keep the community connected in such unprecedented circumstances," he added.
Mr. Robin's group has been busy of late despite local sporting activities forced to a halt, staging a series of community quarantine fundraising tournaments known as the "Lockdown Games" for the benefit of the medical frontliners in the country's battle against COVID-19, in particular the Philippine General Hospital Medical Foundation.
Esports in the country got a major boost when it was featured as one of the events for the first time in the Southeast Asian Games in December here.
The sports did well for the Philippines at the Games, providing five medals, three of which were gold.
The good showing of esports, stakeholders said, was a testament to the Filipinos' potential to excel in the sport and the gaming community to grow in the country, and something that could be enhanced further by how local esports performs amid COVID-19.
"The situation right now with the crisis will just accelerate (esports) initiatives as conventional sporting events struggle to engage their audience and return to the norm," said Jab Escutin, COO of BrenPro Inc., in a separate online correspondence.
BrenPro is a multimedia company focused on gaming-related content and events and maintains a team — Bren EPro — in The Nationals, the country's first and only franchise-based esports league.
Mr. Escutin shared that they at The Nationals, while currently in temporary halt, will be continually working to ensure that they engage their audience during these trying times, banking on the inherent advantages of esports, including the relatively easy access to play it.
MUCH STILL NEEDS TO BE DONE
But apart from seeing opportunities to advance esports, the ongoing situation with COVID-19 is an eye-opener for the community — that much still needs to be done as the sport builds its legs here in the country.
"We are learning a lot of things because of the situation and are studying the best way to move forward and keep the competition going. Of course the priority will always be the safety and wellbeing of our athletes, production crews and fans," said Mr. Escutin.
"All of these are new for us and admittedly we did not prepare for this specific situation. So right now we are eyeing measures to handle it and how the 'new norm' will affect how our athletes train and compete," he added.
Mr. Escutin went on to highlight the need to shore up business continuity measures, including lockdown procedures, employee assistance, emergency funds and client notification.
The BrenPro official also assured that their players are well taken care of during these tough times, giving their full benefits.
Lessons also abound for Mineski, particularly how even in such situations business can still be done provided one plays its cards correctly.
"Mineski's global ambition is to help make esports the top sport all over the world. While we have come a long way since our humble beginnings, we realize we still have much work to do, especially in times like this," said Mr. Robins.
"Our learning as a group is that we can still hold tournaments even with the ECQ in effect. While it may have put projects and partnerships on hold as we deal with COVID-19, we've been maximizing the technology we have at hand, and that has been our advantage," he added.
Mr. Robins touted the Lockdown Games as a possible model for them, gearing tournaments towards corporations by having them a taste of esports.
Moving forward, both Messrs. Robins and Escutin recognize that there will be more challenges as the world adjusts with COVID-19, something they said they are girding for to tackle.
"The current challenge is how to leverage gaming's ability to connect people through purely online platforms. On-ground activities will be limited in the near future so tournaments will need to be online — maximizing the technology we have, and making the most of digital marketing and advertising to augment our plans. For our partners, the way to engage with the community may change but we believe there will always be a way without having to circumvent physical distancing guidelines," Mr. Robins said.
"The demand for esports has never been higher. We are looking to leverage on our partnerships with key sectors to bring esports and gaming to still untapped or underserved segments of the community," he added.
For Mr. Escutin the local esports community should only come out stronger as it deals with the impact of COVID-19.
"We are still optimistic about the local esports scene when the crisis is over. With everything that we've learned and will be learning in the coming weeks, I'm pretty sure that we will be more prepared to handle any kind of necessary adjustments that we need to make if the situation calls for it," he said.