The effects of Biden and sanctions on energy and commodity prices
US President Joe Biden has already been in the White House for 14 months, and Russia's invasion of Ukraine and the US-led economic sanctions against it have just marked one month, and things are worsening. Here are 10 emerging trends, global and national.
BIDEN'S EFFECT ON FOSSIL FUEL PRICES AND SUPPLY
One: Biden and the US Democrat Party campaigned, among other issues, for a war on fossil fuels. And on Day 1 of his administration, Jan. 20, 2021, he announced a halt to oil-gas drilling in federal lands, and the killing of the Keystone XL pipeline that would bring some 800,000 barrels per day of Canada crude oil to the US. See these reports:
1. "In intimate moment, Biden vows to 'end fossil fuel'," AP News, Sept. 7, 2019 ("I guarantee you. We're going to end fossil fuel.")
2. "Keystone XL pipeline halted as Biden revokes permit," AP News, Jan. 21, 2021
3. "Biden administration pauses federal drilling program in climate push," Reuters, Jan. 22, 2021.
In Table 1, the reference points are last week's trading day March 25; then the day before the invasion, Feb. 23; then the year ago or year-on-year from March 25, 2021; and Nov. 3, 2020, the US Presidential election day.
Two: World oil, coal and gas prices started rising after the Nov. 3, 2020 elections when it became apparent that Biden and his anti-fossil fuel policies would be implemented. WTI and Dubai oil jumped 68% and 64% from Nov. 3, 2020 to March 25, 2021. Coal jumped 56%, TTF gas and UK gas rose 38% and 21%, and EU carbon permits rose 65%.
Since a war on fossil fuel also means a war on internal combustion engines (ICE) that use gasoline or diesel, it signaled a rise in prices of metals largely used in electric car batteries like lithium and cobalt, which rose 118% and 58% over the same period.
Three: World prices of fossil fuels and uranium continued rising until pre-invasion day while the solar and wind index declined. The planet experienced a generally calm, less windy 2021 and the wind farms of many countries, especially Europe, produced little energy so they endured high gas-oil-coal prices to keep the lights on and avoid blackouts.
RUSSIA INVASION AND SANCTIONS EFFECT
Four: The invasion on Feb. 24 quickly pushed upwards the prices of many commodities, especially oil and gas because Russia is the number one source of these energy products for many countries in Europe. The percent changes in prices from Feb. 23 to March 25 were: 26% and 22% for WTI and Dubai crude, 37% for coal, and 34% for uranium. Nickel prices jumped 42% while wheat rose 24%, sending alarms calls of "food shortages" in many countries.
Five: The year-on-year (March 25, 2021 to March 25, 2022) percent change in prices were generally brutal for Europe gas at 425%, from €18.8/MWH to €98.7/MWH. The price of UK gas has risen 382%, US natgas 116%, coal 246%, uranium 107%. The price of lithium has risen 485% and nickel 117% (Table 1).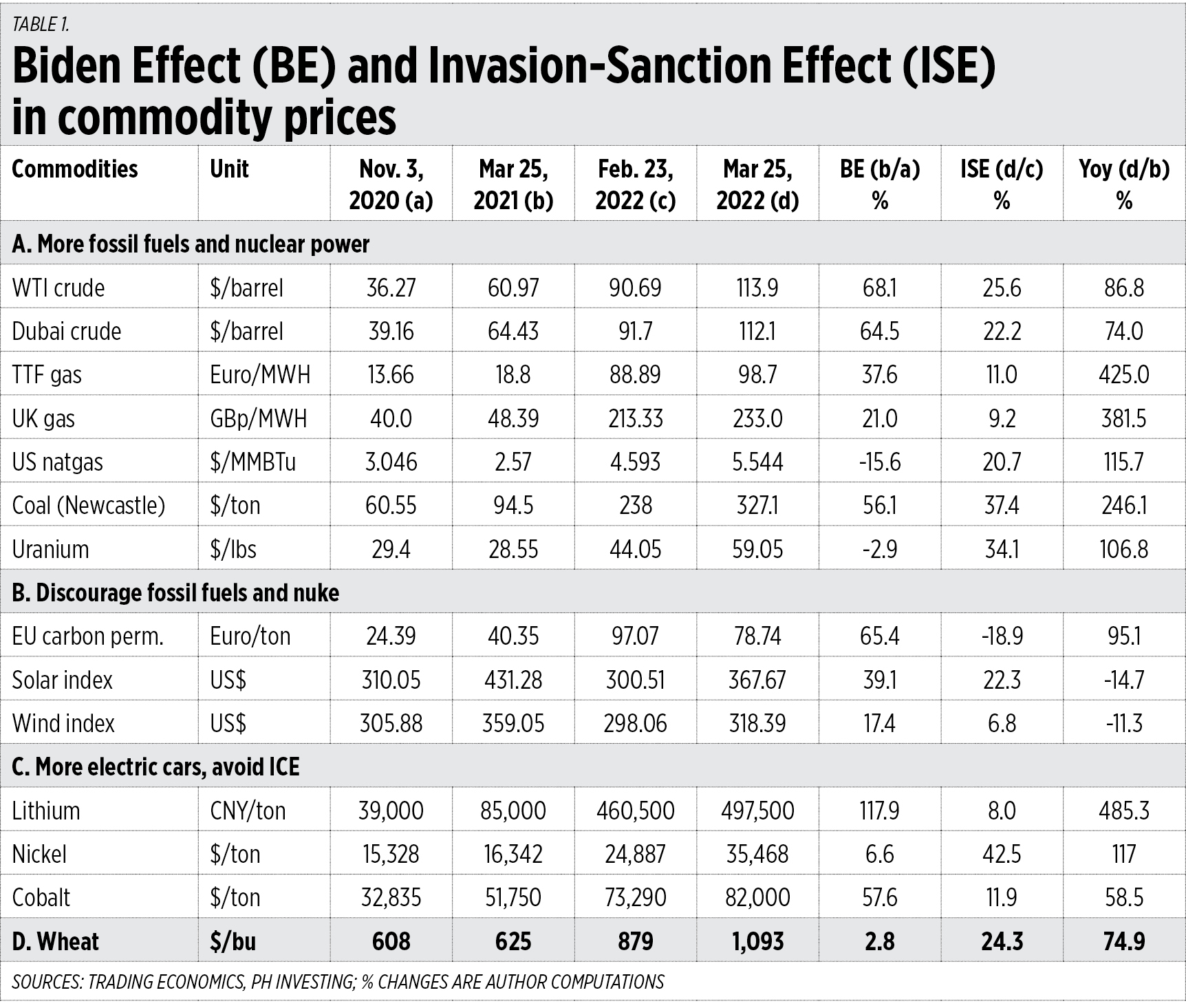 The main target of the US-led sanctions is Russia, to impoverish it quick, but the law of unintended consequences when things are politicized always kicks in and the rest of the world is adversely affected.
MORE FOSSIL FUELS MEAN CHEAPER ELECTRICITY
Six: Data until 2020-2021 show that when countries use more fossil fuels and nuclear for power generation, they have cheaper electricity prices. When they use more intermittent renewables like solar and wind, they have expensive electricity prices.
In Asia, Malaysia and Vietnam, renewables only have a 2-4% share to total generation and they have cheap electricity prices of only 7-8 US¢/kwh. The Philippines and Japan, with renewables having a 12-14% share, have electricity prices of 17-21US¢/kwh.
In Europe, Russia and Ukraine have the cheapest electricity prices of only 5-6US¢/kwh, their renewables' share is only 0.3-6%, while their gas+coal+nuke power share is 79-88% of power generation. The UK and Germany have high power prices and their renewables' share is 41% of total generation (Table 2).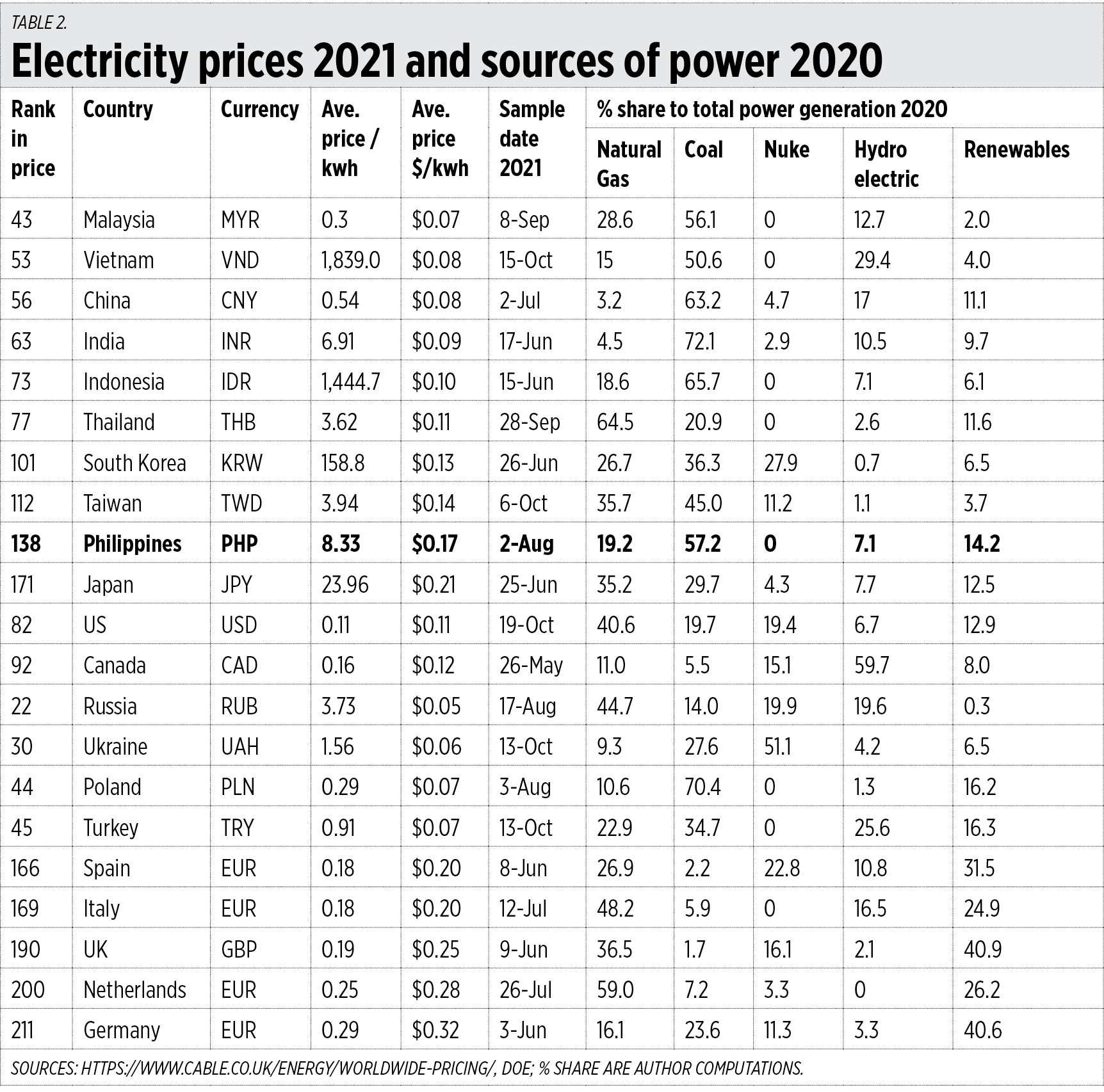 Seven: Since the Philippines was already bullied by the environmental, social and governance (ESG) lobby to stop building new coal plants, it should consider turning to nuclear power, particularly small modular reactors, for islands like Palawan, Mindoro, Masbate, Bohol.
TOKYO AND METRO MANILA NEAR BLACKOUT
Eight: Tokyo nearly experienced a blackout on March 22. The temperature dropped and demand for electricity rose while some power plants were out. The Japan electricity network sent extra power to Tokyo. Japan has suffered from thin reserves for several years now as they retire many coal and nuclear plants while joining the ESG bandwagon of more intermittent power sources.
Japan introduced a feed-in tariff (FIT) program in 2012 to boost solar power. Many backup and reserve thermal power plants became more expensive to operate as intermittents were given priority in grid dispatch. And Japan's power reserves become even thinner.
Nine: Metro Manila still experienced yellow-red alerts yearly even during the two years of COVID-19 lockdown (2020-2021), until this year. Last Saturday we experienced this: "Luzon grid placed on yellow alert after seven-plant outage" (BusinessWorld, March 27).
The Philippines implemented the FIT provision (guaranteed high price for 20 years) in 2012 and many solar-wind plants were built. Since they have priority dispatch in the grid, they also displace some reliable thermal plants. This is often praised as "merit order effect" that results in lower prices in the Wholesale Electricity Spot Market (WESM). This is fiction because the frequent displacement of dispatchable thermal plants in the grid means some or many of them will be gone soon, like what happened in Japan. And when some big plants go offline due to natural calamities or unscheduled shutdowns, reserves are thin and blackouts will be the result. The most expensive energy is one that is not there, absent, zero. Then people will use more candles and have more fires. Or use expensive gensets and diesel and create more air pollution.
THE NATIONAL MONOPOLY PROBLEM
Ten: Then there is the continuing problem that is the only remaining national monopoly in the country, the National Grid Corp. of the Philippines (NGCP). In last Saturday's yellow alerts, five power plants, with a combined capacity of 1,193 MW, had a "forced outage due to undisclosed reason" simultaneously at 6:17 p.m. It does not look like a generation problem but a transmission problem because they went out all at the same time, on the same day.
About late January this year, the NGCP announced that it will get more firm contracts for ancillary services (AS) to augment reserves. It was good news — thank you NGCP. The bad news is that nothing seems to have happened after that, and so we are back to having yellow-red alerts in the next two to three months.
We should have less politics in energy policy. There should be no favoritism in energy technology, and no priority dispatch. Companies should bid based on the lowest price at the most stable supply for the consumers. And no more monopoly please, especially in the nationwide transmission system.
Bienvenido S. Oplas, Jr. is the president of Minimal Government Thinkers.