Interview no-show and the Marcos myths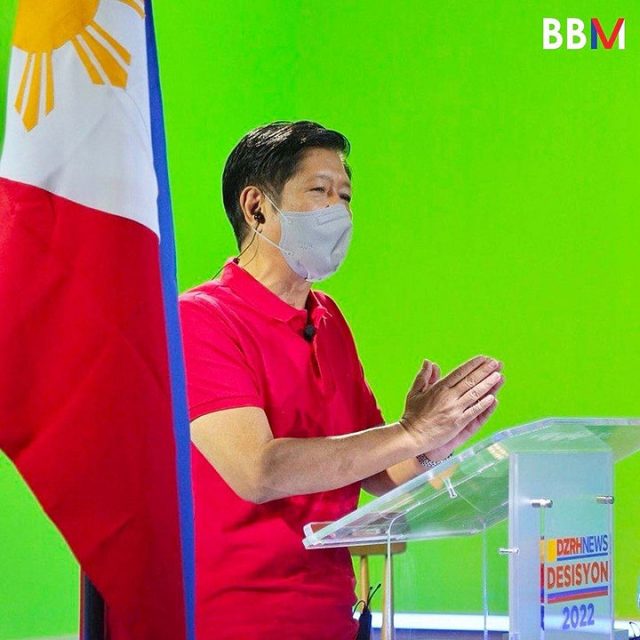 It was disappointing that Bongbong Marcos opted not to participate in Jessica Soho's presidential interview last month. Although I am aware that he has much to avoid, I never thought of him as a man who would easily back down from public discourse. His refusal to participate confirmed two of my assumptions about him. First, that he is unable to defend his family's wealth, human rights record, and his personal achievements in a serious interview. And second, that he would rather let trolls fight his wars for him through half-truths and disinformation.
What are the issues Marcos Jr. cannot seem to defend? What are the questions he is hesitant to answer?
Through well-produced videos, memes, and messages on social media, certain myths have formed about the presidency of Ferdinand Marcos and about Marcos Jr. himself. Some of these myths cannot be defended in an intelligent, fact-based interview.
Myth No. 1. That the 1970s, under martial law, was the golden era of the country. It was the era when the country was prosperous and when poverty did not exist.
Here are the facts. During the 21 years that Marcos was in charge, the economy grew by an average rate of only 3.8%. We were left behind by Thailand and Malaysia whose economies grew by 6-7%.
The peso depreciated from a strong P3.92 to one US dollar in 1965 to P19.99 in 1986 — a 500% loss in value; real wages (spending power) plummeted from P100/day in 1966 to just P27/day in 1986; per capita income increased by only three-fold over 21 years while it increased 10-fold in Thailand and Malaysia; unemployment was at 7.2% in 1965 and surged to 33% in 1986; poverty rates were at 7.2% in 1965 and rose to a staggering 44.2% in 1986.
By the time Marcos was ousted, the Philippines was among the poorest countries in Asia where per capita income was below that of Japan, Singapore, Brunei, Macau, Hong Kong, Taiwan, South Korea, Malaysia, the Maldives, Thailand, and even Mongolia.
We lost competitiveness in most of our industries. Martial law gave Marcos extraordinary legislative and executive powers which he used to sequester successful industrial companies such as those in auto manufacturing, steel mills, and textile mills. These companies were taken over by cronies, all of whom failed to sustain their profitability. The failure was due in one part to corruption and in another part to the sheer lack of management expertise. Marcos selected his cronies not for their talents but for their loyalty.
In agriculture, the cronies were made to establish monopolies to give the dictator absolute economic control of the sector. As court records indicate, Danding Cojuangco controlled the coconut industry, Juan Ponce Enrile controlled logging, and Roberto Benedicto controlled sugar. These industries eventually collapsed too.
The martial law era was not the golden years of the Philippines, rather, it was the time of our great fall from one of the richest countries in Asia to one of the poorest.
Myth No. 2. That the Marcos era was the heyday of infrastructure.
Here are the facts. With borrowed funds, Marcos established the Construction and Development Corporation of the Philippines (CDCP). While it is true that roads, bridges, and classrooms were built by the CDCP, large chunks of funds fell into personal pockets. It was the same story for the power sector, the housing sector, and the transport sector.
History further shows that the infrastructure projects were often over-engineered, designed to extract maximum commissions or kickbacks.
Prestige projects like the Cultural Center, the Coconut Palace, and Folk Arts Theatre gave the image of progress but yielded little or no economic returns. They were built to create an illusion of prosperity, all of which were funded by debt.
Speaking of debt — from a foreign debt of only $600 million when Marcos took office in 1965, foreign obligations increased 43X to an eye watering $26 billion by 1986. In October 1983, the Marcos government ran out of dollar reserves and had no option but to declare a debt moratorium. To keep the economy afloat, Marcos resorted to short term loans at high interest rates. By 1986, Our debts were so massive that debt service alone accounted for half of the country's exports. This resulted in a currency crisis and the need to devalue the peso even more.
Economist agree that the Philippine economic collapse of the 1980s was due to Marcos' debt-driven economic policy. The heavy debt load was also the reason why succeeding governments in the 1990s and early 2000s could not invest much on infrastructure and social services.
Myth No. 3. Marcos fought the Oligarchs.
The fact is, Marcos was the oligarch of oligarchs. In 1998, Imelda bragged in an Inquirer interview, and I quote: "We practically own everything in the Philippines, from electricity, telecommunications, airlines, banking, beer, tobacco, newspaper publishing, television stations, shipping, oil, mining, hotels and beach resorts, down to coconut milling, small farms, real estate and insurance."
Successful companies were sequestered by Marcos from hard-working entrepreneurs. But because the Marcoses and their cronies had little management expertise, these companies eventually fell into bankruptcy. This is why the Philippines lost its economic competitiveness in multiple industries.
Myth No. 4. Marcos Jr. is the most prepared and the most trustworthy presidential candidate.
We all know that Marcos Jr. lied about his academic credentials, lied to the courts about his family's ill-gotten wealth, lied about human rights abuses, and failed to file his income tax returns. How can a liar and a tax delinquent be considered trustworthy?
As for his governance abilities, the best reference is to look at Ilocos Norte. Marcos Jr. and his kin controlled Ilocos Norte for decades. Yet, it remains one of the poorest regions in the country where the majority live from hand to mouth. A quick look at NEDA statistics on regional GDP proves this. They have no world class industries to speak of. The Bangui wind farm, for which Marcos Jr. takes credit, was not built by him but by Northwind Power, an Ayala subsidiary.
Interviews and debates are meant to reveal the real mettle of a candidate. They are meant to clarify doubts and shed light on grey areas. By refusing to be interviewed, it is clear that Marcos Jr. prefers to live in the shadows — relying on trolls to propagate the myths.
Andrew J. Masigan is an economist
Facebook@AndrewJ. Masigan
Twitter @aj_masigan