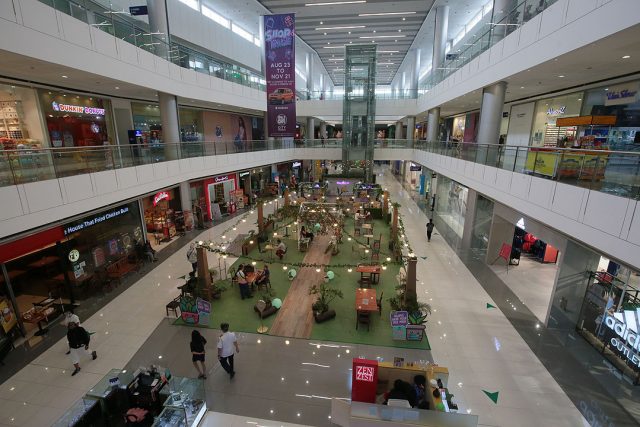 Is there a place for malls in the post-COVID world? This question is relevant not only for the hundreds of mall operators across the country but more so for the thousands of merchants who conduct business inside malls.
My regular readers know that one of my businesses is a restaurant group for which many of our stores are inside malls. My management team has had long discussions on whether we should continue expanding in malls given the changes in consumer behavior triggered by COVID-19. No doubt, the same discussions are taking place in other boardrooms across the country.
I got some insights from Gino Borromeo, the Vice-President of Strategy for the SM Group. Gino delivered what is SM's appraisal on the future of malls in a recently concluded conference organized by the Philippine Retailers Association.
As we are painfully aware, COVID-19 has permanently changed the way we live and the way we consume goods and services. Working from home has substantially decreased the number of people roaming in commercial centers. Remote working has allowed people to leave cities and move to the countryside where they can enjoy a better quality of life for less cost. Germaphobia persists, and will continue to do so, as is an aversion for crowded places. On top of it all, e-commerce is now in the mainstream.
E-commerce will soon touch every aspect of our lives. It is already pervasive for our groceries, fashion, food, wellness, hardware and electronics needs. It will soon be our source for insurance, airline tickets, healthcare services, real estate, cars and even banking services. A survey conducted by Colliers International last year revealed that 91% of consumers in Luzon and the Visayas have already experienced online shopping. Of this number, 84% still prefer in-store shopping while 16% said they preferred shopping over the internet. While Filipinos still enjoy the physical shopping experience, experts are certain that the Filipino will see more value in online shopping. It is only a matter of time before e-commerce surpasses the collective sales volumes of brick-and-mortar stores as it has in the US and China.
Globalization and the affordability of travel have also exposed Filipinos to new products, new brands, and new forms of services. This has made the Filipino consumer more discriminating.
With e-commerce, rapidly shifting preferences, and COVID-induced lifestyle changes, are malls still relevant in our lives? The short answer is yes, according to Borromeo. See, malls have benefitted from government's lack of investment in parks, open spaces, and public venues. There will always be a need for venues where people can converge, socialize, and engage in leisure activities. That said, malls will continue to play a role in society since they serve as community centers.
While malls will remain relevant, they must evolve in step with societal and cultural changes. This will be most evident in what malls have to offer, their tenancy mix and amenities.
Filipinos will continue to shop not just for functional purposes but more so for emotional upliftment and leisure. Whereas in the past, the majority flocked to malls to purchase fashion products, food essentials, gifts, toys, hardware, appliances, and office supplies, COVID has given rise to what is called the "new essentials." These include domestic hobbies, health and wellbeing products, products that provide home experiences, products that enhance home productivity, functional fashion, and comfort food.
All these mean that there will be a shift in the merchant mix of malls. We will see a bias in favor of stores that offer these new essentials and brands born offline (not established online brands). There will be an equal split between established brands and new generation brands as well local and foreign marques.
Consumers are also reassessing their loyalties towards their favorite brands. Unless old-timer brands evolve to the beat of changing customer preferences, they will likely fall out of preference and lose their customers base, says Borromeo. On the flip side, opportunities to grab market share await new and innovative brands. Studies show that 36% of all Filipinos ventured out of their usual brands to patronize a new brand last year. This was most evident among the Millennials and Generation Z. It was evident too among GenXers, although to a lesser extent. The shifting taste of consumers can be viewed as a great equalizer for retailers.
As in the US, retailers will still maintain a few brick-and-mortar stores to complement their online store. However, the purpose of the brick-and-mortar stores will change. Whereas in the pre-COVID era, a physical store was built solely to drive sales, in the post-COVID world, it will play multiple roles. Not only is it a sales generator, it will also serve as a venue for customers to discover more dimensions about the brand. It will serve as a "stage" where customers can experience the brand's attributes. It will serve as fodder for social media content. In short, physical stores will play more of a branding role to enhance online sales. With this, we can expect better curated and more interactive brick-and-mortar stores in the future.
And since customers are now more accustomed to the convenience of online shopping where all forms of payment and home delivery are provided, brick-and-mortar stores must offer the same to be competitive.
Malls will offer unique experiences that cannot be had online. Movies are no longer an attraction since streaming apps like Netflix have overcome them. What will come to the fore are kid's playgrounds, pet parks, themed parks, sports facilities, experiential dining, and group activities like trade expositions, workout camps, and the like.
Nothing beats physical contact with products and people. This is the advantage of malls over online shopping.
So, is there a place for malls in the world of tomorrow? The answer is yes. However, they will no longer be of the colossal size they are today. Neither will they be as numerous. And since they will no longer be the primary driver of retail sales for merchants, malls can no longer charge the heady lease rates and take a percentage of merchant sales. Lease rates will have to be rationalized to a level that makes sense for the merchants.
Indeed, COVID-19 has not accelerated the evolution of malls, it has in fact changed it completely.
Andrew J. Masigan is an economist
Facebook@AndrewJ. Masigan
Twitter @aj_masigan