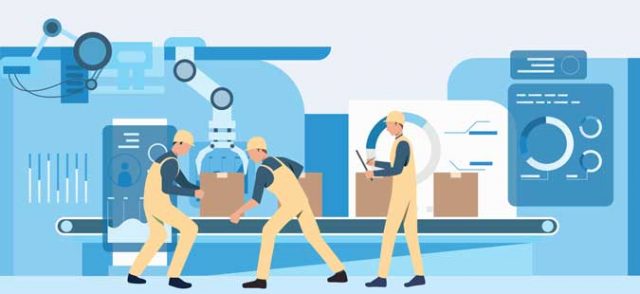 I count former President Noynoy Aquino as among the best presidents we have had. Under his administration, the nation proved, in no uncertain terms, that it is no longer the sick man of Asia but its rising star. Trepidation was replaced with business confidence and confidence in our institutions. Shame was replaced with national pride.
Much has already been written about PNoy's contributions to nation building, especially in the realms of the economy, on good governance and his fight against China's territorial grab. One important contribution has not been talked about, however, and this is his efforts towards reviving the country's manufacturing sector and fostering rapid industrialization. Often taken for granted, the importance of a manufacturing resurgence cannot be overemphasized given its impact on job creation and wealth generation.
As we all know, the Philippines bypassed the process of industrialization as it made the transition from being an agricultural economy to one based on services. When PNoy assumed office back in 2010, the service sector made up a whopping 54% of the economy while the industrial sector had shrunk to just 32%. Sure, we graduated from being a low-income population to a lower-middle income one but we have done so by being the world's preeminent provider of low-cost services such as call center operators, maritime staff, waiters, bellhops, and retail personnel.
During GMA's nine years in office, the manufacturing sector steadily declined due to unfavorable business conditions, low business confidence and a drought in foreign direct investments. Gradually, we became more and more dependent on imports for practically all our needs. The dollar values of our imports progressively outpaced that of our exports and trade deficits widened. We would have faced a currency crisis if not for the remittances of our OFWs.
Changyong Rhee, Chief Economist of the Asian Development Bank, said that it is easy for countries to graduate from being a low-income to a middle-income economy where each household earns between $3,500 to $5,000 a year. But to take the country to the level of advanced economies where per capita income is north of $10,000, it must be a provider of highly technical, high-value products and services. All these require a strong industrial base. This is why industrialization is essential to wealth generation. So, for as long as the Philippines fails to industrialize, it will continue to languish in middle income purgatory.
PNoy recognized this and set the goal of transforming the Philippines into an industrial economy with a middle-class society and zero incidences of poverty by the year 2040. He aimed to quadruple per capita income from $2,700 in 2012 to $13,000 in 2040. To achieve this, the economy had to grow by 7% a year for two decades. (If we fall short and grow by only 6% a year, we will only attain per capita income of $10,000).
In 2013, PNoy completed the country's Comprehensive National Industrial Strategy under the aegis of the Department of Trade and Industry. At the heart of the strategy is what they call "development roadmaps" for industries with potential to become globally competitive. These roadmaps provide the framework and the chronological steps with which to elevate certain industries from their current state to a level of global competitiveness. They were drafted in collaboration with industry practitioners, the labor sector, the academe, and affected government agencies.
Per my last count, 52 industry roadmaps were drafted including those for automobile and automotive parts, electronics, IT-BPM, chemicals, copper, aerospace, petrochemicals, plastics, cement, tools and dies, shipbuilding, furniture, rubber products, garments and textiles, creative industries, footwear, processed food (fisheries, meats, condiments, confectionaries, fruits, etc.), printing and book publishing, coco coir and bamboo products, among others.
PNoy's administration was more serious about the country's industrialization than any other administration before it. Proof was the considerable resources channeled to the program to ensure its success. In 2014, P182.6 billion was spent to ensure that supply chain gaps were bridged and technical skill training were provided for the workforce. In 2015, another P238 billion was appropriated.
The strategy was for the Philippines to become a regional or global manufacturing hub for the industries mentioned above by the year 2025. Given the enormity of the task, priority was given to automotive, electronics, machineries, garments, and food manufacturing. These industries, after all, employ the most people and provide the widest opportunities for forward and backward integration.
Becoming a global manufacturing hub was to be achieved in three phases. The first phase was all about reinforcement of industries and this happened between the years 2014 to 2017. This involved rebuilding capacities of existing industries, strengthening emerging industries, and maintaining the competitiveness of industries that were already in a position of strength.
Phase two was to take place between 2017 to 2021 and this involved the dual objective of climbing the value chain and allowing the benefits of the sector to become more inclusive. This was to be done by linking large-scale manufacturers to our small- and medium-scale suppliers.
Phase three is the most critical of all and this was supposed to happen between 2021 and 2025. This is the stage wherein our manufacturers deepen their participation in global production networks. By this time, the Philippines should already be a vital manufacturer of certain components without which a product of advanced technology cannot be made. It could be the integrated circuit of the latest generation of smart phones or even the fabricated metal used for aircraft fuselages, and the like.
PNoy's efforts paid off. Investments in new plants, factories, and IT-BPO operations steadily increased during his term, from less than $1 billion in 2010 to $8 billion in 2016. For the first time in decades, the manufacturing sector grew by 7.6%, outpacing the growth of the service sector at 6.7% in 2014. It happened again in 2017 when the manufacturing sector expanded by 8% against 7.4% for the service sector. Sadly, manufacturing has been on a decline since then.
The tragedy of it all is that the Duterte administration failed to sustain the National Industrial Strategy. Instead of further developing local industries to generate jobs, exports, and wealth, the Duterte administration relied on infrastructure spending (and other types of spending) to drive economic growth. Since its peak expansion of 8% in 2017, the growth of the manufacturing sector has decelerated to 5.1% in 2018, to 3.2% in 2019, until it fell off the cliff during the pandemic, contracting by -11.5%. With lost traction, it will take enormous effort to get the manufacturing sector up to pace. Hopefully, the next administration will pick up the program.
We recognize PNoy for having the vision to industrialize the country and the diligence, hard work, and wherewithal to achieve it. He was on the right track all along. Thank you, PNoy.
Andrew J. Masigan is an economist
Facebook @AndrewJ. Masigan
Twitter @aj_masigan