Here is my modest list of the major economic events this year, from international, to regional, to national news.
1. Global investments expand. After the global economic and trade slowdown in 2015-2017, foreign direct investments (FDIs) resumed expansion in 2018. The US remains the No. 1 most attractive investment area for many multinationals and individuals from around the world, followed by Hong Kong, China, and Singapore. The Philippines remains a laggard here.
2. Merchandise exports also recovered. Before the creation of the World Trade Organization (WTO) in 1995, export levels of many countries were low in 1994. After 23 years — from 1995 to 2018 — Vietnam and China were the biggest benefactors, China now the world's largest exporter followed by the US and Germany. And the Philippines continues to be a laggard (see Table 1).
3. US-China trade deal phase one. The US will cut its 15% tariff to 7.5% on $120 billion of China exports, and suspend indefinitely planned tariff hikes on other goods. China made no tariff cut commitment but will increase its US imports by at least $200 billion in 2020-2021. China will also stop its old practice of forcing or pressuring foreign companies to transfer technology to Chinese companies as condition for obtaining market access and government business approvals.
4. Brexit victory. After its victory in the June 2016 referendum, years passed and it was not implemented. New UK PM Boris Johnson ("Bojo") is determined to push it — his Conservative Party won big time in recent elections and Brexit will happen by end-January 2020. The UK will have freedom to have free trade agreements (FTA) with many countries outside the EU. A US-UK FTA, a Trump-Bojo partnership, will be very exciting starting 2020.
5. Stable regional inflation. Good news here — of the 11 major East Asian economies, six experienced inflation rates of below 1%. The Philippines also graduated from being the "inflation valedictorian" in 2018 at 5.9% and significantly brought it down to 2.5% year to date (ytd).
6. GDP growth deceleration. Of the 11 East Asian economies, seven including the Philippines have had declining trends from 2017 to 2019 ytd. Vietnam retains its fast 7% growth — in the region it is the main beneficiary of the US-China trade and investment conflict (see Table 2).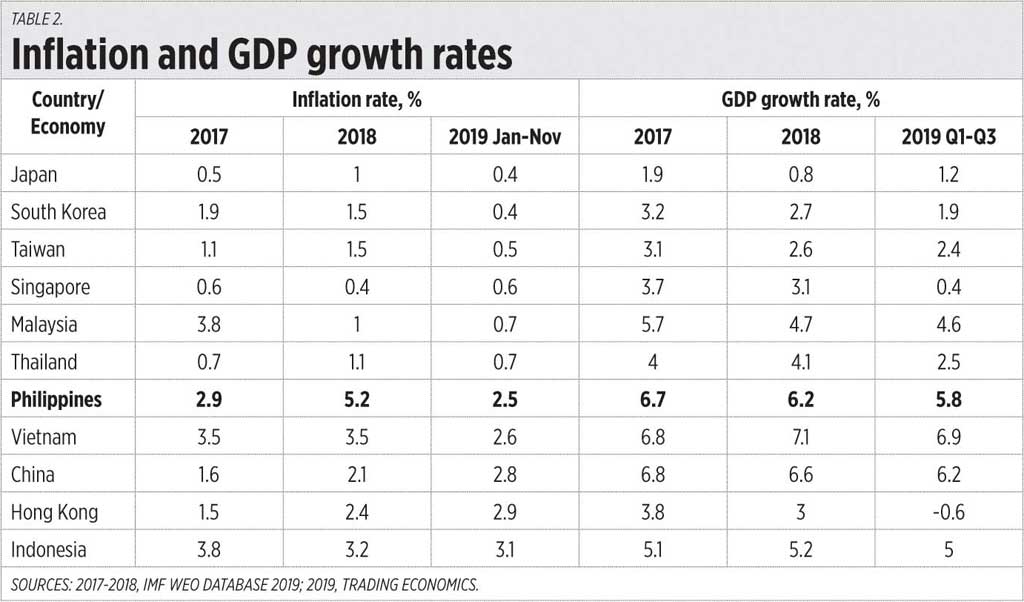 7. The Philippines' unemployment rate continued to decline. It has gone down from 6% in October 2014 to only 4.5% in October 2019 — but the labor force participation rate (LFPR) is also declining, from 64.3% to 61.5% same period. A declining LFPR means people are less confident that they will be hired so they postpone seeking jobs and pursue more studies and training (see Table 3).
8. The Philippines' rising debt ratio. The country experienced a sustained reduction in its public debt/GDP ratio from 52% in 2010 to only 42% in 2016. The Duterte administration's borrow-borrow-borrow policy has stopped the decline — while still 42% in 2017-2018 it went up to 45% in 2019.
9. Price control in many sectors. Among many examples, there are: a.) the Land Transportation Franchising and Regulatory Board and Philippine Competition Commission imposing fare surge control and high penalties on Transportation Network Vehicle Services (TNVS); b.) the Energy Regulatory Commission proposed a lower electricity price cap in Wholesale Electricity Spot Market (WESM); c.) the Department of Health has proposed drug price controls; and, d.) expanded mandatory fare discounts for students all year round.
10. Water politics. The cancellation of the extensions to 2037 of the Maynilad and Manila Water concessions, the non-payment of penalties of nearly P11 billion on government for its water price control policy from 2013.
The Duterte administration's many populist policies like many freebies and subsidies and disrespect of contracts, will have negative fiscal and investment impacts on the economy.
Bienvenido S. Oplas, Jr. is the president of Minimal Government Thinkers.