Open opportunities for fintech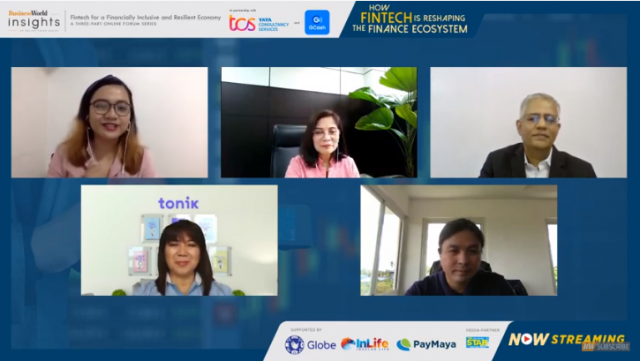 Driven by the digital push, fintech seen to further enable financial inclusion
By Bjorn Biel M. Beltran, Special Features Writer
Financial inclusion, that is, the state of which individuals and businesses have access to useful and affordable financial products and services that meet their needs — transactions, payments, savings, credit and insurance — has ever been a part of the country's sustainable development strategy, a distant goal for the Philippines to strive for.
According to the World Bank, being able to have access to financial services facilitates day-to-day living and helps families and businesses plan for everything from long-term goals to unexpected emergencies. This is why it is important to have bank accounts, as these transaction accounts signify the first step that people can take to gain access to a wider range of financial services like credit and insurance; to start and expand businesses; to invest in education or health, manage risk, and weather financial shocks; and to improve the overall quality of their lives.
Now, amid the coronavirus disease 2019 (COVID-19) pandemic, there may be new opportunities that could push the country closer to this goal.
This is the topic of the first leg of the BusinessWorld Insights series "Fintech for a Financially Inclusive and Resilient Economy" held last July 14. Discussing how financial technology (fintech) is reshaping the financial ecosystem, some of the country's most respected financial experts weighed in on how the adoption of fintech solutions, accelerated by the pandemic, can push for a more financially inclusive Philippines.
Transforming payments
"The BSP believes that enlarging the economic pie is a necessary condition to reach our vision of creating a high quality of life among all Filipinos. But while it is necessary, it is not sufficient. The larger economic pie must be available at least for more, if not for all," Edna C. Villa, Assistant Governor at the Bangko Sentral ng Pilipinas (BSP), said.
Such ideals are the foundation for the BSP's Digital Payment Transformation Roadmap (DPTR) for 2020 to 2023, which seeks to develop a digital payments ecosystem that targets current consumer and business needs to boost digital payments.
"We all know that payments is the most basic and most used financial service. Everyone uses it. It stands to reason therefore that there ought to be greater incentive to innovate in the payments sphere," she said.
The transformation roadmap includes the acceleration of EGov Pay, the digital government collection system for taxes, licenses, permits, etc., established for secure, contact-free channels for Filipinos to transact with the government.
"The pandemic undoubtedly helped accelerate the preference for digital transactions. We are convinced that the trend will continue even post-pandemic. If we are to maintain the momentum, however, we need to be deliberate in innovating to pave the way for greater financial inclusion. For our part, the BSP will continue to provide what we believe is an enabling regulatory environment for fintech innovations."
Digital transformation's push
V Ram, vice-president and chief technology officer of Tata Consultancy Services, noted that by enabling more companies and financial institutions to consider digital platforms, the pandemic has pushed digital transformation by several orders of magnitude.
"The recent pandemic played a great role in accelerating the adoption of digital payments. The pandemic has pushed customers and companies over the digital technology tipping point and transformed adoption for many businesses into a priority. In just a few months, the crisis has accomplished years of digital transformation in most banks and companies by five to seven years," he said.
He added that during the pandemic, most companies across the world has put up at least temporary solutions to meet the newly scaling demands, much more than what they thought would be possible, allowing for new opportunities for the sector.
"As it was, the world continues to enjoy a modicum of entertainment, even if it was not in their regular settings like in the cinema. Trade and commerce also held up pretty well from short-term impacts thanks to fintech. Now is the chance for us to accelerate and take things forward. This is where we see fintech reshape the financial ecosystem," he said.
Taking financial inclusion further
Sparky Perreras, co-founder and CEO at PearlPay Inc., said that fintech companies have an opportunity to position themselves as the bridge to connect rural communities with the greater financial world.
"When COVID-19 struck, the biggest problem in terms of the business challenges for community based financial institutions is in disbursing the loan proceeds. Because they don't have the digital channels in place to disburse the loan proceeds for their existing customers due to the lockdown, their business for loans has been badly affected, as loan customers are forced to visit physical rural branches or micro-finance institutions just to receive the loan proceeds," he said.
"That's one problem that we are passionate to solve by enabling these rural banks and microfinance institutions to join the digital revolution and digital economy."
Maria Lourdes Jocelyn Pineda, president of Tonik, further emphasized that the country should take this chance to push towards the ideal of financial inclusion.
"The need for financial inclusion has never been better understood as it is in the present. Most economies are radically transformed because of the pandemic," she said.
"Consumer needs have accelerated the evolution and with this has come the pressing need for the financial sector to truly embrace customer centricity. The new normal has efficiently curved the expectations of the banking customers, who now seek and choose institutions that they can entrust their money in a relationship built on mutual trust, transparency and benefits of the customers."
Furthermore, she added that the Philippines is in no better position to take advantage of these opportunities, due to the unique characteristics of the Filipino population regarding digital adoption and literacy.
"As the country is the world's leader in internet and social media usage, we believe that the Philippines is ripe for becoming a real leader in digital banking. To edge closer to a fully digitalized and cashless society, we must begin to listen and to address the customer need for a more inclusive and accessible way in banking that lets them grow their money the way they want to," she said.
This session of BusinessWorld Insights was presented by Tata Consultancy Services and GCash with the support of Globe, InLife, and PayMaya.