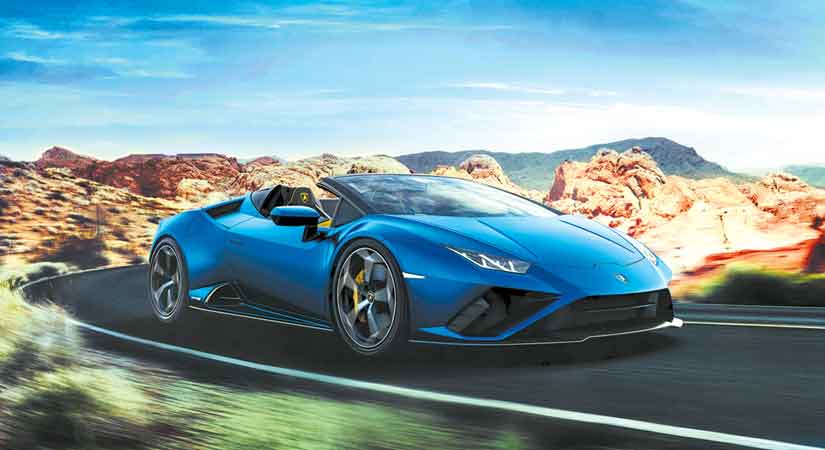 AUTOMOBILI LAMBORGHINI did something it had never done before — launch a car digitally through augmented reality (AR). That's how the Italy-based super car maker chose to reveal the new Lamborghini Huracán EVO Rear-Wheel Drive Spyder on its official website, www.lamborghini.com.
The new model is a rear wheel-driven super car boasting lightweight engineering and a specially tuned Performance Traction Control System (P-TCS). Its naturally aspirated V10 power plant churns out a brutish 610hp and 560Nm of torque. As with its coupe version, this Spyder zooms from standstill to 100kph in 3.5 seconds, onward to a top rate of 324kph.
Lamborghini says that the Lamborghini Huracán EVO RWD Spyder is engineered as a "pure driver's car," remaining focused on the driver's skills. Along with the setup of its rear-wheel-drive powertrain, the vehicle is said to guarantee "unfiltered physical feedback and maximum engagement, delivering an exhilarating driving experience via hardware rather than software."
While delivering copious amounts of torque, the specially tuned P-TCS system also assures traction. The Anima button on the steering wheel controls driving modes, with the P-TCS adjusting to the chosen mode. In Strada mode, the vehicle focuses on stability and safety in all conditions through minimal rear-wheel slippage. The system also manages torque delivery in conditions of low grip. Sport mode allows "drifting fun as the rear wheels can slide and skate during acceleration." The system still limits torque output whenever oversteer angles increase rapidly — leading to stabilization and control. Corsa mode optimizes the car's traction and agility when exiting a corner at high speeds.
The Huracán EVO RWD Spyder's aluminum and thermoplastic resin body sits on a lightweight chassis made from aluminum and carbon fiber. It tips the scales at 1,509 kilograms and boasts a weight-to-power ratio of 2.47 kg/hp. The vehicle's front/rear weight distribution is 40/60; and it boasts ventilated and cross-drilled steel brakes that stop 19-inch Kari rims fitted with special Pirelli P Zero tires. Optional are optional carbon ceramic brakes and 20-inch wheels.
The RWD is different from the earlier Huracán EVO 4WD Spyder as it sports updated front and rear features — like a splitter and vertical fins within the larger, framed front air intakes, and a unique diffuser incorporated into the rear bumper that's finished in high-gloss black.
The soft-top roof stows under the rear hood within 17 seconds, a functionality possible even at speeds of 50kph. The car's rear window can be electronically opened regardless if the roof is up or down, functioning as a windshield when it is up. Two removable lateral wind shields dampen lateral aerodynamic noise in the cabin, permitting conversations even at high speeds.
An 8.4-inch HMI touchscreen placed on the center console controls the car's various functions, as well as provides comprehensive connectivity for telephone calls, internet access and Apple CarPlay. Color and trim customization options are available via Lamborghini Ad Personam.
Said Automobili Lamborghini Chairman and CEO Stefano Domenicali: "The Huracán EVO Rear-Wheel-Drive Spyder doubles the driving fun, delivering raw driving pleasure with the opportunity to celebrate life outside. The driver is perfectly in touch with Lamborghini's engineering heritage, experiencing the feedback and engagement from the setup of a rear-wheel drive car where electronic intrusion is minimized, while enjoying the sense of freedom and spirit of life that only open-top driving provides."