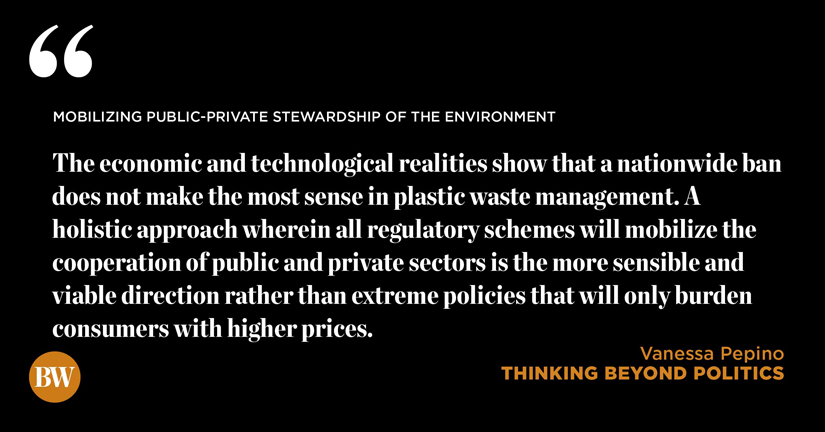 Government, industries, and civil society organizations are finding different ways to approach plastic waste pollution. Legislative measures, such as a nationwide ban on single-use plastics, adoption of waste-to-energy plants, extended producers' responsibility, and private sectors' proactive engagement with communities and local government units are at the core of this discussion.
It is sobering that stakeholders are beginning to recognize the role they have to play as part of the solution. Whilst a tough process, something needs to be done, and it is never without asking, where do we start?
The broad-based multi-stakeholder approach is essential to effectively integrate a circular economy in rethinking production processes and in modernizing our waste management processes. The economic and technological realities show that a nationwide ban does not make the most sense in plastic waste management. A holistic approach wherein all regulatory schemes will mobilize the cooperation of public and private sectors is the more sensible and viable direction rather than extreme policies that will only burden consumers with higher prices.
Republic Act (RA) 9003 or the Ecological Solid Waste Management Act of 2000 itself encourages greater private sector participation in solid waste management. Even as Metro Manila coagulates further, urban and environmental challenges are too daunting and complex to be taken on separately. Shared responsibilities in caring for the environment through proper waste management efforts should be encouraged and mandated.
Simply put, government cannot do everything on its own.
Big industry leaders and environmental advocacy groups were on the same page in the recent Stratbase Pilipinas Conference and aligned their commitments to help solve what the Department of Environment and Natural Resources Secretary Roy A. Cimatu sees as a "garbage crisis" that must be solved to clean up Manila Bay.
In fact, collaborative programs with the private sector and communities, even in waste management, are not unheard of. Big companies are now partnering with government agencies to rehabilitate the most polluted rivers in Metro Manila. There are ongoing partnerships with communities and local government units to incentivize recovery of wastes and augment leakage that glaringly start off from the collection system.
Among the notable private sector initiatives is Coca-Cola Philippines' P1-billion RPET (recycled polyethylene terephthalate) facility investment, the first in the Asia Pacific region, and slated to break ground this year. The technology will give PET bottles extended and multiple lives as RPET bottles, fabrics, chairs, and other useful items, thereby catching thousands of tons a day in PET bottles that would have ended up in landfills, illegal dumpsites, and esteros (canals) flowing to Manila Bay.
This is under the company's World Without Waste global program which already has various ongoing sustainability and waste management programs in Iloilo, Bacolod, Boracay, Davao, Siargao, Palawan, Cavite, Bataan, Marinduque, Albay, Davao, Metro Manila, La Union, Baler, Negros Occidental and Saranggani, among others.
Innovations in packaging will take some time but the multinational manufacturing countries are investing in what can be done now to help stop the dumping of thousands of tons of trash ending up in our waterways. Manufacturers using sachet packaging such as Unilever for one have post-consumer waste collection programs in over 300 communities in Metro-Manila through a product exchange incentive. Its "Zero Waste" programs are engaged in multi-sectoral partnerships to implement micro-level collection projects. More and more enterprises see the value of responsive corporate citizenship and the role they must play as an enabling stakeholder of the environment which should be rigorously encouraged and even incentivized by government.
Building the best waste management systems takes resources, right planning and execution, but addressing public apathy, the lack of motivation and discipline to individually participate in reducing waste may be the more challenging dimension of our garbage problem. A strong communications campaign that aims to transform the "throw away" habit into a "dispose your trash properly" culture is a key component that the private sector's pool of creative communicators will be most valuable.
Public or private-led programs on environmental stewardship and community empowerment are all invaluable in plastic waste management. It sets a new wave of strategies on how community-based projects can be more inclusive and impactful as they are connected to institutionalized funding schemes.
That said, empowering communities and enforcing environmental regulations work best when shared responsibility is upheld and encouraged. It works best when private partners are engaged and included as much as local governments and communities are held accountable.
It may be ambitious by a long shot, but it is possible and most of all, it works.
Vanessa Pepino is a Non-Resident Fellow at the Stratbase ADR Institute.