Metro lockdown eased; India ban extended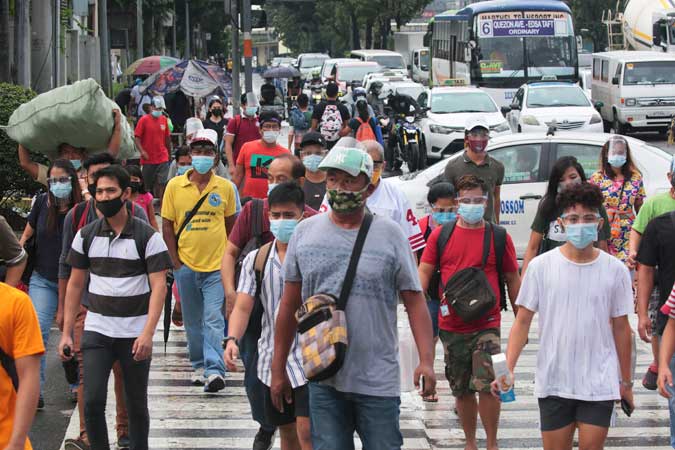 By Kyle Aristophere T. Atienza and Vann Marlo M. Villegas, Reporters
President Rodrigo R. Duterte on Monday night further relaxed the lockdown in Metro Manila and a nearby province amid easing coronavirus infections, and kept the travel ban on India and its neighbors to prevent the entry of a more contagious variant. 
The National Capital Region and the province of Bulacan would be placed under a general community quarantine "with some restrictions" from June 16 to June 30, he said in a televised meeting with the Cabinet. 
The President also extended the travel ban on travelers from India, Pakistan, Bangladesh, Sri Lanka, Nepal, the United Arab Emirates and Oman until the end of the month, his spokesman said in a separate statement. 
Gyms and food establishments in Metro Manila and Bulacan would be allowed to operate at 30% of their capacity, presidential spokesman Herminio L. Roque, Jr. said, he said at the meeting. 
Businesses with a safety seal would be given 10% additional capacity incentivized with an additional 10% venue capacity. 
The President said the provinces of Rizal, Laguna, and Cavite would remain under a general quarantine "with heightened restrictions." 
Baguio City, Kalinga, Mountain Province, Abra, and Benguet in northern Philippines will be under a general quarantine, as well as Isabela, Nueva Vizcaya, Quirino, Batangas and Quezon. 
Several areas in southern Philippines including Iligan City, Davao del Norte, General Santos City, Sultan Kudarat, Sarangani, Cotabato, South Cotabato, Lanao del Sur and Cotabato City will be under a general quarantine. 
Mr. Duterte said all other areas would be placed under a modified lockdown. 
At the same briefing, Health Secretary Francisco T. Duque III said the use rate of hospitals in La Union, Tarlac, Cavite, Rizal, Benguet and Agusan Del Sur had exceeded critical levels. 
Philippine authorities earlier said the southern and central parts of the Philippines were experiencing a fresh surge in coronavirus infections. 
The Department of Health (DoH) reported 6,426 coronavirus infections on Monday, bringing the total to 1.32 million. 
The death toll rose by 57 to 22,845, while recoveries increased by 7,145 to 1.24 million, it said in a bulletin. 
There were 59,096 active cases, 1.3% of which were critical, 91.8% were mild, 3.9% did not show symptoms, 1.8% were severe and 1.28% were moderate. 
The agency said 12 duplicates had been removed from the tally, nine of which were tagged as recoveries and 10 recoveries were reclassified as deaths. Ten laboratories failed to submit data on June 12. 
The coronavirus has sickened about 176.7 million and killed 3.8 million people worldwide, according to the Worldometers website, citing various sources including data from the World Health Organization. 
About 160.8 million people have recovered, it said. 
'SERIOUS CONCERN' 
Meanwhile, Dumaguete City in central Philippines is the "area of most serious concern" outside Metro Manila, according to the University of the Philippines OCTA Research Group. 
In a report, researches said coronavirus infections there had more than the doubled in the past week, while the average daily attack rate was 69.85 for a population of 100,000 people. Dumaguete is "extremely high risk." 
OCTA also noted that the hospital bed occupancy rate in the city was at 68%, while 84% of intensive care unit beds had been used. 
Other areas of concern due to increasing cases, high hospital occupancy and high average daily attack rate were the cities of Iloilo, Butuan, Tacloban and the municipality of Polomolok in South Cotabato. 
Tagum City, Legazpi City and Tagbilaran City were also flagged as emerging hotspots due to rising infections. 
Intensive care unit occupancy in Davao City, Iloilo City, General Santos, Tuguegarao City and Koronadal were at critical levels of more than 85%. 
Earlier on Monday, Mr. Roque said the government would study the reopening of leisure establishments such as cinemas and amusement parks. 
About 58% of intensive care unit beds in the country had been used as of June 13, Mr. Roque said. 
About 48% of isolation beds and 47% of ward beds have been occupied, while 36% of ventilators have been used. About 46% of ICU beds in the capital region have been occupied. 
The palace official said 37% of isolation beds and 32% of ward beds have been used, while 32% of ventilators have been used. 
Mr. Roque said 4.6% of the 59,865 active coronavirus cases as of June 13 had been isolated. The death rate was 1.73%, while the recovery rate was 93.7%, he added. 
Also on Monday, Metro Manila Development Authority Benjamin de Castro Abalos, Jr. said mayors in the capital region had voted to shorten their curfew hours. 
The improving coronavirus situation in the country's key economic hub prompted metro chiefs to adjust the curfew hours to 12 am to 4 a.m., which will take effect starting June 15.