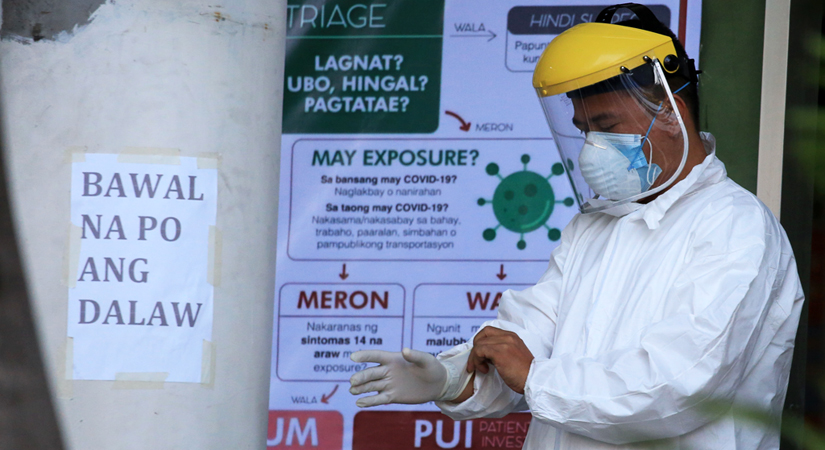 It has been a week under the "enhanced community quarantine" — enhanced because it now covers the whole island of Luzon instead of just Metro Manila; community quarantine because the original term of "lockdown" was a shutdown and wasn't reassuring.
Quarantine is nothing new to people. When we visit the sick in hospitals or come from a dirty site or a sweaty gym, we take off our shoes at the front door, shower and change clothes to keep germs away. When we have the cold or flu, we sleep in different quarters and try to stay away from family and friends and not share utensils and the like. Even from a mortuary, we drop by fast food outlets or convenience stores to leave behind evil spirits that may accompany us home.
In more extreme medical cases, we quarantine people with highly infectious diseases like leprosy. In reality, leprosy is actually not that contagious as it is transmitted by close and repeated contact with nose and mouth droplets from an untreated person. Lepers were stigmatized from ancient times to the present. And then there is the specter of tuberculosis that continues to be a major health problem in the country. The need for long-term treatment and care for chronic illnesses lead to the establishment of sanitariums all over the islands and these continue to function.
The long term solution for outbreaks such as Covid-19 is to take a close look at these underutilized and under equipped places that are strategically located to prepare them for future situations.
The proactive solution is to integrate into one office the government and private sector response to public health emergencies. We learned from major natural disasters and the recent ones have resulted in far less casualties, be it a sudden volcano explosion or a super typhoon and flash floods. But SARS in 2003 and MERS in 2012 skipped the Philippines and we Filipinos figured we were immune to viruses because we live with them closely and in abundance all the time. Or perhaps we are cleaner in 2020.
Surely in the 21st century and with improving awareness and socio-economic conditions, lives are more precious and people are more rational (hopefully), less fatalistic and ignorant of the common sense actions to be taken when disasters happen.
The de facto office, the Inter Agency Task Force on Emerging Infectious Disease, was convened for the first time on Jan. 28. Early enough but it can always be preventive. What was more problematic is the usual lack of legal basis, confused mandate and uncertainty on the extent of its powers and functions. These eventually translate to late and incomplete issuances that foment chaos in implementation and increase panic and fear on residents and transients.
It is cardinal in crisis management that the government speaks with only one voice or in one site. Several mouths can only lead to mishaps and disservice. Each netizen became an expert and a spreader of news, real or fake, verified or not.
Finally in the second week of March, our Department of Health launched its official coronavirus site and social media accounts with a Dr. Beverly Lorraine Ho at the frontline. Late, but at least moving forward, there is a source we can all turn to for information and updates.
Our personal monitoring of our symptoms, checking on family members and co-workers were interrupted by the viral "veerus" press conference of the President. In contrast with the clear, logical, "kia si" mentality of Singaporean's prime minister, our devil-may-care, go-to-hell virus leader gave us the courage to rely on our own selves. We are all used to all things viral anyway. With our young population, a virus can come and go like a bad cold. We keep safe the elderly and the sickly. We already do this with our respect for elders and our compassion for the weak.
As of this writing, the quarantine is causing an explosion of humorous and witty postings of people who suddenly discovered peace and quiet in their houses. Though quarantine may have negative effects such as infection fears, inadequate food and misinformation, the real issue is the financial loss and the "no work, no pay" impact of the suspension of work.
There is no shortcut to public health emergencies. It is tougher because of the exponential transmittal rate — raising donations in cash and kind cannot provide for the needed equipment on time; deadlier because the severe consequence of death cannot be avoided for some — even with the required apparatus, it kills; trickier because of its wide, deep and unforeseen effects on society — the insight that it is in the smallest of things that our fate depends on. It is only by responding together that we can prevail.