By Marian Pastor Roces
WHAT HAS not been said yet about the Lauren Greenfield documentary? Is there anything more to say? The Bloated One who allowed herself to be caught by Greenfield displaying the core of her psychosis — lust for return to power — took up valuable real estate in public discussion. In light of the coronavirus crisis and a still restive Taal Volcano, paying any more attention to Imelda Marcos and family is a matter of resource allocation.
It is our special misfortune that mental and emotional resources, stuff to be otherwise spent prudently, still have to be invested in a dogged Marcos watch. But, well, such is fate, and we can only be alert to moments that might channel ho-hum exasperation into rejuvenating wrath. The Kingmaker may be such a moment.
The documentary — whose title, colloquially, is King Ina, the stage-mothering of kingship — delivers more than a spectacle of greed. It offers more than a keyhole for voyeurs. In exposing the shape and major themes of Imelda's madness, Greenfield quickens comprehension of the true size of this drawn-out national disaster. Filipino or otherwise, audiences arrive at (apologies to Joseph Conrad) the heart of darkness.
Imelda's blathering is an endless reprise of three mantras. The ideas are wacko — Mother, Love, Beauty, capitals M, L, and B — and cohere in her mind as transcendent space beyond criticism. That space, she thinks, is above ground; and she, goddess, is suspended in mid-air as the very definition of benevolence. She thinks these words shield her from multiple perspectives.
There is little evidence that she is capable of recognizing evidence-based reality, let alone contrary opinion. Then again, Imelda did say, "Perception is real, truth is not." Hence a clue: that however delusional she is, Imelda's cunning is sharp and practiced.
Greenfield helps us detect the Imeldific combination of hard calculation and outlandish posturing. Imelda never stops performing. She means to return to goddess stature, flirting with world figures. To that end, she stages her widowed persona so outrageously, she conjures a strange aura of entitlement.
It is quite an act. Imelda is way better than any superb transvestite show in a bittersweet bar.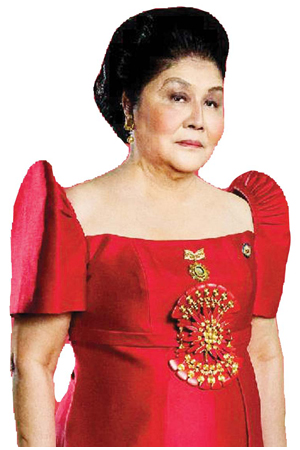 We — whoever we are who can still tell one thing from another — appreciate that Imelda can neither be dismissed as perverse entertainment nor spent force. The Imeldific as self-directed theater of excess is a figure to recognize precisely for what it is: a one-woman circus for rabble-rousing. The more immoderate, the better. The more glitzy and crass, the more effective.
The dramaturgy is built on sleights-of-hand. The non-stop intonation of Beauty contrives a hypnotic effect that turns the obviously ugly into simulacra of fabulous. Her paeans to Love manage to obscure otherwise clearly loveless plots, callous agenda, and outright cruelties. And the figure of the Mother which Imelda conjures has nothing to do with maternal nurturance, and everything to do with trying to foreclose — or indeed, kill — political growth.
The Beauty that Imelda venerates is, in truth, the Hideous. She was a patsy to shadowy dealers who preyed on crass dictators' wives and other overnight billionaires. Portraits of herself and family in faux royal accoutrements, or as mythic beings with no feet on the ground, are the kitsch she consistently mistook for elegance. Her family's enduring, world-class avarice for power and wealth represents, yes, culture. The culture of impunity.
More, and devastatingly for the Philippines: she supported a representation of the Filipino in romanticized art and performance, particularly in folk dance and painting. This pretend Philippines is institutionalized up to this day in the foreign affairs, the cultural industries, media, and education establishments. It blunted cutting-edge impulses in the art of the last 50 years. Too many Filipinos forgot subtle beauty, notably in instrumentation and speech.
The Love Imelda sings to is, to be sure, Betrayal. The documentary recalls the birth of the rapacious Imelda as literally em-bedded in the Dovie Beams sex record. Imelda's life-long performance of love for her Ferdie masks her monstrous becoming as virtuoso in exacting vengeance and manipulating to return to top predator status. The performance of love, in place of love, is slimy cover for building family and community on patronage.
Presuming to embody this Love, Imelda usurps and mangles Christian and Islamic theologies to give some kind of strange logic to distributing money to street children and child cancer patients "to buy candy." This love manipulates a witless son to go for the presidency via the vice-presidential race to a presidential candidate expected to either die or abdicate in his favor — and to set up the machinery for denial of the loss of substantial investment. The loss to Leni Robredo could not be comprehended by a Marcos camp that thinks money can buy everything if couched in the vocabulary of love.
And the Mother that Imelda contrives as avatar is, of course, Beast. The figure is revealed in the section of the documentary when Imelda recalls Ferdinand as the mother she found to fill the vacuum created by the early death of her own mother. This husband-as-mother deserves the attention of shrinks and comedians. He was her mother in political mentorship, of course a sort of nurturance. A mother, to her mind, is the teacher in survival; including outliving the deepest betrayal. Wrought, in her case, by this very "mother."
Reproducing such motherhood, Imelda schleps inanities, figuring herself as mother of the Philippines and mother of the world. Ferdinand did indeed give birth to Imelda as monied, self-entitled, politically crafty, and wrapped in a femaleness that will make Game of Thrones women cringe. Ferdinand is the mother who erased Imelda's actual mother, an impoverished second wife.
Ferdinand's motherhood to Imelda constructed the falsehoods that Imelda lives out as reality. The Philippines that she (therefore he) desires back is a country long abused by this loving, beautifying, and mothering. The drama has to end. King Ina, begone.
Marian Pastor Roces is an independent curator and critic whose research interests include international art events, museums, identity politics, cities, and clothing. She is the founder and principal of TAO, Inc., a museum and exhibition development corporation. More of her critical texts can be found in Gathering: Political Writing on Art and Culture, the first collection of Roces' essays co-published in 2019 by the Museum of Contemporary Art and Design and ArtAsiaPacific Foundation.