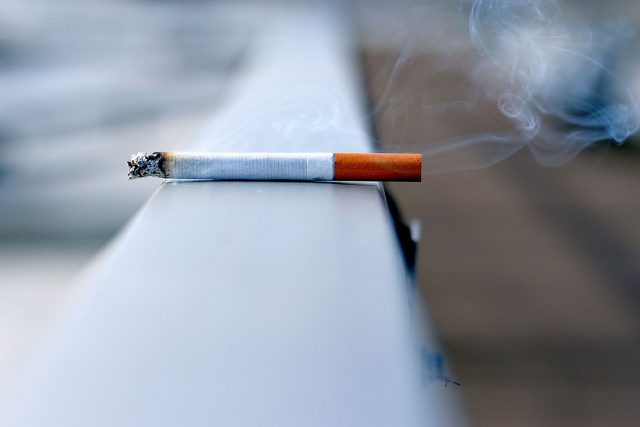 JOHNSON & JOHNSON Philippines, Inc. (J&J), through its consumer health brand Nicorette, and the Philippine College of Chest Physicians (PCCP) developed a smoking cessation module for training healthcare practitioners in the counseling and treatment of Filipinos who want to quit smoking.   
The online module, launched September, is open by request to all public or private institutions or organizations.  
"When you talk to a smoker, it's not just about prescribing medication. It will take roughly 30–40 minutes to do initial counseling and more time to help patients realize their motivations," said Dr. Glynna Ong-Cabrera, PCCP's program director, in an interview with BusinessWorld. "You have to train people. If you're targeting a national scope, it's important to get all the help you can get."  
She also pointed out the three factors of smoking addiction that make it a complicated disease to treat: the biological (the body craving for more nicotine), the psychological (the need for stress relief), and the sociocultural (smoking as a social practice).  
In the Philippines, it was found that 23.8% of adults use tobacco in any form, with 18.7% overall smoking an average of 11 cigarettes per day, according to the Department of Health's (DoH) latest Global Adult Tobacco Survey (GATS) in 2015. The next GATS will be conducted this year.  
The training comes in two modules: brief tobacco intervention, which is mandatory, and intensive counselling, which is optional but highly encouraged. The online module is powered by J&J while its contents were developed by PCCP.  
"Before the modules, if you look at Nicorette's Facebook page, we [J&J and PCCP] have gone through informative routes first through livestreams to explain the smoking cessation landscape as well as the efficacy of nicotine replacement therapy [NRT]," said Jason Khu, senior brand manager for Nicorette in the Philippines.  
HOLISTIC TREATMENT
Nicorette, an over-the-counter NRT product that comes in the form of chewing gum, is only part of the solution, he added. Though it provides a steady, medicated stream of nicotine to those trying to quit, support from healthcare practitioners is still necessary.  
"NRT provides a sort of steady, medicated amount of nicotine, not the same as cigarettes, but a small amount just to tide over withdrawal symptoms," said Dr. Ong-Cabrera. 
Switching to e-cigarettes or vapes, meanwhile, is not recommended as a cessation technique. 
"With vape, what happens is the addiction shifts. Vape doesn't really stop it. You just shifted from cigarettes to vape and you're still getting a supply of nicotine," she said. 
Dr. Ong-Cabrera emphasized that combining behavioral and pharmacological therapy increases the chances of success.  
"Smoking is very complicated. People think it's a habit you can quit easily if you want to. There's this notion of just using medication and quitting, like it's a wonder drug, and it's not like that. It's about the motivation and value of quitting, but because of addiction, people need counseling and help," she said.  
The DoH's QuitLine 1558, a toll-free hotline service for smokers seeking consultation, provides the first step toward therapy. Quitting, however, is difficult — the 2015 GATS found that only 4% of Filipino smokers who had the intention to quit were successfully able to do so.  
With J&J and PCCP's smoking cessation module for healthcare practitioners, it will be easier to build the capacity to address smoking addiction in the country, said Dr. Ong Cabrera. — Brontë H. Lacsamana 
---
SIDEBAR | Majority of Filipinos think vapes, e-cigs are a 'serious health hazard' — survey  
NEARLY eight in 10 Filipinos (77%) believe that vaping devices and e-cigarettes pose a "serious health hazard," according to a recent survey by Pulse Asia Research, Inc., conducted among 1,200 respondents in September.  
The survey also found that 74% of respondents support an e-cigarette or vapes-free policy in public places while 70% support restricting access to vapes and e-cigarettes to adults 21 years old and above.   
"Medical opinion and public opinion are in agreement: vapes and e-cigarettes are harmful to Filipinos' health. Senators should heed the call of Filipinos and their doctors and reject the Vape Bill," said Dr. Maricar B. Limpin, president of the Philippine College of Physicians, in a statement slamming the Senate Bill No. 2239.  
The Vaporized Nicotine Products Regulation Act, or Vape Bill, contains provisions easing restrictions on use of flavorings and rolling back minimum age of access to vape from the current 21 years old to 18 years old. It will also shift the regulatory mandate from the Food and Drug Administration to the Department of Trade and Industry.  
Finally, there are provisions that will allow vaping in public places. All of these have caused health advocacy groups to condemn the bill.  
"Proponents of the Vape Bill are claiming that vapes and e-cigarettes are a healthier alternative to smoking and help smokers quit. This is not true," explained Dr. Limpin. "There are real health harms in these devices and there is not enough evidence to claim that they help smokers quit."  
She also noted that vape products have been proven to contain cancer-causing agents, which senators must consider as they resume deliberations on the bill next week. At least 7 former health secretaries and 60 medical groups previously opposed it.  
As for provisions on flavorings, public interest law group ImagineLaw pointed out that even those who use vape products support their restriction. Pulse Asia's survey found that 66% of vape-using respondents support a ban on the availability and accessibility of e-cigarette and vape flavors that appeal to children.  
"The Vape Bill will introduce more young people and even children to the dangers of vapes and e-cigarettes," said Sophia San Luis, ImagineLaw executive director, in the statement. "The people have spoken against vapes and e-cigarettes. Our legislators' duty is to listen and junk the Vape Bill."