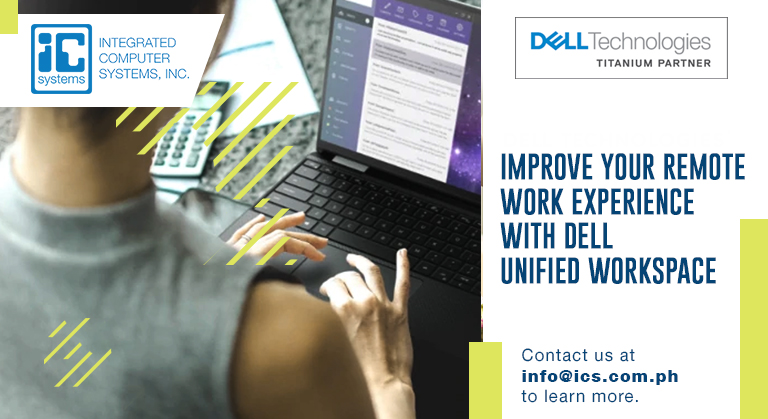 Dell Technologies understands that ensuring business continuity is the top priority for organizations today. During these uncertain times, IT professionals face the challenge of rapidly deploying and supporting a growing number of home-based users who need consistent access to corporate applications.
Companies can rely on Dell Technologies to help them quickly enable and support a significantly expanded remote workforce through Dell Unified Workspace.
Designed with a multi-OS, multi-device world in mind, Dell Technologies' Unified Workspace modernizes the end-user experience. It is regarded as the industry's most comprehensive solution to deploy, secure, manage, and support devices of employees directly from the cloud.
Ready to Work Devices
Dell Technologies' Award Winning Devices provide easier, faster and more seamless user experiences, enabling people to be more productive, faster.
Recognized as the world's smallest 14″ commercial 2-in-1, the Latitude 7400 features the Dell ExpressSign-in, the first PC proximity sensor enabled by Intel® Context Sensing Technology.
Dell also offers a new kind of Chromebook with the Latitude 5400 Chromebook Enterprise, which puts the design, performance, and trusted features of its Latitude portfolio in a brand new package.
The OptiPlex 7070 Ultra, meanwhile, is a commercial desktop solution that has a one-of-a-kind modular design delivering the aesthetics of an all-in-one and the flexibility of a traditional desktop.
Deploy PCs fast
With Dell Unified Workspace, offices can deploy computers with greater speed and less effort.
Its ProDeploy component simplifies deployment for IT teams and provides end-users with day-one productivity.
With ProDeploy Client Suite, offices can get end-to-end deployment designed to address specific needs such as imaging, migration of user data, installation at multiple sites for remote users, and securing intellectual property and personal information.
Ensure secure collaborations
 Dell Unified Workspace also assures offices of security that does not get in the way of productivity.
Dell Technologies is highly recognized for delivering comprehensive and built-in endpoint security solutions that help protect the endpoint ecosystem, giving IT teams the confidence that information remains secure, threats stay off of devices and attacks are thwarted.
These include the built-in security in Dell devices, strong multi-factor authentication from VMware Workspace ONE, company data encryption from Dell SafeData, and malware prevention at the endpoint from Dell SafeGuard and Response
Manage smarter
Dell Unified Workspace through VMware Workspace ONE also assures simplified and flexible management. An intelligence-driven digital workspace platform that simply and securely delivers and manages any app on any device, Dell Unified Workspace integrates access control, application management, and multi-platform endpoint management.
Workspace ONE reduces the time to deliver core applications to end-users from two hours to just over 12 minutes — providing smarter, faster experiences for the workforce.
Backed-up with reliable support
Predictive and proactive support is also offered by Dell Unified Workspace. Through Dell ProSupport for PCs, IT departments can maintain control and take action with telemetry-driven insights.
Dell Technologies' predictive technology detects issues before they become problems, so they can be fixed before end-users lose productivity.
In addition, telemetry-driven recommendations and insights allow teams to remotely act on developing IT issues, anticipate end-user needs, and reduce resolution time.
Learn more about Dell Unified Workspace by talking to your contact person at Integrated Computer Systems, Inc., a Dell Technologies Titanium partner in the Philippines.
E-mail them at info@ics.com.ph, or visit the ICS website, www.ics.com.ph.