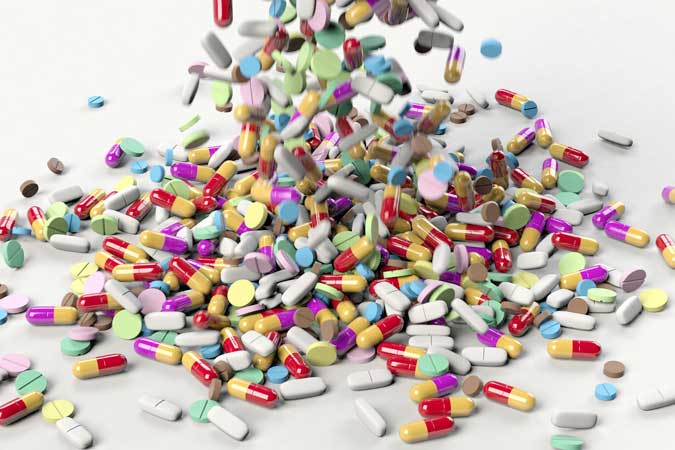 On average, researchers identify one promising drug candidate among 5,000 to 10,000 compounds screened. Researchers then extensively test the compound to ensure its efficacy and safety, a process that can take 10 to 15 years for both a medicine and a vaccine. 
In the ongoing fight against coronavirus disease 2019 (COVID-19), the biopharmaceutical industry is leading the way in developing and manufacturing vaccines, treatments, and diagnostics. 
"Our industry is working on innovations that are transforming healthcare and helping tackle unmet medical needs. Today, our scientists are discovering the new treatments that will transform the lives of future generations. The volume of clinical trials has increased in the last 5 years. In 2020 alone, around 5,000 clinical trials were started to investigate and develop new treatments and vaccines, despite the disruption caused by the COVID-19 pandemic," said Thomas B. Cueni, director general of the International Federation of Pharmaceutical Manufacturers & Associations (IFPMA) with the release of The Pharmaceutical Industry and Global Health: Facts and Figures 2021. 
In 2020, the number of drugs in development for particular disease areas were 2,740 for cancer; 1,535 for immunology; 1,498 for neurology; 1,213 for infectious diseases. 
In 2018, 59 new medicines were launched, while currently more than 8,000 compounds are at different stages of development globally. The research-based biopharmaceutical industry is estimated to have spent $179 billion globally on biopharmaceutical R&D in 2018. 
Patients in vulnerable healthcare systems are particularly challenged by high out-of-pocket expenditure. While health expenditure as a share of gross domestic product (GDP) has increased in various countries, spending on biopharmaceutical products as a share of health expenditure has broadly remained constant. Biopharmaceuticals play a vital role in well-functioning healthcare systems.  
Medicines and vaccines contribute to the sustainability of healthcare systems by generating savings, for example by substantially reducing costs in other areas of healthcare, such as hospital stays and long-term care costs. 
The Global Health Progress platform highlights 250 collaborations between the innovative biopharmaceutical industry and more than 1200 partners to support the Sustainable Development Goals (SDGs).  
The 17 SDGs are an urgent call for action by all countries — developed and developing — in a global partnership. They recognize that ending poverty and other deprivations must go hand-in-hand with strategies that improve health and education, reduce inequality, and spur economic growth while tackling climate change and working to preserve our oceans and forests, according to the United Nations. 
Combined direct, indirect and induced effects of the biopharmaceutical industry's total contribution to the world's GDP is $1,838 billion. The biopharmaceutical industry employs approximately 5.5 million people worldwide, including through the manufacturing of generics medicines. Global sales of biopharmaceutical products continue growing and represent the international distribution of medical technology resulting from highly intensive R&D efforts in the exporting countries. As medical innovation is transmitted across the world, it contributes to significant gains in average life expectancy and quality of life. 
There are many promising success stories in the biopharmaceutical industry's R&D pipeline. These include curative therapies for hepatitis B and HIV that may be able to eradicate the virus from infected cells, saving patients from lifelong treatments. 
The decades of trial and tribulations that has led to the development of mRNA technology can be a lifesaving therapy for patients with aggressive forms of brain cancer. "The future is uncertain, but as long as our industry continues to push the barriers of science, it should be a better one for all," said Mr. Cueni. 
The industry's efforts in developing and delivering COVID-19 therapeutics and vaccines play a vital role in helping control the spread of the virus and treat people from the worst COVID-19 symptoms.  
Aside from reducing the tragic loss of life and helping to get the pandemic under control, the Global Access Vaccine Initiative (GAVI), estimates the introduction of a vaccine could prevent the loss of USD 375 billion to the global economy every month. The biopharmaceutical industry will not rest until the world attains herd immunity and finally contain the COVID-19 pandemic. 
Teodoro B. Padilla is the executive director of Pharmaceutical and Healthcare Association of the Philippines (PHAP). PHAP represents the biopharmaceutical medicines and vaccines industry in the country. Its members are at the forefront of research and development efforts for COVID-19 and other diseases that affect Filipinos.