LGUs must ramp up vaccination of seniors — WHO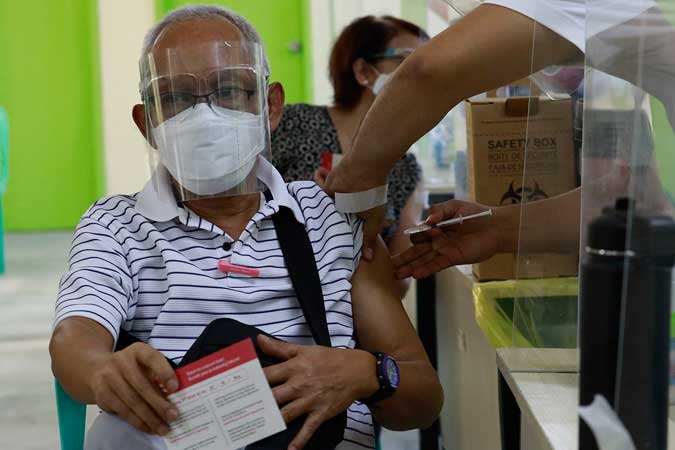 IN LIGHT of emerging variants of coronavirus disease 2019 (COVID-19), the World Health Organization (WHO) Philippines and the National Commission of Senior Citizens (NCSC) have called on local government units (LGUs) to increase the rate of vaccination of senior citizens due to their high risk of getting infected.
"Vaccines are an essential addition to our protective measures against COVID-19, especially with the risk of fast-spreading variants," said Dr. Rabindra R. Abeyasinghe, WHO Representative to the Philippines, in a media briefing Thursday. "We need to protect our senior citizens the soonest and with the highest coverage."
Only 28.3% of the country's recorded 8.2 million seniors have received a first dose of the COVID-19 vaccine, while only 8.5% have received their second dose as of June 28, according to Dr. Abeyasinghe. Meanwhile, 7 out of 10 COVID-19-related deaths in the Philippines are of patients who are 60 years old and above, illustrating their vulnerability.
"We strongly urge our LGUs to ramp up efforts to improve access of the elderly to vaccines, along with improving convenience at vaccination sites," he added, stressing that a fast vaccination rollout should work hand-in-hand with public health protocols to protect against fast-spreading variants.
Aside from mobility, another issue that the elderly A2 priority group faces is the inability to get information about vaccination. "There are senior citizens who would like to have themselves vaccinated but they don't know where to go, how, and when," said Franklin M. Quijano, NCSC chair and chief executive officer.
Dr. Abeyasinghe and Mr. Quijano commended efforts that aimed to reach the elderly wherever they may be, including Puerto Princesa's mall vaccination sites, Marikina's mobile clinics, Taguig's vaccination buses, and Manila's house-to-house visits.
Speaking on the limited supply of vaccines, Dr. Beverly Lorraine C. Ho, director of the Health Promotion Bureau and the Disease Prevention and Control Bureau of the Department of Health (DoH) encouraged LGUs to keep improving their efforts.
"There are local demand generational activities that will need to be customized specifically for the local community and it might be different for one city versus another municipality, or one urban area versus another rural area, so we do recognize everyone needs to help each other out on data," she said, referring to the DoH's surveys which have been used as tools to gauge the progress of the vaccine rollout.
"We likewise encourage senior citizens or family members of senior citizens who have gotten their jabs to become influencers in their own communities since they are the most credible endorsers that can attest to the safety of the vaccines," she added. — Brontë H. Lacsamana