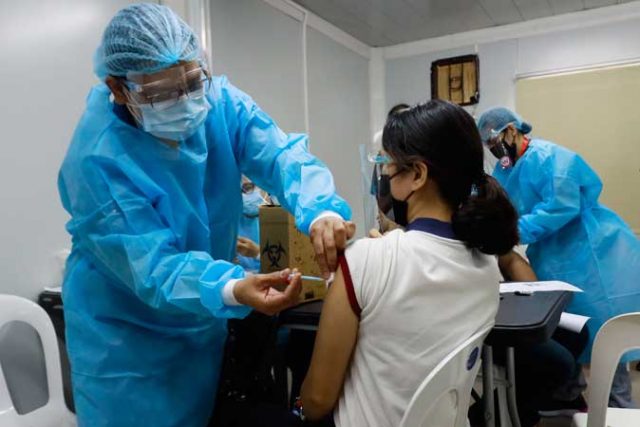 A CAMPAIGN launched by the Philippine Alliance of Patient Organizations (PAPO) addresses vaccine hesitancy and coronavirus disease 2019 (COVID-19) misinformation among seniors and persons with co-morbidities.   
"Patients either refuse vaccination outright due to lack of trust in the vaccine or provider, or they're lenient and don't see the need to get vaccinated right away," said Karen Alparce-Villanueva, treasurer of PAPO and campaign project head of "Bakuna, Now Na."
A survey conducted by the Social Weather Stations (SWS) from April 28 to May 2 revealed that only 3 out of 10 Filipinos are willing to get vaccinated. The top reason cited by those not willing was fear over possible side effects.
In response, PAPO is producing a vaccination webinar series called "Kwentong Bakuna." The upcoming episode, to be streamed on June 23, speaks to the concerns of patients with liver disease or hepatitis. "There's a high rate of hesitancy from these groups with good reason — they are sickly, so they have deeper fears," said Ms. Alparce-Villanueva.
Seniors (priority group A2) and persons with co-morbidities (priority group A3) are also easy targets of misinformation. "Sometimes, we don't vet the information that we see, or we see that since it comes from family and friends, it's reliable," said Ms. Alparce-Villanueva, "Often, false information is spread accidentally or out of genuine concern."
PAPO is countering the spread of misinformation with a social media campaign that uses common language and non-intimidating visuals. As a coalition of 39 disease-specific patient organizations, PAPO also has the advantage of having as its members people who know the deep-seated fears that come with illness.
Reynaldo "Rey" Sarmenta of the Hemophilia Association of the Philippines for Love and Service (HAPLOS) shared his vaccination journey from the perspective of an individual who initially had reservations about getting vaccinated himself.
As a senior citizen in a house full of people with co-morbidities — including himself with hypertension, his wife who was a stroke victim, and his child with hemophilia — he realized getting COVID-19 would be disastrous for his high-risk family. "Mas malaki ang takot ko sa virus kaysa sa vaccine [I am more scared of the virus than the vaccine]," he said.
To expound on reservations that patients usually have regarding the vaccine, Ara Lonorio, President of the Neurofibromatosis Friends Philippines, added, "Marami kaming agam-agam sa epekto ng bakuna sa aming katawan kaya malaking tulong na nabibigyan kami ng mas malawak na kaalaman [We have a lot of worries about the effect of the vaccine on our bodies, so it's a great help to have access to a lot of information]."
According to the US Centers for Diseases Control and Prevention (CDC), adults of any age with certain underlying medical conditions are at increased risk for severe illness from the virus that causes COVID-19. Thus, they recommend COVID-19 vaccines for such people.
A2 AND A3 STILL A PRIORITY
Dr. Nina G. Gloriani, head of the Department of Science and Technology's (DoST) vaccine development panel, acknowledged during the launch that even though essential workers belonging to the A4 priority group are now being vaccinated, there are still many from the A2 and A3 groups who have to yet to get their shots.
She added that 5 million Filipinos have already gotten a first dose, and by the end of June, some 9 to 10 million additional doses will be available. As for concerns regarding the availability of second doses for patients who have already received a first dose, Dr. Beverly Lorraine C. Ho, head of DoH's health promotion bureau, assured there are mechanisms put in place.
"Every morning, NCR [National Capital Region] representatives meet with the vaccine cluster operations team to check on each one's available stocks," she said, "We made sure that the succeeding doses that arrived will be reserved for whichever cities or populations needed them."
Despite the reservations of many Filipinos, people like Ms. Lonorio of Neurofibromatosis Friends Philippines are looking forward to their appointment for a first dose. Mr. Sarmenta of HAPLOS, another person with co-morbidities, expressed that their refusal to get vaccinated would add to the transferability of the virus.
As of June 13, more than 5.9 million coronavirus vaccines have been administered, about 1.5 million of which were second shots. — Brontë H. Lacsamana