As COVID-19 rages, don't let your guard down against other viruses
THE world's laser-like focus on SARS-CoV-2, the virus that causes coronavirus disease 2019 (COVID-19), hasn't stopped the medical community from remaining vigilant against other viruses that continue to pose great health risks. One of these is the human papillomavirus (HPV), a sexually transmitted infection that may lead to genital warts and, in worst-case scenarios, cancer.
HPV infects at least 80% of sexually active people, both men and women, at least once in their lifetime, according to data from the US Centers for Disease Control and Prevention. This includes asymptomatic cases of HPV.
Even the benign type of HPV, which manifests as uncomfortable genital warts, has an overall prevalence of almost 3% in Filipinos, with higher prevalence in men. Not all cases are severe, but they can later on lead to more life-threatening complications or get passed on to a sexual partner.
During a time where having any comorbidities can make people more prone to stress and illnesses such as COVID-19, the health risks are all the scarier. Dr. Mary Ann Escalona, country medical lead of Merck Sharp & Dohme (MSD) in the Philippines, ensures that "by putting HPV back in the conversation on overall health, we can make better decisions that can help protect us and our loved ones from HPV-related diseases."
EASING THE BURDEN BY RAISING AWARENESS
After about a year of slowed activity due to the pandemic, MSD in the Philippines re-launched their advocacy program Guard Against HPV this May, which aims to communicate the importance of safe sex practices, regular checkups, and vaccination for both men and women.
"HPV is a DNA virus that infects human skin and mucosal cells," said Dr. Portia A. Ortiz, president of the Philippine Society of Venereology. "There is a low-risk type, which causes genital warts or benign lesions, and a high-risk type, which is associated with cancers. In fact, 70% of HPV can cause cervical cancer."
She added that the virus can spread through any kind of sexual intercourse, whether vaginal, anal, or oral, making the ABCDEs of sexually transmitted infection prevention all the more important. (ABCDE stands for "Abstinence, Be faithful, Correct condom use, Don't do drugs, and Education.")
"The chances of getting HPV are greatly reduced if you're faithful to one partner. It's also safer for both parties to use a condom during sexual intercourse," Dr. Ortiz said.
HPV, aside from spreading through sexual contact, can also spread through sharing needles when injecting drugs.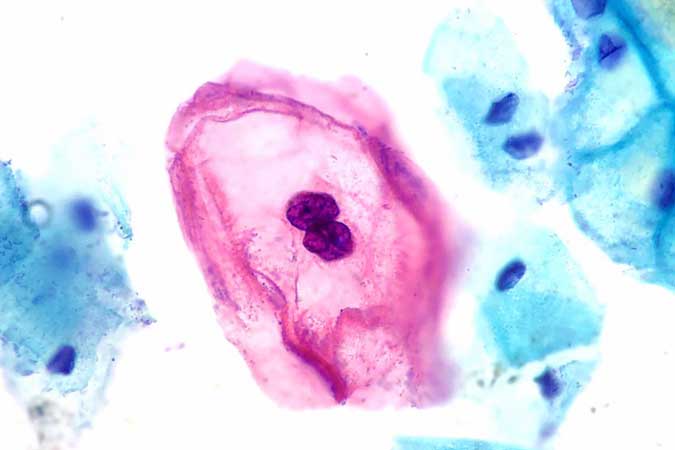 MEN CAN GET HPV TOO
Men are just as prone to HPV as women, said Dr. Jovanni R. Templonuevo, vice-president of the Philippine Society of Venereology. "It's possible to get genital warts that can later develop into penile and anal cancers if the person has gotten infected many times," he warned.
Asymptomatic men can unknowingly transfer the virus to their partners. Gone are the days of HPV and cervical cancer as illnesses associated mainly with women, said Dr. Templonuevo, who later added that cervical cancer vaccines are available for men.
"Men: be responsible," he said. "We all want a productive, stress-free life without sickness."
CLEARING UP MISCONCEPTIONS
One concern brought up during the conference was the sense of shame that can come with getting diagnosed, as if the HPV could be proof of unfaithfulness. However, all the panelists echoed the same assurance that this shouldn't be the case.
"HPV has an incubation period of two weeks up to eight months, and in some cases, even years. This means that it's likely a person got it from a previous partner, even if they hadn't been together for a long time," Dr. Ortiz said.
As for vaccination, all doctors clarified that the earlier, the better. Vaccines are available for children as young as nine years old, with variations in dosage depending on the age.
The benefit of getting a vaccine early would be gaining the antibodies needed fight off HPV in the future, when one becomes sexually active. Dr. Templonuevo backed this up with data, saying that "43 million HPV infections were recorded worldwide in 2018, many of them in their late teens and early 20s."
Unfortunately, Dr. Ortiz reported that the incidence of HPV in Filipinos under 18 years of age is high. "But for those who've already been exposed, you can still get value from vaccination," she said. "Your body can still make antibodies for the HPV strains that you don't have. Thankfully, we have vaccines that cover nine of them."
The panelists suggested going to a trusted healthcare provider, whether it be a family doctor, a dermatologist, or even pediatrician, to ask about vaccination.
For more details on HPV awareness and prevention, visit Guard Against HPV at facebook.com/guardagainstHPV. — Brontë H. Lacsamana