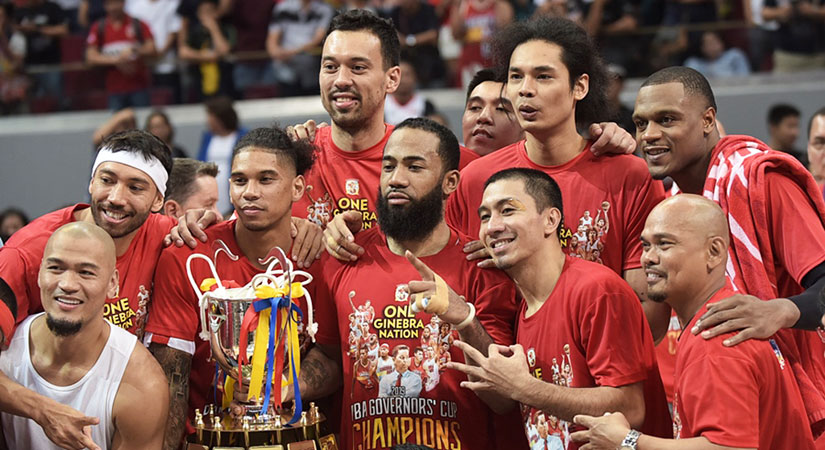 By Michael Angelo S. Murillo
Senior Reporter
FOR the 12th time in league history the Barangay Ginebra San Miguel Kings are Philippine Basketball Association champions after annexing the Governor's Cup title on Friday over the Meralco Bolts.
The Kings closed out the Bolts in their best-of-seven finals series with 105-93 victory in Game Five to claim the title, 4-1; a feat they attribute largely on players delivering from their end to see their championship goal through.
Leading the charge for Barangay Ginebra was big man Japeth Aguilar, who had a breakout series en route to bagging his first-ever PBA Finals most valuable player award.
In five games, Mr. Aguilar, 33, had averages of 17.4 points, seven rebounds and 3.4 blocks, a handful for Meralco, which found itself undermanned sans its own big man Raymond Almazan (knee injury) as the series progressed.
"Japeth winning Finals MVP was absolutely well deserved," said Barangay Ginebra coach Tim Cone, who with the latest title upped his PBA total to 22 championships.
"He just had a total game right from Game One all the way to Game Five. He took shots from the outside, inside, getting drop passes and dunks, running the floor. He was everywhere," he added.
The Kings coach also gave props to do-it-all Scottie Thompson, who acted like a"glue" for them throughout the series.
"I thought Scottie was absolutely outstanding in this series," Mr. Cone said of Mr. Thompson (8.2 ppg, 6.4 rpg, 5.8 apg and 1.6 spg).
"His quiet numbers were key for us winning the title apart from Japeth's. If I were to choose a second MVP it would be Scottie. Just the little things, the rebounding, getting down on the break, the passes, being at the right place at the right time, all that stuff don't show up in the stats but they add so much to the overall 48-minute game that you play," added the coach, who likened the former National Collegiate Athletic Association MVP to PBA legend and former Barangay Ginebra player Rudy Hatfield.
Also stepping up for the Kings were import Justin Brownlee and Stanley Pringle.
"I would hate to have to try to guard Justin on the other side. He reminds me a lot of Bobby Parks, when I was trying to figure out ways to guard Bobby Parks. Just could not find ways. He always would find a way to beat you, to get his shots, to get into the right positions," said Mr. Cone of their import, who has guided them to four PBA titles in the last four years.
"What can I say about Stanley? Well he's a difference-maker. He's really, really, really special and he took us to the next level. That's why we're able to win this series," he said.
Others providing valuable contributions for the team were veteran LA Tenorio, Greg Slaughter, Jared Dillinger and Aljun Mariano.
The Kings are now angling to win the All-Filipino title, something they have not won under Mr. Cone.