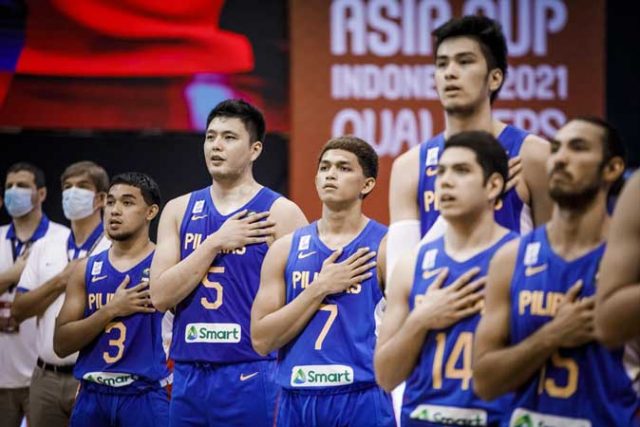 GILAS Pilipinas sets forth for the International Basketball Federation (FIBA) Olympic Qualifying Tournament (OQT) this week, leaving on June 24 to play in the six-day competition in Belgrade, Serbia.
Fresh from a successful campaign in the third and final window of the Asia Cup Qualifiers where it went 3-0 to complete a sweep of its six-game assignment in the pandemic-disrupted tournament, the all-cadet Gilas squad now focuses its attention on the OQT where it hopes to gain added experience for its development apart from making a run for the lone Olympic spot up for grabs.
The Philippines earned a spot in the Olympic qualifiers after New Zealand withdrew from various FIBA tournaments, including the OQT, over coronavirus-related concerns.
Gilas is lumped in Group A along with the Dominican Republic and Serbia. Group B, meanwhile, has Puerto Rico, Italy, and Senegal.
For the OQT, the Tab Baldwin-coached national squad will be bringing the same team that saw action in the FIBA Asia Cup Qualifiers in a "bubble" tournament in Pampanga last week, save for two to three players so as to adhere to the 12-man lineup requirement in effect.
Players who saw action in the Asia Cup Qualifiers were Dwight Ramos, Justine Baltazar, SJ Belangel, RJ Abarrientos, Will Navarro, Angelo Kouame, Mike Nieto, Isaac Go, Jordan Heading, Carl Tamayo, Geo Chiu, Kai Sotto, Jaydee Tungcab and Lebron Lopez.
Javi Gomez De Liaño, who played in Gilas' game against Indonesia, has already been cut for the upcoming tournament because of quad injury.
Mr. Baldwin said for the OQT, a rough road awaits them considering the level of play of the other teams. But they are bent on staying the course as part of their push for continued collective improvement.
For former national athlete and now Philippine Sports Commission commissioner Ramon Fernandez, the young Gilas squad's stint in the Serbia OQT should serve it in good stead.
"They did a good job in the Asia Cup qualifiers, and congratulations to them. Now, it's about taking it to the next level. I think the SBP (Samahang Basketbol ng Pilipinas) made a good decision in allowing these young players to play and represent the country for their long-term development," said Mr. Fernandez, a four-time Philippine Basketball Association most valuable player, during his session on the online Philippine Sportswriters Association Forum on Tuesday.
Gilas returned to training on Tuesday at the Angeles University Foundation gym after taking a one-day break following its completion of its FIBA Asia Cup Qualifiers bid.
It will play the Chinese national team in a one-game tune-up on Wednesday before flying out to Serbia the following day.
In the FIBA OQT, the Philippines will play Serbia on June 30 and the Dominican Republic on July 1.
The top two teams from each group advance to the crossover semifinals where the winners battle for the Olympic spot in the finals. — Michael Angelo S. Murillo