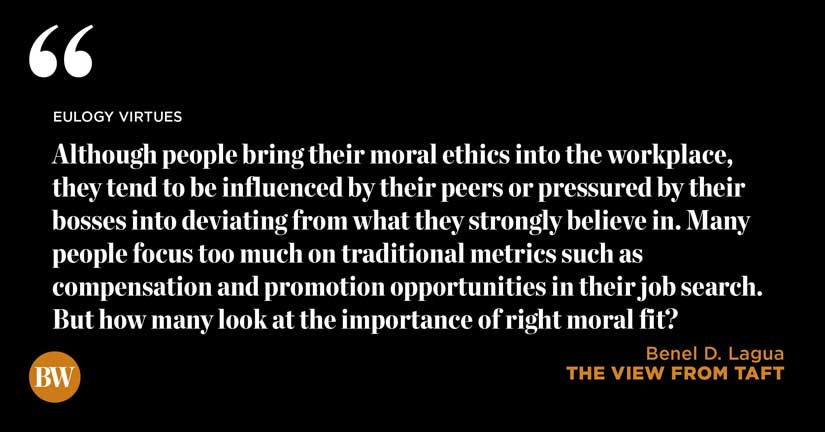 "A good name is better than fine perfume, and the day of death better than the day of birth."
— Ecclesiastes 7:1
In the recent article in the Harvard Business Review, "Building an Ethical Career," Maryam Kouchaki and Isaac Smith assert that good intentions are insufficient, and people must be vigilant lest they violate their own moral values and create post hoc justification for their behavior.
Planning to be good requires understanding your personal strengths and weaknesses. The authors cite David Brooks, who distinguishes between resume virtues and eulogy virtues. Resume virtues represent the skills, abilities, and accomplishments that you can put in your resume, such as achieving sales and ROI targets. In contrast, eulogy values pertain to things people praise you for after you've died, such as being a loyal friend, a kind person, and a hard worker. Resume virtues reflect what you've done for yourself while eulogy virtues define your character and include what you've done for others. At some point, these two categories may overlap.
At the onset of your career, framing your professional life as a quest for contribution rather than achievement will make a big difference in building your career. Although people bring their moral ethics into the workplace, they tend to be influenced by their peers or pressured by their bosses into deviating from what they strongly believe in. Many people focus too much on traditional metrics such as compensation and promotion opportunities in their job search. But how many look at the importance of right moral fit?
Even after you have carefully constructed your job goals, things can still go awry. Personal safeguards such as habits and tendencies such as quality sleep, personal prayer, and mindfulness can help people manage and strengthen their self-control as well as resist temptation at work.
If you are committed to living an ethical life, then you should not be shy about letting people know it. Do this by openly discussing potential moral challenges and how you would want to do the right things. Some include a quotation in their e-mail signature line (e.g., "Integrity is my commitment"). Others are even brave enough to include this in their discussion during their job interviews. A word of caution though: do so tactfully, and clearly state your expectations.
Our environment shapes us more than we realize. Employees who feel that their values fit well with their organization tend to be more motivated than their misaligned peers. In their study, Kouchaki and Smith showed that ethical stress strongly predicts employee fatigue, decreased job satisfaction, lower motivation, and increased turnover.
If you're facing an ethical dilemma, how can you prevent self-deceptive rationalizations? The authors suggest three tests: 1.) The publicity test: Would you be comfortable having this choice — and your reasoning behind it — published on the front page of a local newspaper? 2.) The generalizability test: Would you be comfortable having your decision serve as a precedent for all people facing a similar situation?, and, 3.) The mirror test: Would you like the person you see in the mirror after making this decision? Is he or she the person you truly want to be? If you replied "no" to any of these questions, think carefully before proceeding.
Studies have shown that people are more prone to committing unethical mistakes when rushed, so take time to contemplate and put things into perspective before deciding. Be wary of doing something just because everyone else is doing it, or because your boss told you to do it. Take ownership of your actions. Learn from experience. A lot of growth happens after decisions have been made and actions have been taken. Ethical people aren't perfect. When you make a mistake, review and reflect on it to ensure better decisions in the future.
Your parents have always told you: "Just do the right thing." However, remaining morally chaste is difficult when the environment is not enabling. Yet always remember that you are in control of your ethics. Take charge, and live up to your values and aspirations.
After four decades as a civil servant mostly in the GOCC/GFI arena, I am ready to bid goodbye to my professional career. It has been both fulfilling and challenging, and I am grateful to my present and past superiors, my peers, my staff, and most importantly, the constituencies I have had the privilege of serving. Only time can tell if I have done enough to ensure that my eulogy virtues match or surpass my resume virtues. I'd like to be able to quote Robert Frost: "Two roads diverged in a wood, and I — I took the one less traveled by. And that has made all the difference."
Benel D. Lagua is Executive Vice-President at the Development Bank of the Philippines. With an AIM-MBM and a Harvard-MPA, he is a part-time faculty of the Ramon V. Del Rosario College of Business of De La Salle University.
benellagua@alumni.ksg.harvard.edu