Stocks down on profit taking, inflation concerns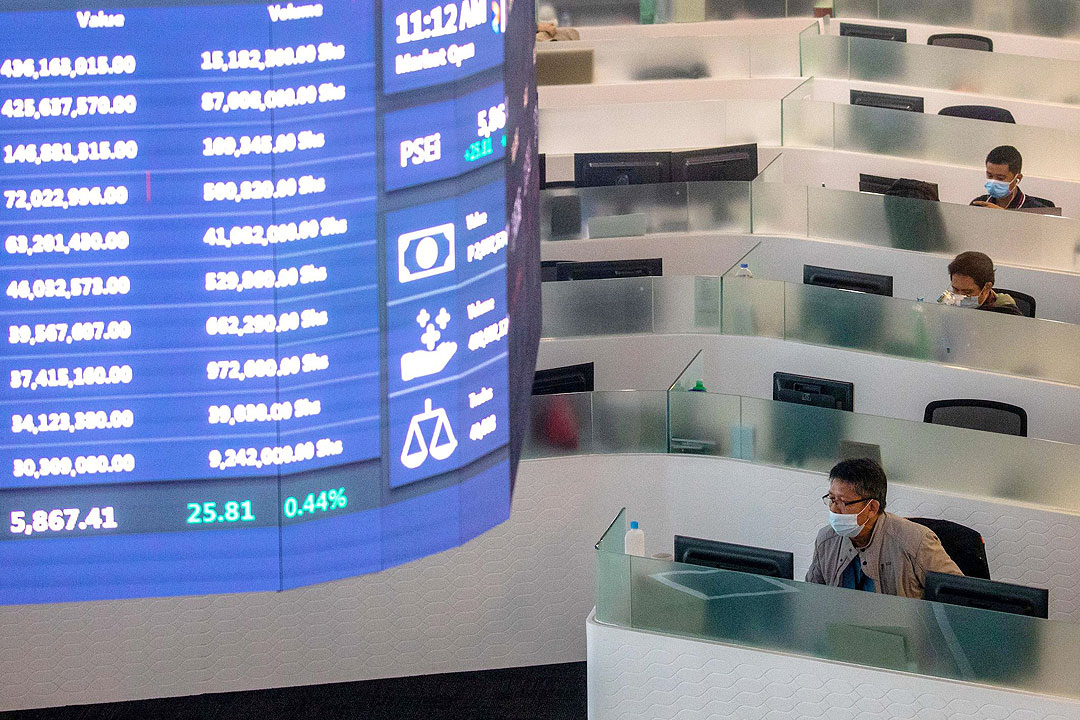 STOCKS inched down on profit taking and developments overseas despite optimism after data released on Monday showed renewed investor interest in the country.
The 30-member Philippine Stock Exchange index (PSEi) declined by 16.19 points or 0.22% to close at 7,107.82 on Tuesday, while the broader all shares index shed 3.83 points or 0.08% to finish at 4,420.07.
"With [the] majority of the Asia-Pacific markets on the downside due to inflation induced by energy cost and [the] possibility of widening regulatory crackdown in China, [the] local market went down on profit taking after moving up substantially yesterday," Aniceto K. Pangan, equity trader at Diversified Securities, Inc., said in a text message on Tuesday.
"FDI's (foreign direct investments) year-to-date July growth of 43% to $5.5 billion is boosting hopes for [a] return to the country of more meaningful foreign investments, whose recent portfolio trickles are helping PSEi's resiliency at the emerging support of 7,000," First Metro Investment Corp. (FMIC) Head of Research Cristina S. Ulang said in a Viber message.
Oil prices extended weeks of gains fueled by a rebound in global demand that is contributing to energy shortages in economies from Europe to Asia, Reuters reported.
US crude ticked up 0.32% to $80.78 a barrel. Brent crude rose to $83.98 per barrel.
Meanwhile, FDI net inflows in the period surged from the $3.885 billion recorded in the first seven months of 2020, the Bangko Sentral ng Pilipinas reported on Monday.
For July alone, FDI net inflows climbed by 52% to $1.263 billion from $831 million a year earlier. This is also 52% higher than the $833-million inflows seen in June.
Central bank data attributed the rise in FDI net inflows in July to the 61% jump in non-residents' net investments in debt instruments to $1.074 billion from $667 million a year earlier.
Majority of sectoral indices posted gains on Tuesday except for services, which went down by 35.78 points or 1.86% to 1,885.65.
Meanwhile, mining and oil climbed 315.39 points or 3.18% to 10,217.40; industrials went up by 62.76 points or 0.59% to end at 10,607.84; financials rose 4.60 points or 0.30% to 1,537.81; property inched up by 8.65 points or 0.26% to close at 3,238.15; and holding firms improved by 4.18 points or 0.06% to 6,990.71.
Value turnover decreased to P9.74 billion on Tuesday with 2.45 billion issues switching hands, lower than the P11.76 billion with 2.44 billion shares traded the previous day.
Advancers beat decliners, 100 against 87, as 65 names closed unchanged. Foreigners turned buyers anew with P2.77 million in net purchases on Tuesday, a turnaround from the P820.74 million in net outflows recorded on Monday.
"Market will struggle to stay above 7,000 due to profit taking, likely from foreigners again," Ms. Ulang said. "It's a volatile and a traders' market but nevertheless and definitely worth investing in." — K.C.G. Valmonte with Reuters