Game system uses TVs as consoles and a smartphone as a game controller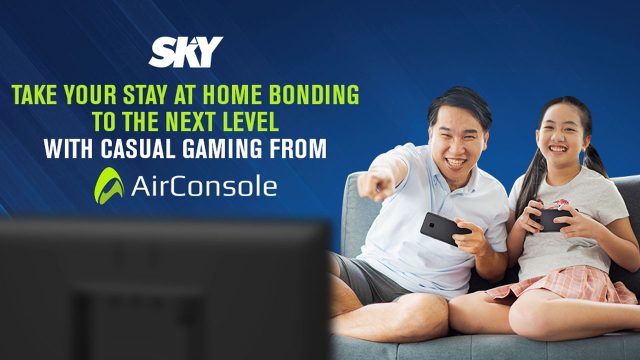 SKYCABLE has partnered with Swiss game developer N-Dream to offer AirConsole, a cloud-based multiplayer video game console, to its subscribers.
AirConsole uses web browsers, Sky Evo digiboxes, laptops, tablets, and televisions as consoles, and smartphones as the game controller.
AirConsole offers a selection of over 160 multiplayer games of different genres, including quizzes, sports, racing, strategy, cards, classic arcade, and party games.
"A lot of people play across generations, because it's really not difficult to get started with our console. So, you don't need to be a gamer," Anthony Cliquot, Chief Operating Officer of AirConsole, said at an online press launch held via Zoom on Aug. 13.
"You really collaborate with your children and explain them some strategy on how to get further, which is surely also a beautiful aspect of the platform to spend quality time with your loved one, especially now in these times," Mr. Cliquot continued, adding that "Gaming brings a whole new world of interactivity" and "emotions are triggered as you make decisions [while playing]."
There are mini games, such as The Neighborhood, a slingshot battle between two groups to destroy each other's homes, and Fling to the Finish, an obstacle-filled game that requires teamwork to overcome while tethered to one another.
Racing games include the go-kart game GoKartGo! Air! and combat car racing game Burnin' Rubber 5 Air. Meanwhile, for sports enthusiasts there is the track-and-field game Smoots Summer Games, the minigolf game Golfriends, and an online arcade soccer battle Golazo!.
To test mind skills there are interactive quiz games Trivia & User Quiz, QuizWitz, and Can't Believe It's…, while games that require creativity are fARTwork and Drawing Evolution.
AirConsole Head of Publishing Rafael Morgan said that the product's advantage is its accessibility.
"Players can play together on AirConsole without buying any additional hardware. All you need is a SKY TV box and the smartphones that you already have," Mr. Morgan said in a statement.
"With their access to AirConsole, families can savor leveled-up bonding moments without digging deep into their budget, especially during this time when many look for ways to cope with the orders to stay at home," Alan Supnet, Head of SKY Broadband Products said in a statement.
"We are constantly looking for new innovative partners that can add and somewhat live by the same motto and values that we have. We want to bring the best possible content and the most entertaining content to our users," Mr. Cliquot said of the partnership.
With a SKY Fiber subscription, access to the AirConsole Hero plan is free for six months, which costs P249 a month for non-SKY subscribers. For more information, visit www.mysky.com.ph/fiberfreemiums. — MAP Soliman