PSE index sinks on lockdown fears, rebalancing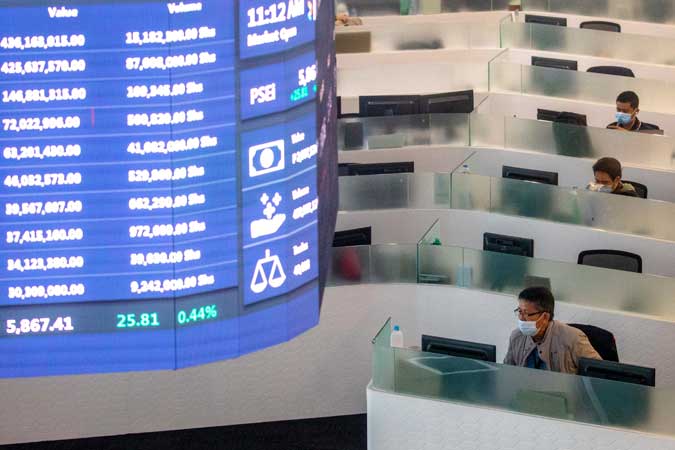 PHILIPPINE shares sank on Thursday as the country's coronavirus disease 2019 (COVID-19) situation affected sentiment and as investors adjusted their portfolios to prepare for the index's rebalancing.
The Philippine Stock Exchange index (PSEi) shed 110.29 points or 1.65% to close at 6,556.57 on Thursday, while the broader all shares index went down by 51.68 points or 1.25% to end at 4,059.93.
"The local bourse plunged this Thursday… as COVID-19 cases in the country continue to surge," Philstocks Financial, Inc. Senior Research Analyst Japhet Louis O. Tantiangco said in a Viber message.
"The surge in cases raises the risk of extending the strict quarantine measures implemented in selected areas in the Philippines, and expanding it to other areas. Trading weakened," he added.
On Wednesday, the country logged 12,021 new infections, bringing the total to 1,688,040, Health department data showed. Active cases stood at 81,399.
"Philippine shares fell after the latest announcement of the MSCI rebalancing results influences active funds to make the necessary adjustments before the close of August," Regina Capital Development Corp. Head of Sales Luis A. Limlingan said in a separate Viber message.
"[Others] decided to keep in cash ahead of the PSEi rebalancing," Mr. Limlingan said.
The Philippine Stock Exchange recently conducted its regular review of the 30-member index and sectoral indices. As a result, AC Energy Corp. and Converge Information and Communications Technology Solutions, Inc. will be joining the benchmark index, replacing DMCI Holdings, Inc. and Emperador, Inc.
These changes will take effect on Monday, Aug. 16.
Majority of sectoral indices closed lower except for mining and oil, which gained 141.93 points or 1.47% to end at 9,781.80.
Meanwhile, property dropped 98.90 points or 3.13% to 3,055.03; holding firms shaved off 142.90 points or 2.14% to 6,529.01; financials went down by 18.51 points or 1.28% to finish at 1,419.40; industrials declined by 52.95 points or 0.56% to close at 9,328.30; and services inched down by 2.75 points or 0.17% to 1,614.28.
Value turnover tripled to P18.23 billion with 4.16 billion shares switching hands on Thursday, from the P6.83 billion with 1.82 billion issues logged the previous day.
Decliners outnumbered advancers, 133 against 66, while 51 names closed unchanged.
Net foreign buying slowed to P50 million on Thursday from the P513.87 million logged on Wednesday.
"The bourse may have also hit a technical resistance area around the 6,680 area," Timson Securities, Inc. Trader Darren Blaine T. Pangan said in a separate Viber message.
"Support may be placed at the 6,270 level," he added. — Keren Concepcion G. Valmonte