UP Visayas develops low-sodium patis made from green mussels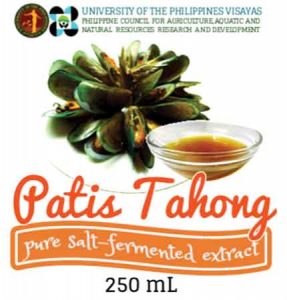 A LOW-SODIUM fish sauce made from fermented green mussels, or tahong, has been developed by the University of the Philippines-Visayas Institute of Fish Processing Technology.
In an e-mail interview, project head Ernestina M. Peralta said that the product, branded 'Patis Tahong,' is being positioned as a substitute for patis, a fermented fish sauce known as patis in the Philippines which is used as a condiment all over Southeast Asia.
"It is high in protein, amino acids, zinc, calcium, and iron. Meanwhile, it is low in salt, fat, cholesterol, and calories. Also there's no monosodium glutamate (MSG) added," Ms. Peralta said.
Patis Tahong has also been found to contain antioxidants she said.
"The newly-developed product can be showcased as a gourmet condiment that can compete with other premium quality fish sauce products from other countries like Thailand and Vietnam," Ms. Peralta said.
Ms. Peralta said mussels are one of the top 10 aquaculture species produced in volume, but their value is low compared to other shellfish such as scallops.
In 2014, tahong production was 18,800 metric tons, the Department of Science and Technology (DoST) said.
"The development provides an opportunity to utilize the species and convert it into a value-added product. Patis Tahong was conceptualized and developed as an addition to the array of Philippine salt-fermented products," Ms. Peralta said.
Patis Tahong also provides livelihood options in areas with surplus tahong production, she said.
"The capital requirement for production is low and the technology used is easy to adopt," Ms. Peralta said.
Patis Tahong is the result of the Mussel Sauce Project funded by the DoST's Philippine Council for Agriculture, Aquatic, and Natural Resources Research and Development (PCAARRD). — Revin Mikhael D. Ochave