Evolving viruses and innovator drugs
The bad news is that the Wuhan virus — a.k.a. severe acute respiratory syndrome coronavirus 2 or SARS-CoV-2 which causes coronavirus disease 2019 or Covid-19 — continues to expand worldwide. The good news is that humanity is a survivor of many deadly viruses in the past and modern and innovator medicines and vaccines keep coming.
It is also not "racist" to call it the Wuhan virus because for most viruses, they are named for the places where they first appeared or were discovered. Below shows some major viruses that humanity has overcome and their estimated case fatality rate or CFR (see Table 1).
Other known deadly viruses are rabies, dengue, and HIV, with the latter having estimated to have killed 32 million people, mostly in Africa.
The US Centers for Disease Control and Prevention (CDC) estimated that global fatality from ordinary flu is up to 646,000 deaths per year, excluding pandemics. If we keep this in mind, fatalities of 5,000+ from the Wuhan virus worldwide does not appear to be so alarming. Its CFR of up to 6% also pales in comparison to the CFR of viruses like SARS and Ebola.
But hysteria has prevailed worldwide. The Philippines has policies like the Metro Manila quarantine, sometimes called "lockdown," from other provinces, a curfew from 8 p.m. to 5 a.m., sending fully armed police and soldiers to man checkpoints. These policies have expanded the hysteria instead of reducing or calming it.
For now there is no existing vaccine or medicine against the Wuhan virus. Humanity has survived past evolving viruses via evolving medicines and vaccines. Viruses are living microorganisms that mutate and evolve through time as there are many potential carriers like pigs, chickens, bats, and other wild animals. It is important that humanity should recognize the importance of evolving medicines that need to be invented.
So President Rodrigo Duterte's recent Executive Order (EO) 104, issued last February, imposing drug price control via maximum wholesale price (MWP) and maximum retail price (MRP) that targeted mostly innovator, newly invented, and still patented drugs is unwise and irresponsible.
The Cheaper and Quality Medicines Act of 2008 or RA 9502 and its implementing rules and regulations (IRR) specified only MRP, no mention or reference to MWP, and yet the EO targeted MWP or penalizing the manufacturers of innovator medicines. The average retailers' assured margin is about 40% for the 122 molecules covering 205 medical preparations.
I asked a friend who works for a drugstore chain in Manila to give me the existing market prices of certain medicines and I compared those with the MWP and MRP which are contained in EO 104. The result is ugly: for some medicines that I chose, the retailers' margin is high, up to 62%, but projected patients' benefits are either low/zero, or even negative, meaning the proposed MRP is even higher than existing retail prices (see Table 2).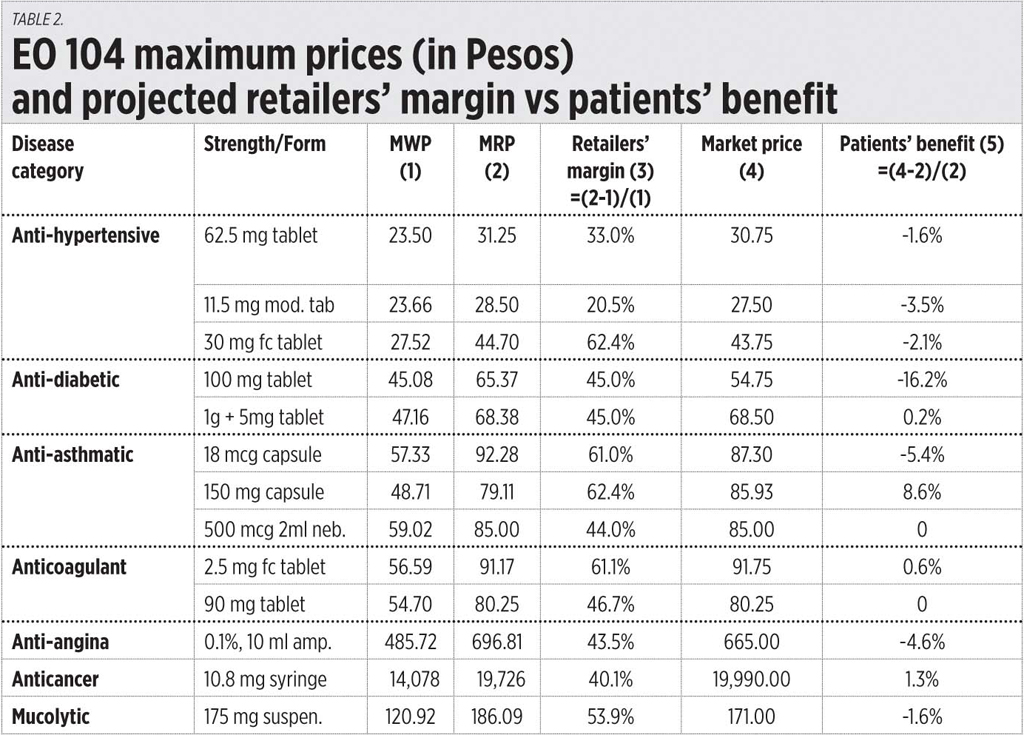 Going back to the Wuhan virus or COVID-19 — we need effective and safe medicines against this dreaded disease to reduce the hysteria and save lives, and these medicines are done only by innovator pharma and biotech companies and laboratories, not generic companies.
EO 104 has sent wrong signal to innovator firms, so if some of them finally invent a good treatment vs COVID-19, they may hesitate to bring it in the Philippines. This situation can be remedied if the Department of Health and Office of the President silently pull out that EO, and tell innovator firms that they will not be penalized here. They can help save lives and calm the hysteria in the Philippines.
Bienvenido S. Oplas, Jr. is the president of Minimal Government Thinkers.