Drug price control and the nanny state
Upon the prodding of the Department of Health (DoH) since last year, President Rodrigo R. Duterte issued Executive Order (EO) 104 last month imposing another round of drug price control, on top of drug price control policy imposed in July 2009.
The new EO reeks of seemingly illegal provisions.
One, RA 9502 or the Cheaper and Quality Medicines Act of 2008, Chapter 3, Section 7, provides for maximum retail price (MRP). Nothing in the law or its implementing rules and regulations (IRR) provides for maximum wholesale price (MWP), and EO 104 targets MWP.
Two, criteria to recommend or impose MRP under RA 9502 are detailed and strict and EO 104 ignored and disobeyed them all and created its own criteria. Drug price control in 2009 also suffered the same arrogance of disobeying the law (see Table 1).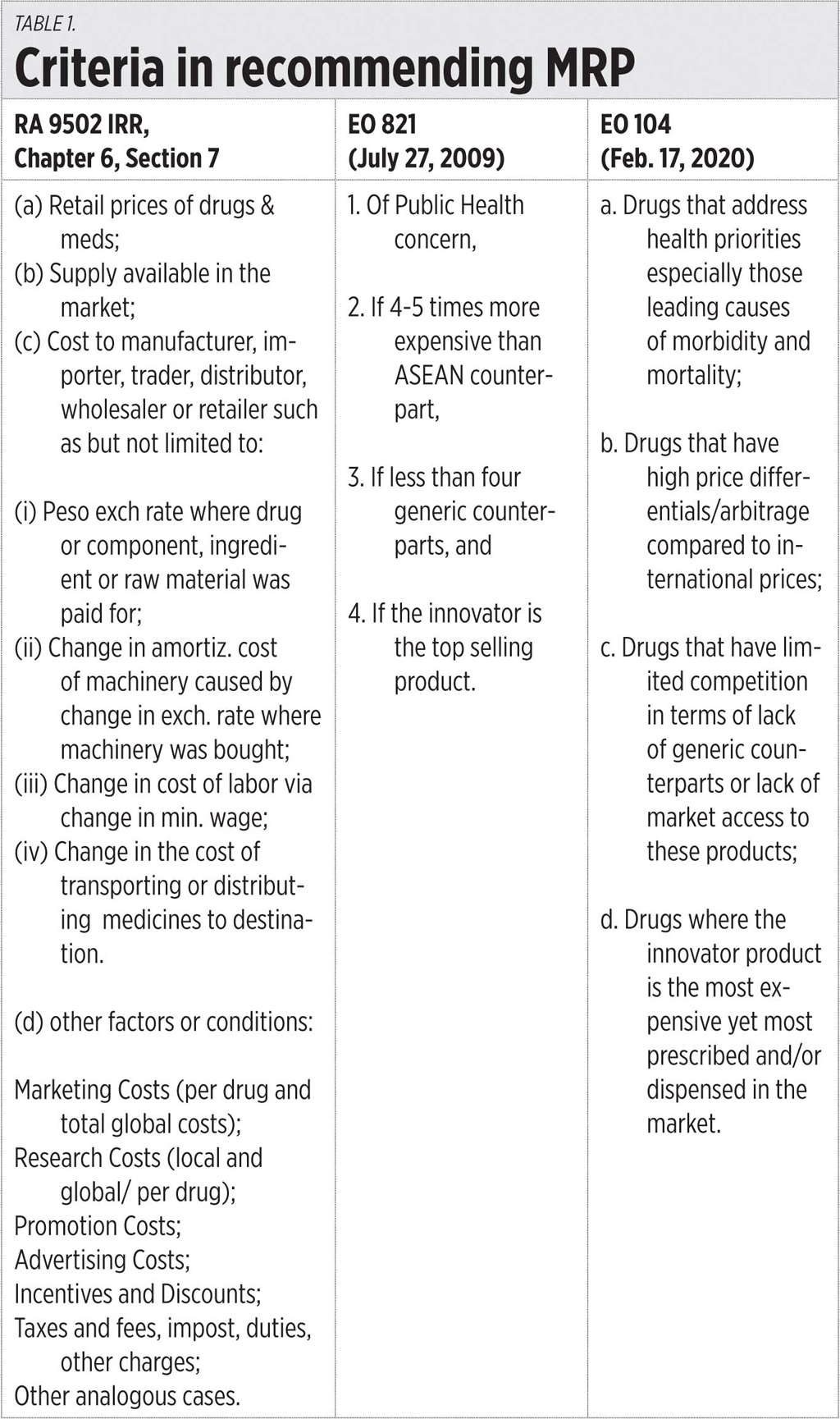 It is safe to say that both EO 821 (2009; Prescribing maximum retail prices for selected drugs and medicines that address diseases that account for the leading causes of morbidity and mortality) and EO 104 (2020; Improving access to healthcare through the regulation of prices in the retail of drugs and medicines) were driven by the politics of envy, because certain innovator drugs are top-selling or most prescribed, their success should be confiscated via price control.
Three, the DoH formula or methodology are meant to favor certain manufacturers with drugs not affected, and certain drug retailers, but not the patients. In some molecules for instance, zero benefit for patients, no significant reduction in retail price even if wholesale prices have been slam dunked by price control.
The politics of envy by a nanny state should not be the guidance in making public policy. The main function of government, the DoH in this case, is to ensure that patients and healthcare professionals have choices among many medicines available, and those medicines are safe, not counterfeit or substandard.
The most expensive medicines are those that do not work, like counterfeits and substandards. A patient's disease mutates to something more dangerous because it is not treated. And a patient who buys expensive medicines but avoids hospital confinement or surgery and still gets well actually got cheaper medicines. The goal is to get well at the shortest time possible and lowest cost alternatives possible.
Meanwhile, the business and investment uncertainties created by this EO are big. It mainly attacks the innovator companies and their innovator drugs. These companies have the option to pull out their affected molecules so that patients will get "cheap but not available" revolutionary drugs. Available perhaps in Malaysia, Thailand, etc. but no longer in the Philippines. With this COVID-19 scare, we need more innovator drugs, not less. We need those innovator and risk-taking companies more, not less.
EO 104 has about 2-1/2 months before implementation. There is still time for the DoH, legislators, and the Office of the President to withdraw this seemingly illegal and philosophically bankrupt EO. The DoH should focus on having more innovator drugs and molecules in the country, not less, to deal with more dangerous, infectious, and mutating diseases.
Bienvenido S. Oplas, Jr. is the president of Minimal Government Thinkers.