A hot car for the hottest place on earth
Text by Angel Rivero; Photos by Jakob Kurc
THERE'S a strange kind of beauty that one can admire in the barren expanse of Death Valley National Park. It is the largest national park in the USA's lower 48 states — offering beyond three million acres of protected wilderness, with some parts accessible via approximately 1,000 miles of road. Death Valley's national park status was established on October 24, 1994, and the park's borders run from California to Nevada. As the name alludes, this is a land of extremes — the hottest, driest, and lowest national park there is.
Why then, should one even care to visit a land so dry and harsh to life? Well, in my opinion, for that very reason — it is otherworldly and almost absent of life.
Well, almost.
As we all know, life is resilient and fascinating, with creatures managing to survive in the harshest of conditions. There's one depicted in one of our favorite childhood cartoons — the road runner. It is also only here that one can find the Devil's Hole pupfish, the world's rarest fish, able to withstand high salinity and high average temperatures.
Inevitably, there are dangers when visiting this place — primarily related to heat stroke and dehydration. Therefore, as a rule of thumb, it is important to choose the appropriate season for visiting, based on your tolerance of high temperatures. One may also choose to visit the sights found in areas of higher elevation (and relatively milder temperatures). Otherwise, all visitors just need to be vigilant and to bring plenty of drinking water. More sensitive people can choose to stay within the air-conditioned shelter of their car.
Which brings me to declare how important it is to choose a comfortable and mechanically reliable vehicle for visiting a place like this. Mine was the Lexus GS 450h — a hybrid version of the conventional GS sedan — particularly because the Lexus badge is a fail-safe guarantee of superior vehicle comfort. In this case, it was a premium I did not want to compromise for a rather logistically tricky adventure.
A vessel that exuded the Lexus brand's legendary refinement, the GS 450h proved impeccably quiet, comfortable, and luxurious on the inside. The seats were wrapped in soft, fine leather, and the seat cushions had perforations that could ventilate or heat your behind, based on your climate control settings. Both front seats offered 10-way power adjustments, and I loved the thoughtful thigh support as my legs tend to feel uncomfortable after long driving hours without them.
The GS 450h uses a 3.5-liter V6 engine mated to a hybrid CVT; in my opinion, it is one of the most fuel-efficient luxury sedans available. Fuel consumption begins to matter a bit more when you know you're traveling large distances; and it also helps to know that while admiring nature, you're keeping your carbon footprint at bay.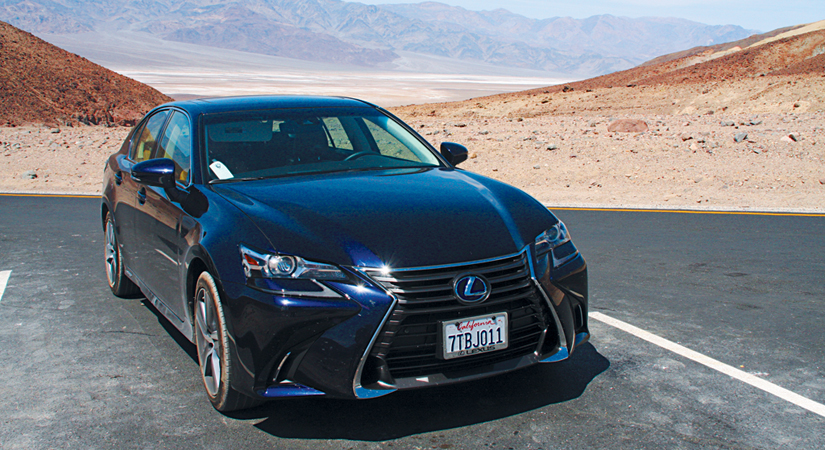 The car demonstrated versatility with three easily interchangeable drive modes that varied the throttle input and steering response, depending on the selection: Eco, Normal, or Sport. It also had great forward visibility; and did very well in the darkness of the desolate landscape, with its intelligent, high-beam headlights.
Among the sights one must certainly not miss while visiting Death Valley are the Mesquite Flat Sand Dunes. It is easy to reach, and is practically the only place where sand boarding is allowed in the park. Revel at, and take pictures of, the smooth dunes that rise up to a hundred feet high from the flat. And if you're lucky, listen to the songs of the sand (yes, they sometimes sing) if you're high enough on a dune cliff, and the wind comes blowing the sides.
Next, do not fail to walk the lowest point in North America, Badwater Basin, at approximately 282 feet below sea level! The basin is so low, that it serves as the final catch of rainwater that erodes minerals dissolved from surrounding rocks. The result? A surreal, thick layer of salt on the valley, as if it were snow — salty snow.
Then there's Devil's Golf Course, except that it isn't a golf course at all. It's a bizarre, vast, rugged terrain that looks like it was tilled by some behemoth, and then sprinkled with salt. The salt crystals have hardened around the edges of the soil, that they're actually sharp and can easily slice through skin. It's tricky and evil; only the Devil could play golf here.
Zabriskie Point, with amazing vistas of golden-colored badlands with chocolate marbling, is best viewed and hiked under the gentle, morning sun.
One of my ultimate favorites in this park, however, is Artist's Drive — a one-way, nine-mile drive that tours you through some absolutely beautiful, multi-hued hills. It is as if an artist painted a masterpiece on them. The truth is, they're actually oxidized, natural mineral deposits — so mother nature was the true artist here. Do not miss at all cost.
Finally, you must know that Death Valley has some of the darkest skies accessible to modern man, far away from light pollution. It is actually rated as one of the premier night-sky viewing points of the world. Go stargazing when there's a new moon. You'll practically be able to view our beautiful Milky Way, and perhaps even realize how insignificant we really are in the vastness of the universe.