Price growth of NCR building materials eases in December — PSA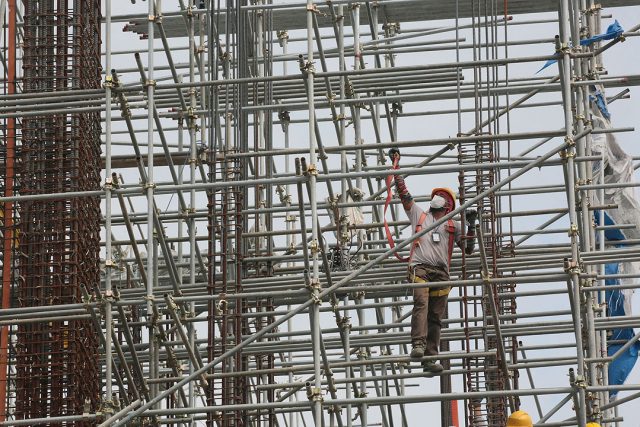 WHOLESALE price growth of construction materials in Metro Manila slowed down in December last year as mobility restrictions were relaxed, the Philippine Statistics Authority (PSA) data showed. 
The Construction Materials Wholesale Price Index (CMWPI) for the National Capital Region (NCR) eased to 5.2% annually in December 2021, compared to the 5.4% print in November and 1% in December 2020. 
This brought building materials' price growth in Metro Manila to an average of 3.2% last year, higher than the 1.2% in 2020. This was the highest since the 4.7% growth in 2018. 
The December growth was mainly due to the slower increase in prices of fuels and lubricants (to 26.6% year on year from November's 38.3%); sand and gravel (0.9% from 3%); G.I. Sheet (11.3% from 11.5%); electrical works (7.1% from 7.2%); and PVC pipes (3.4% from 3.8%). 
On the other hand, prices in the commodity groups of the following accelerated: painting (to 3.8% in December from 3.1% in November); hardware (3.1% from 2.6%); plywood (2.7% from 2.6%); and plumbing fixtures and accessories/waterworks (2.7% from 1.8%). 
Meanwhile, prices in the following commodity groups retained their growth: glass and glass products (14.4%); reinforcing and structural steel (8.8%); concrete products and cement (3%); lumber (2.8%); doors, jambs, and steel casement (2.5%); and tileworks (-1.8%). 
"I think the easing of quarantine restrictions and the easing of global supply chain channels have contributed significantly with the easing of bulk prices of building materials in Metro Manila," UnionBank of the Philippines, Inc. Chief Economist Ruben Carlo O. Asuncion said in an e-mail interview. 
"A lot of the firms and suppliers have bulked up their inventories during the last quarter, and this was obvious in fourth-quarter 2021 gross domestic product (GDP) growth print," Mr. Asuncion added. 
Metro Manila was placed under a more relaxed Alert Level 2 from November to December, as the number of coronavirus disease 2019 (COVID-19) cases declined. 
Meanwhile, preliminary data released by the PSA showed that GDP in the fourth quarter of 2021 accelerated by 7.7%. The GDP print was higher than the revised 6.9% in the third quarter last year and a turnaround from the 8.3% contraction in the final three months of 2020. 
This brought last year's full-year growth to 5.6%, reversing the record 9.6% decline in 2020. 
Mr. Asuncion sees building materials prices in Metro Manila to ease in the near term amid the surge of the Omicron variant. 
"I do expect prices to continue to ease with the recoil of restrictions in the economy due to the Omicron surge. Barring any more new variant surprises, wholesale prices of construction materials should continue to normalize throughout 2022," he said.   
The CMWPI index indicates large purchases by major construction companies and property developers and serves as a leading indicator for future activity by those industries. — Abigail Marie P. Yraola